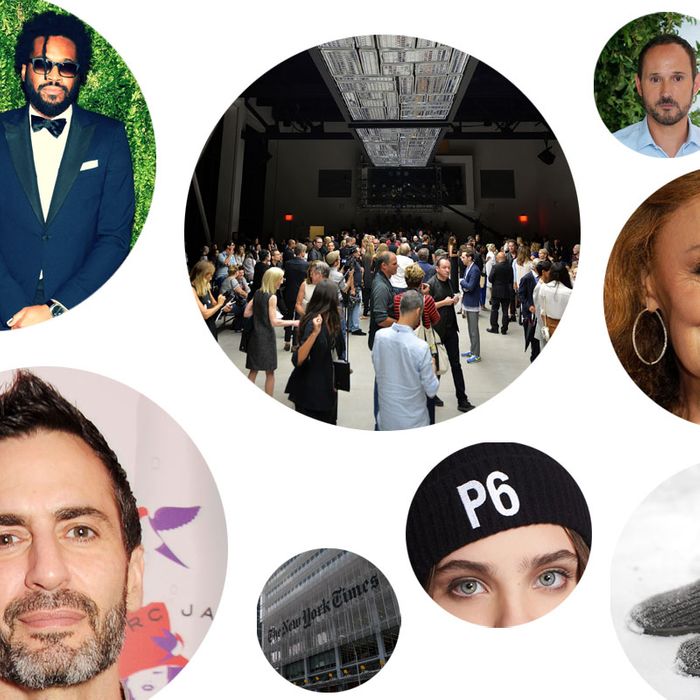 The only thing worse than being caught in a fresh-off-the-rack outfit at Fashion Week is not being able to contribute to the fourteen conversation topics that everyone will be discussing for the next ten days. Not quite sure which designers, shows, restaurants, moments, and social issues to discuss? The Cut has you covered. With our guide to sounding smart at Fashion Week, you'll know exactly what to say about fashion bloggers, what "P6" stands for, and how to talk about the weather without sounding like a total bore.
1. Fashion Week Is Getting a Giant Makeover: Late last year, IMG announced its plans to overhaul, simplify, and luxuriate the Lincoln Center tents to address complaints from major designers. (Though that didn't stop Michael Kors, Vera Wang, and Diane Von Furstenberg from jumping ship to different show spaces.) Come Thursday morning, show-goers will get their first glimpse of the new and improved space at Lincoln Center. Talking points: Is the lobby nicer? Has the three-ring circus been reduced to a two-ring? And where are all the fashion bloggers?
2. How Nice and Fancy Spring Studios Is: Spring Studios may be positioning itself as the downtown hub of fashion shows this season — the anti–Lincoln Center. It's a glistening new building on Varick Street in Tribeca, which opened just in time for the Calvin Klein show last season. Spring Studios' massive hall (which holds 2,000 people) will play host to a number of shows this season — including Opening Ceremony's show on Sunday night and Diane Von Furstenberg's anniversary runway bonanza.
3. The Times, post–Cathy Horyn: Cathy Horyn's unfortunate resignation from her position as the chief fashion critic for the New York Times leaves a question mark about who will fill her shoes — and how the paper will cover fashion in the interim. This season, Suzy Menkes will lead fashion criticism — with contributed reviews from new hires Matthew Schneier and John Koblin.
4. How High Will the Uber Rates Be to Get to Alexander Wang's Show in Brooklyn?: Do you know the way to San Jose? Sure. The way to Brooklyn? Maybe not. Mercifully, Wang's bold move across the bridge came with a 30 percent off code for Uber. Not to dampen the free-ride ecstasy, but remember the surge-pricing debacle of late 2013, when Uber rates were seven to eight times the normal fare? This Fashion Week, get ready to overhear theories that the subsidized schlep will reach the now-fabled rate of $200 to get to Brooklyn.
5. How Will the New Model Alliance Bill Affect Shows This Season? This is the first season that the Coco Rocha– and Model Alliance–endorsed bill protecting models under 18 will come into effect, which requires underage models be protected by the same labor laws that apply to other child performers, i.e., cutting back on unfairly long hours and prolonged absences from school. It was a huge victory to get this thing passed. But, much like the diversity debate, the question lingers: Will designers — here's looking at you, Marc Jacobs — adhere to the newly passed law?
6. What Will the Marc Jacobs Show Look Like With More Marc Jacobs? Next Thursday night marks the first Marc Jacobs collection since the designer left his position at Louis Vuitton last fall to focus on his own brand and prepare for his imminent IPO. Which means, in theory, that he's had more mental energy to dedicate to the main Marc Jacobs line. So, how will things be different?
7. It's a Year of Big, Hopefully Spectacular, Anniversaries: This year we get to celebrate 40 years of DVF wrap dresses and 30 of Donna Karan's power outfits. That's a lot of decades of making women look sexy, powerful, and feminine — so thank you, Donna and Diane. The two designers have special anniversary shows this season, and the details of both are still mum, though we know that DVF's Spring Studio show will feature a live performance by St. Vincent. Safe to say that there will be some Instagrammable moments this season, even from the nosebleeds.
8. We'll See If Diversity on the Runway Is Really Improving: Last fall, when Bethann Hardison started the Diversity Coalition and called designers out for their lack of diversity on the runway, racism on the runway became a hot-button issue. Yesterday, WWD reported that, in the wake of her campaign, Hardison noticed a real improvement by certain designers last season. But the real test comes with this season — to see whether designers have adopted diversity as a governing principle rather than a passing trend.
9. The Show We're Most Excited For: DelPozo, the young Spanish brand by former couturier Josep Font, which has been slowly building momentum for the last few years. The brand just opened its second store in Miami's design district, is launching a line of shoes for Spring 2014, and was recently lauded by WSJ's Christina Binkley for its "extravagant style and couture-level detail."
10. Last Year, It Seemed That Everything Public School Touched Turned to Gold — designers Dao-Yi Chow and Maxwell Osborne have transformed into the golden children of the fashion world, winning everything from the the Swarovski young men's designer award from the CFDA in June and the CFDA/ Vogue Fashion Fund in November, and there's no doubt that Public School's show will be a well-attended one this season.
11. Oh My God, It's a Fashion Snowstorm! It's snowing, and it will continue to snow. There is frozen ice-rain. The sidewalks are too slippery to wear heels. Oh my god, the Polar Vortex/Hercules/Nika is ruining our style. In other words, it's winter, guys. As we gear up for more of the natural phenomenons commonly associated with winter months, get ready to have infinite in-depth conversations about what is widely accepted as the most mundane topic ever: the weather. And the sub-topic: how the street-style stars are able to wear bare legs and open-toed shoes through it all (their secret: car and driver).
12. You Can Find Me in da Club: but which club is the on track to being fashion week's epicenter? We've got intel that, in addition to the ever-popular Bar Naná, a new West Village club called Up & Down might take the lead. Here are the qualifications: It's owned by Butter Group (also of 1Oak), and the opening is timed to the first night of Fashion Week. And both Justin Bieber and Lindsay Lohan have already been blacklisted.
13. With Every New Fashion Week Comes a New Fashion Restaurant: And this season it's looking like Margaux at the Marlton Hotel on 8th street has taken that prize. Olivier Theyskens had his birthday there before it opened — and Prabal Gurung and Cynthia Rowley are regulars.
14. Alexander Wang's "P6" Beanies: Do not, incidentally, represent "Page Six," but rather Principal Six of the Olympic charter, its official mandate of inclusion. The hats are a strong symbol of solidarity with gay Olympians — and a strong stand against Russia's discrimination against the L.G.B.T community. Vogue connected Wang with Athlete Ally, which started the campaign with the support of American Apparel, and has circulated the beanies to everyone from Leandra Medine, Miroslava Duma, and Christine Quinn to wear during fashion week. So get your hands on one if you want people to think you're somebody.