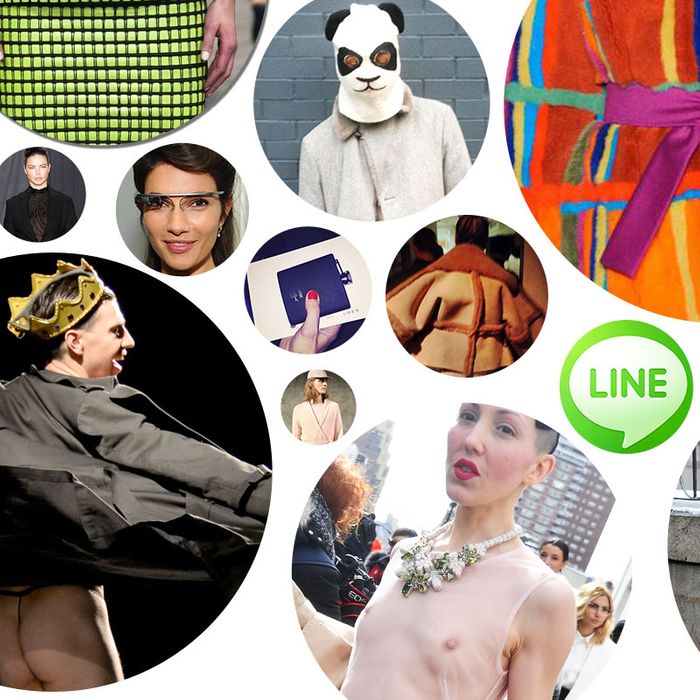 The first two days of fashion week weren't exactly uneventful, but they paled in comparison to Saturday's many adventures. A bethonged streaker hit the Prabal Gurung show, Carine attended Altuzarra (presumably to choose her next fur) and Alexander Wang's Brooklyngate took up several hours of the day. Street Style was at its finest: One woman showed up looking like a human churro, while Bryan Boy wore a bear snuggie. And yes, some people stubbornly wore their Google Glasses. Below, the most memorable moments from yesterday:
1. Top models cut lines in the bathroom—but not those lines. Karlie Kloss (carrying a Milk Bar bag), Joan Smalls, Anne V, and Kati Nescher, giving hearty apologies, said they were "sorry for being those girls" to cut the ten-person women's restroom line backstage at Alexander Wang. No long after that Karlie's tongue took a rogue Miley selfie, which she called simply, "goofing." Oh, models.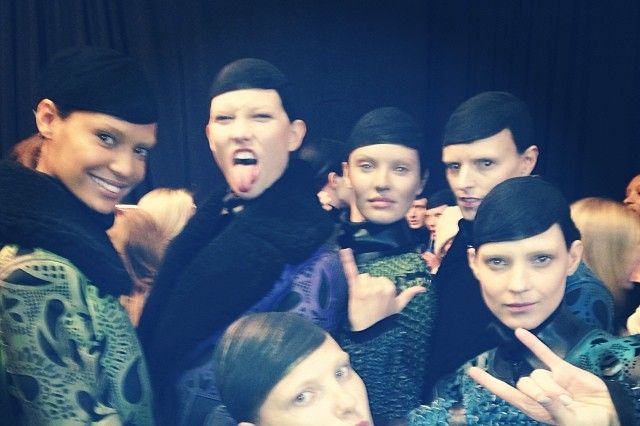 2. The streaker in the crowd at Prabal  Gurung caught us off guard as he leapt out of the stands and pranced around the stage. For a split second, we thought Prabal had planned a Medieval reenactment in the middle of his show. But we won't let a nudist in a leopard thong steal the spotlight from what was one of the strongest Prabal collections in a long time.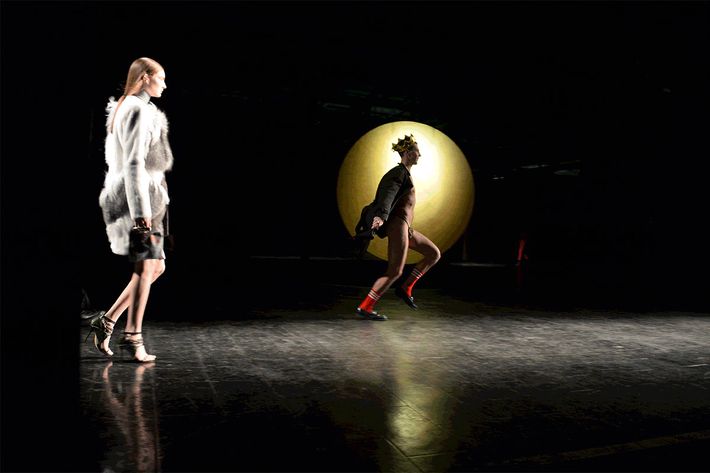 3. Michelle Harper showed up to Fashion Week virtually naked. After laying low for a while (we haven't seen her lately in party photos), it was a shocking way to return to the scene. But Harper, scanning through her cell phone after the show while other people huddled around gawking and taking pictures of her boobs, seemed unfazed.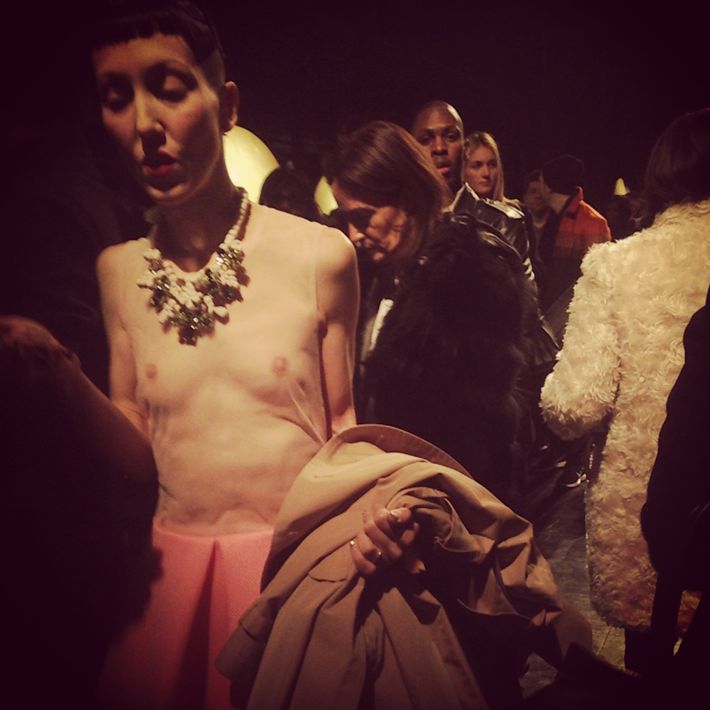 4. Prabal Gurung is working with a new stylist this year. Gurung has worked with his close friend Tiina Laakkonen for years, so we were surprised to see a new name on the show program this year: Elin Svahn, a Karl Templer protégé. The show seemed to be well assembled, so we'll probably see this girl around for more seasons to come.
5. The giant marshmallow coat that wouldn't fit through the hallway: Wearing your coat "the fashion way" — with your arms not actually in the sleeves — has its disadvantages. Among them: trying to maneuver a shearling coat the width of the Michelin man down a narrow hallway. This was the case after Prabal Gurung, when this Human Churro nearly mowed us over.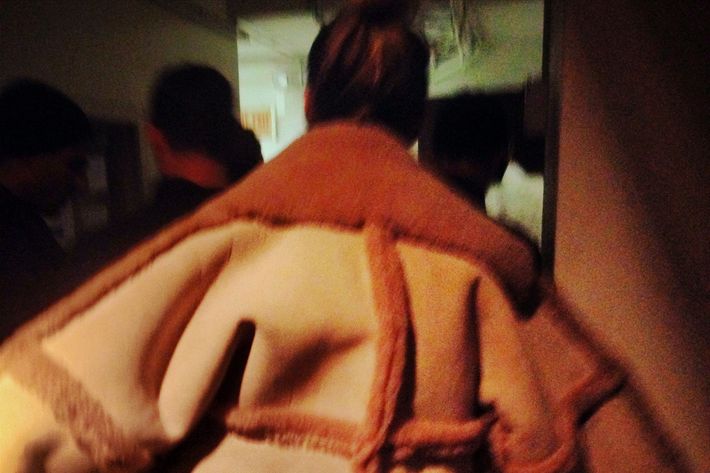 6. We love Spring Studios because it is so damn close to the Cut's office. So if an invite says 5 p.m., we can start walking over at 5:15 and still be slightly early.
7. Outside of the Altuzarra show, we met a panda. His name is Freddie, and he works for a guy who works for Vogue. Get him a tinder profile immediately.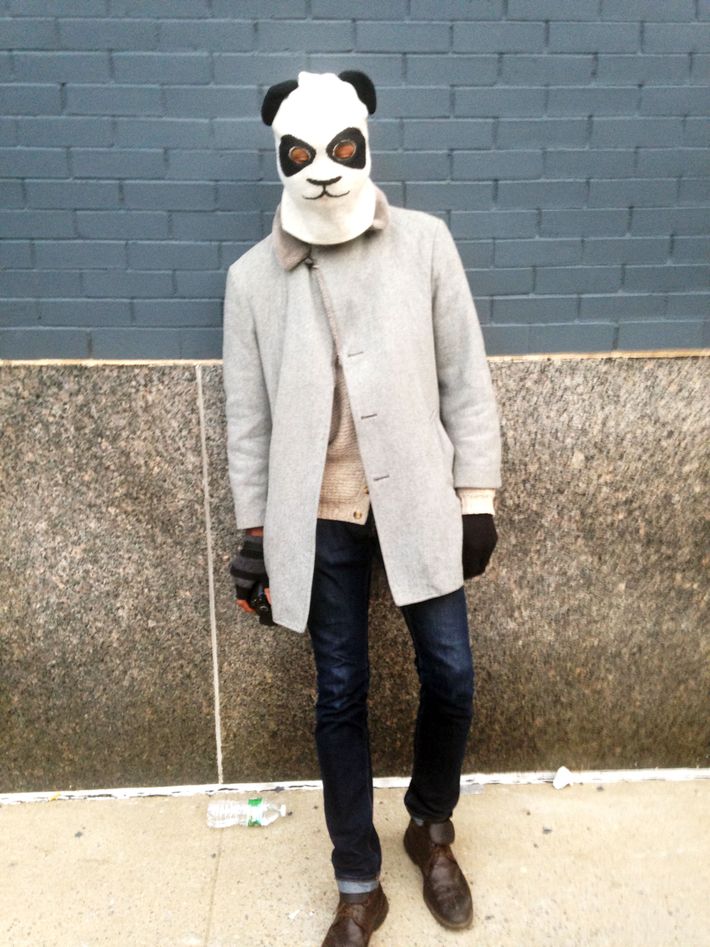 8. Inside the Altuzarra show, we loved the resplendent (yes, fancy word) array of color combinations rendered in a madras-pattern fur. Also spectacular were the belted wool overcoats with turned-up collars in contrasting electric jewel tones.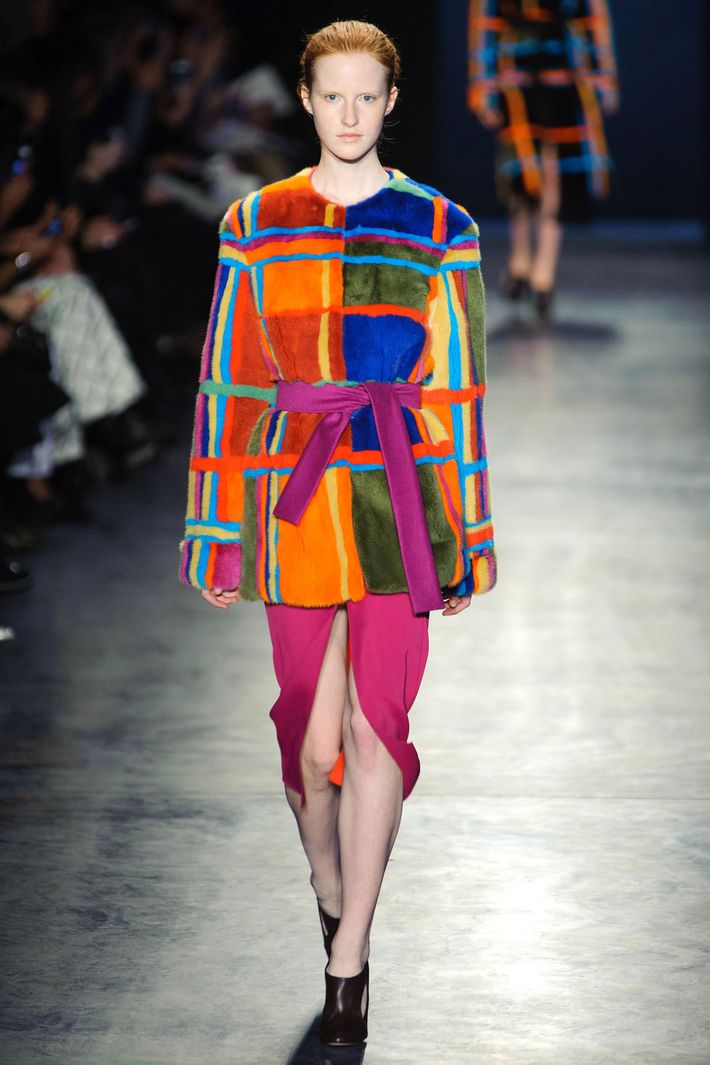 9. We walked into the Alexander Wang show at the Duggal Greenhouse with a mint tea in a paper cup. A good look. Meanwhile, everyone else was drinking from matte-black flasks (fur and flasks, so high-low, so Wang, they will say), and we spied one editor pocket one and then approach a different bartender to ask for another. Look for it on eBay.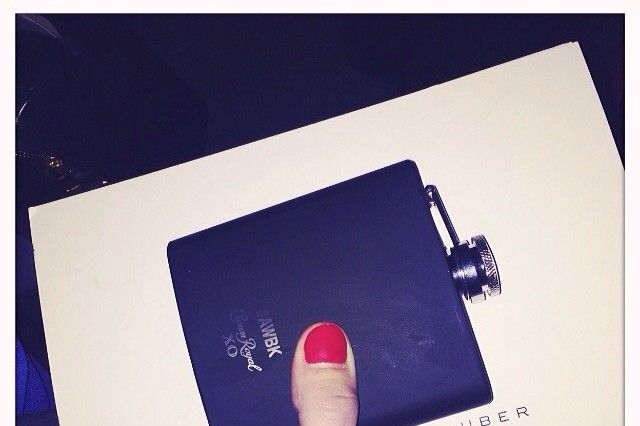 10. First we saw Adriana Lima at Jason Wu and rag & bone. Then Karolina Kurkova walked Cushnie et Ochs. Will Victoria's Secret models be the pinch hitters of Fashion Week? Does that mean designers will make clothes that people with boobs can actually wear? We'll drink to that.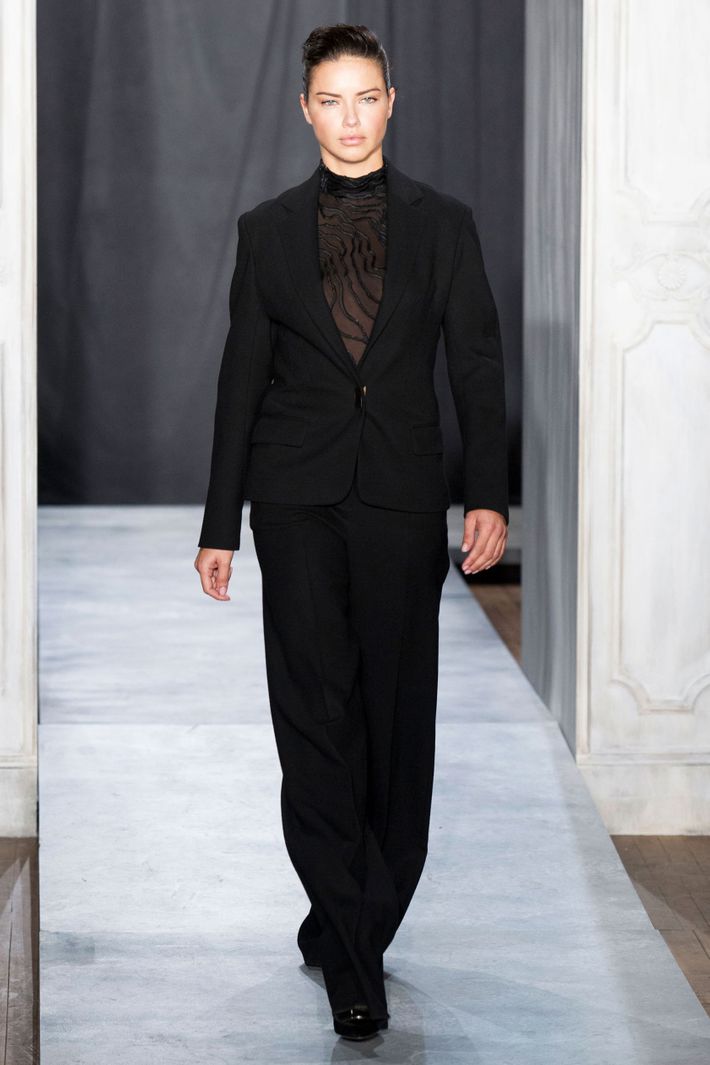 11. The latest outerwear that everyone is talking about: this Isabel Marant raccoon coat.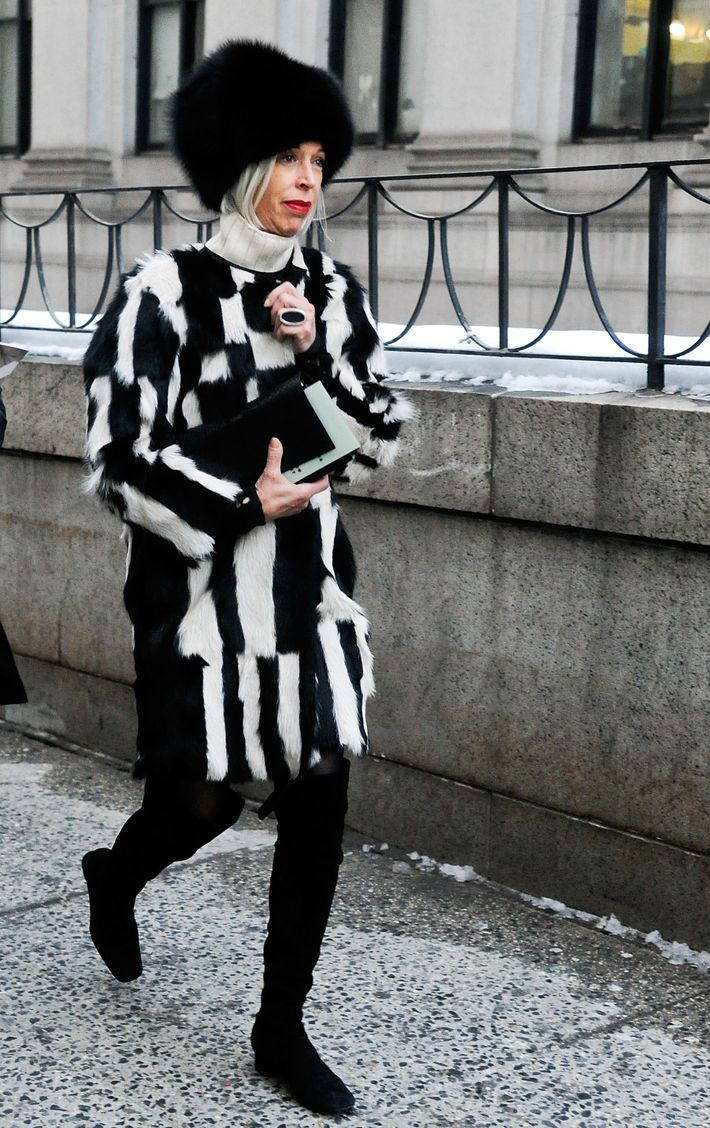 12. Bryan Boy showed up in a bear snuggie suit. When we asked him why on God's green earth would he wear an anime slanket to the Alexander Wang show, he replied simply, "Because I was at home!" Oh, that explains everything.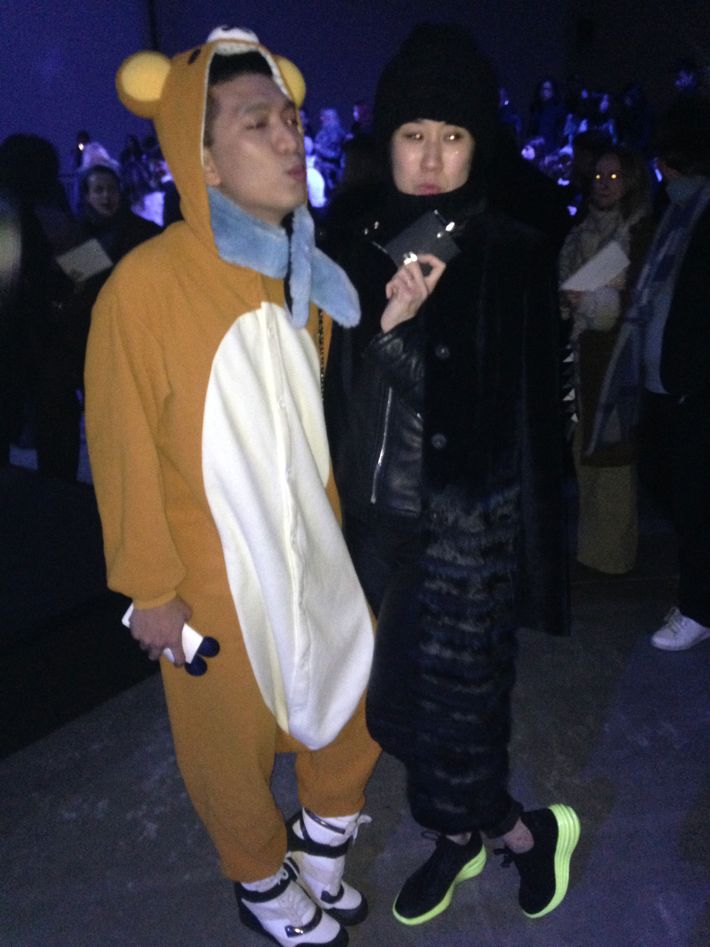 13. Speaking of Wang, we could really have used a free e-cig while we tried to find our drivers in the Paris-level traffic jam at the Brooklyn Navy Yard after the show. (Though smoking one would have meant taking our frozen hands out of our pockets.) We heard Anna Wintour had magically managed to escape and was already eating dinner in Manhattan while most of the editors around us threw tantrums and yelled at their drivers to get out of the cars and wave. Perhaps she took the S.S. Wang back to Manhattan? Smart lady, that Anna Wintour.
14. The app of choice for models backstage is not Instagram. Instead, we saw them using a messaging app called LINE, which allows you to message anyone with a phone regardless of whether she's using a Samsung Galaxy, iPhone, Blackberry, or Windows. Or in another country. Do you need to be tall and skinny to sign up?
15. Newcomers John Targon and Scott Studenberg presented a strong lineup full of luxe, peach, robe-like pieces at Baja East, including "stretch-pony moto pants." They presented wearing Nike sweats and described their collection as being "for a girl who's going out to the bodega while over at her boyfriend's apartment." The day we can afford to buy pants simply to wear to the bodega is the day we retire.