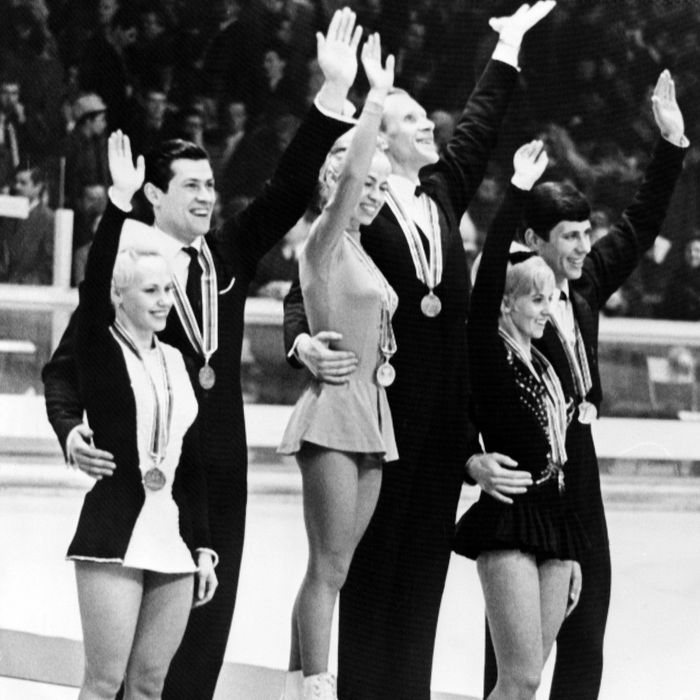 Figure skating is the most mysterious of winter Olympic sports: It's got all the athleticism of the rest of the games, plus precarious physics and designer dresses. With the Sochi Ladies Free Skate drawing closer, the Cut spoke to a handful of the people who know the sport best but whom you won't be seeing on TV — the former competitors, the coaches, the parents, and the current 12-year-old national champion. What's it like inside the world of figure skating? Read on.
"I've been offered a free ride by girls."
Chad Brennan, national competitor, pairs
I started pairs skating when I was 10. I was kind of forced into it by my mom, who told this girl I would skate with her. At the time, I didn't want to do it because I didn't want to touch her armpits.
Skating pairs is like a marriage — but like a marriage without any of the dating and engagement process. You pretty much make the commitment right away and then it's full-force ahead. Boys are so much in demand in skating that a girl who wants to skate pairs will do everything she can to get a partner — which means fronting the cost of everything. I've been offered a free ride by girls. They offered to pay for my skating and equipment if I moved to live and skate with her, but I was never okay with that. People I've known who have done that end up feeling like they were owned by their partners, because their partner was footing the bill for everything. I just feel like it should be an equal 50-50 relationship.
"It's a cult."
Regional competitor, ladies
Skating was probably the No. 1 thing in my life until about eighth grade, when I quit. I was skating every day, and toward the end I was doing before school and after school. I got to the point where it was like, Either you have to do this fully or you're never going to be that great at it. I wanted to play team sports, and I wanted to have a social life — and skating takes up so much time. It was less about wanting to quit skating and more about wanting to do other things.
I think you don't really understand the culture if you're not involved with it. The training is more intense than anything I've ever done — and I played a varsity sport in college. It's a cult. Once you're in, you're completely and utterly enveloped in it. I don't know how to explain it. I think you just live and breathe it, which is an unnatural thing.
"My parents wanted me to join Disney on Ice instead of college."
Regional competitor, ladies
When I was graduating from high school, I could have gone to Disney on Ice, but I was like, "I'm going to college." My parents were like, "What did we get out of the investment?" And I was like, "What do you mean, 'the investment?'" To me, it was just a sport that I did, but for my parents, it was so intense — so much time and so much money. It becomes a family thing. I was talking to another mom, and she was saying that she pays more than $60,000 a year for her daughter's skating. That's more than I pay to go to NYU.
"I was bullied quite a bit."
Matej Silecky, sectionals competitor, mens
In elementary school, I wasn't teased so much. My friends thought it was cool that I figure skated. In middle school, for sure, I was bullied quite a bit. I was called a lot of different things, from the fact that my name rhymes with "gay." There were a lot of explicit words used along with that. Everyone was hating on me — they thought I was this gay figure skater who wore a tutu on the ice. It was really upsetting to hear, because it was something that I really loved to do.
I wasn't part of the public-school system from the sixth grade on — a distance-education program allowed me the flexibility to have more time to train. I wouldn't say it was a sacrifice, because it opened up a lot of opportunities.
"My whole life is dedicated to her skating."
Yalin Murdorch, mother of a 12-year-old regional competitor
As soon as I found out that I was pregnant with a girl, I bought her the tiniest pair of Riedell skates. I was coaching, so I would sit her down on the corner of the ice with a helmet and some markers, and if she needed me, she had a little walker. That's how she started skating, around 1 or 2. She's 12 now. My big concern is that I'm constantly trying to keep her in the right spot — get her to the right coaches, with the right people, make sure she has enough hours on the ice. I try to get her on the ice for 20 hours a week, but sometimes it ends up being more like 18. I have to drive her an hour so she can have two hours of ice time. We're probably each other's best friends because we spend so much time together. We're gone all the time — I'd say that my whole life is dedicated to her skating. I'm completely at her beck and call.
"I threw up every time before I competed — except at the Olympics."
Sheryl Franks, 1980 Olympic competitor, pairs
I used to throw up every time before I competed. If I didn't throw up, I knew it wasn't going to be a good performance. Every time, just before I got on the ice to compete, my coach would be holding my hair. The only time I didn't throw up was at the Olympics. The pressure is incredible. It's like nothing you've ever experienced. It's all the years and years, and then you have five minutes to go out there and do your stuff. There's no retake.
"It sucks you in." 
Regional competitor, ladies
It's almost like pageant moms or dance moms. So many of the parents put every last penny into the sequins on the dress and the coaches and the competitions. I think many of them did believe that their daughter was going to make it to the Olympics and be the next Michelle Kwan, when in reality they were very, very far away from it. I was never going to make it to the Olympics, but my goal certainly would have been to make it to nationals — although I was probably far away from that as well. You get very involved in the world and sucked into it. You can't have many other passions, because it's all or nothing. Even if you're not going to make it to that level, there are so many people training as if they would. I might have been one of those.
"It's the one thing I know how to do."
Konstantin Kostin, 1992 Olympic competitor, mens
I was born in the Soviet Union during the '70s, and the sport was very popular at the time. My mother just brought me to an outdoor rink in the winter, and I was pretty good, so she decided to take me to a skating school in Riga when I was 3. Later, my mother moved me to Moscow, where I went to a school just for skaters. We would train in the mornings, and then go to school and eat lunch, and then train again. In 1993, I got an invitation to come to the United States to train. I wouldn't be in the United States now if it wasn't for skating. It's the only thing I know how to do well — I never had the chance to pursue another career. I teach skaters now. It's a good job.
"I think it draws crazy people."
Elyse Frenchman, regional competitor, ladies
I think it draws crazy people because it's just so intense. Also, if you're a skater, you have talent — you know, less than one percent of people actually continue. It made me a more competitive person. We had a carpool, and the parents were always mad at each other. The parents would talk about the kids behind their backs — it was just terrible. My coach had a pretty healthy attitude, though. She was like, "You can compete until your senior year in high school but then you have to go to college."
"I started modeling when I was 6 to help finance my skating." 
Joelle Forte, national competitor, ladies
I remember we were at a roller skating party, and one of the instructors came up to my mom and said, "Oh, she's really good, she should take private lessons." My parents thought maybe I could do it on the ice, instead. I was 4. I skated about six days a week — I just loved being out there. I started competing about two months before I turned 5. When I was younger, I used to skate in the morning, go to school afterward, and then get out of school early and go model, to help pay for skating. I started modeling when I was 6. I miss it. It was fun. I  was always very small, so I would model kids' sizes, but then my face started to look older, but I was a kids' size 10, so that's mostly why I stopped. Skating is a part of me — it's in my blood, it's a part of who I am — so I don't have any regrets about how much time I spent on the ice.
"I have more of a bittersweet relationship to it."
Michael Quadrino, national competitor, mens
I had tried a bunch of sports when I was younger — baseball, soccer, all the team sports you do when you live on Long Island, but that wasn't really working out. I'm assuming I was watching the Winter Olympics, and I asked to try it. My parents bought me hockey skates and I looked at them and was like, Those are not the ones I'm talking about. After that, it progressed really quickly.
I don't have any real regrets, just more of a bittersweet relationship to it. I miss training every day and competing. I like that it's something you cannot achieve on the ground or on the stage. Dancers strive to hold a position to look like they're flying or gliding, but we actually are. It's something that you need a very specific setting and skill set to do.
"I went to three different high schools."
Amy D'Entremont Allen, national competitor, ladies
When I was 17, I moved to the Olympic training center in Colorado. At the time, to live in the Olympic Training Center — which was totally funded — you had to be one of the top-10 skaters in the country. So that was a little pressure, because you don't get to live there if you don't place well. I went to three high schools and ended up graduating out in Colorado.
Three years later, I stopped skating. I had broken five bones in three years, including the bottom of my spine, and I just couldn't take it anymore. It was hard, because it wasn't necessarily anything I did per se that caused the injuries; it was just wear and tear from training. So I stopped skating and started coaching right away.
"I'm an unlikely candidate to be a skater because I was brought up to be a doctor or a lawyer."
Marni Halasa, local competitor, ladies
I got into skating because I saw Dorothy Hamill on television. Almost immediately, I started to skate five days a week. My parents were academics, so they were always like, "If you want to skate, that's great, but you're going to be a corporate attorney." I went to Carnegie Mellon and then I got a law degree at University of Pittsburgh and then I went to journalism school at Columbia. I became a legal reporter, but when print journalism died in the early 2000s, I started teaching more skating, and eventually I switched over entirely. My parents still to this day cannot believe that I support myself on my figure skating.
"It sounds stupid, but Disney saved my life."
Kristen Weir, regional competitor, ladies
I stopped competing my senior year of high school. I was planning on skating with Disney on Ice — I had gotten into college but deferred for a year, to tour. Then my mom got cancer, and that's when I stopped. She had been so involved. I ended up going to college, and I would come home to see her every weekend. At the end of my freshmen year, she died. I remember three weeks after that, I was lying in bed — I was still living in our family home with my brother and I was so lost, because my father had died four years previously — and the phone rang at like 11 at night. It was the woman who did all the hiring for Disney. She said, "I know it's last minute, but we have a spot for you on the tour, if you'd like to come." So I went to Europe and skated with Disney on Ice. I had the time of my life. At that point in my life, it sounds so stupid, but Disney really did save my life. I don't know how I would have moved forward in my life without it. I never went back to college.
"I don't really have a lot of extra time."
Iris Zhao, 2014 National Juvenile Girls Champion
Every day I go straight from school to the rink, and I say until like 6 p.m. most nights. I do ballet twice a week, and off-ice training. I don't really have a lot of extra time. Right now I want to be able to go to nationals again at a higher level, and maybe one day go to the Olympics.
Before I wanted to be homeschooled, but my parents wanted me to stay in school. Now I get it more. Like, if I was homeschooled, I wouldn't get to see my friends as much. But I feel like homeschooling would be a good option if I get to a higher level. Until I get really busy with stuff, I think I'll stay in school.