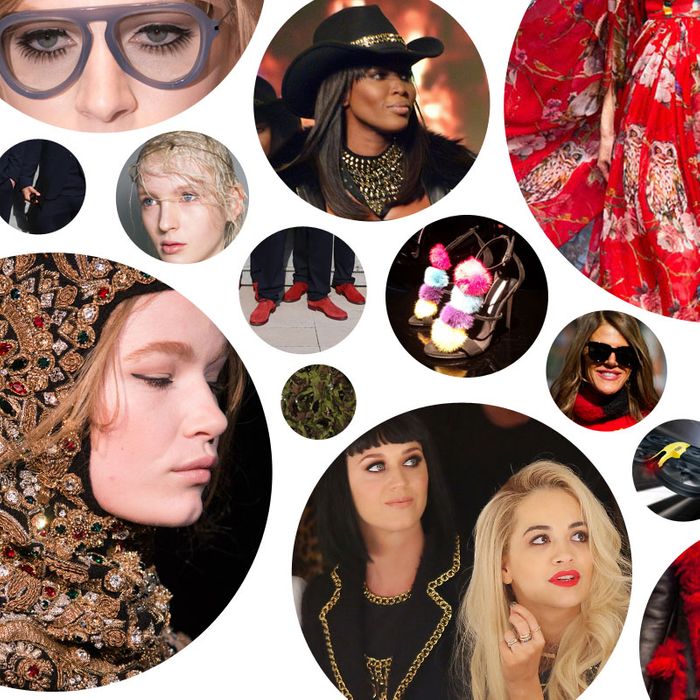 The weather in Milan this week was, mercifully, warmer than it has been in other cities — which meant that the people who chose to wear bare legs and even bras as outerwear weren't ridiculed the way they were in New York. The week saw appearances from Katy Perry (who was booed for lateness), a Karl Lagerfeld fur ball, and a show-going toddler who posted her feelings about Prada on Instagram. On the runways, there were hula skirts, McDonald's Happy Meals, and even some glittering medieval snoods. Below, the Cut's highlights from Milan.
1. Everywhere we turned, there was shearling. But the most memorable came in the form of black, gold, purple, and red coats at Prada, which, we're betting, will be the most ubiquitous street-style coat of next season.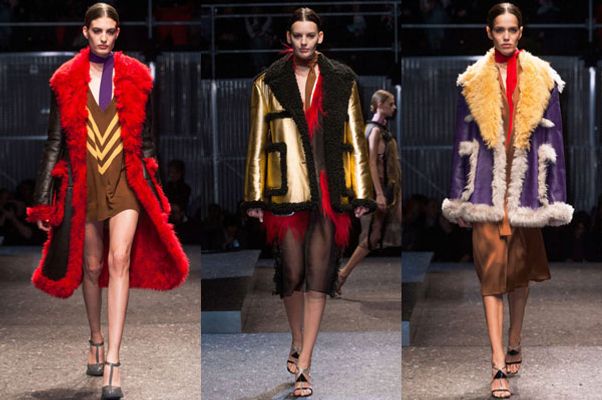 2. Showing your neck: not a good look for fall. Enormous, body-engulfing turtlenecks — which were everywhere in New York and London — continued their domination in Milan. For those who hate their neck, this is a blessing. For everyone else, there's always the cowgirl bandeau.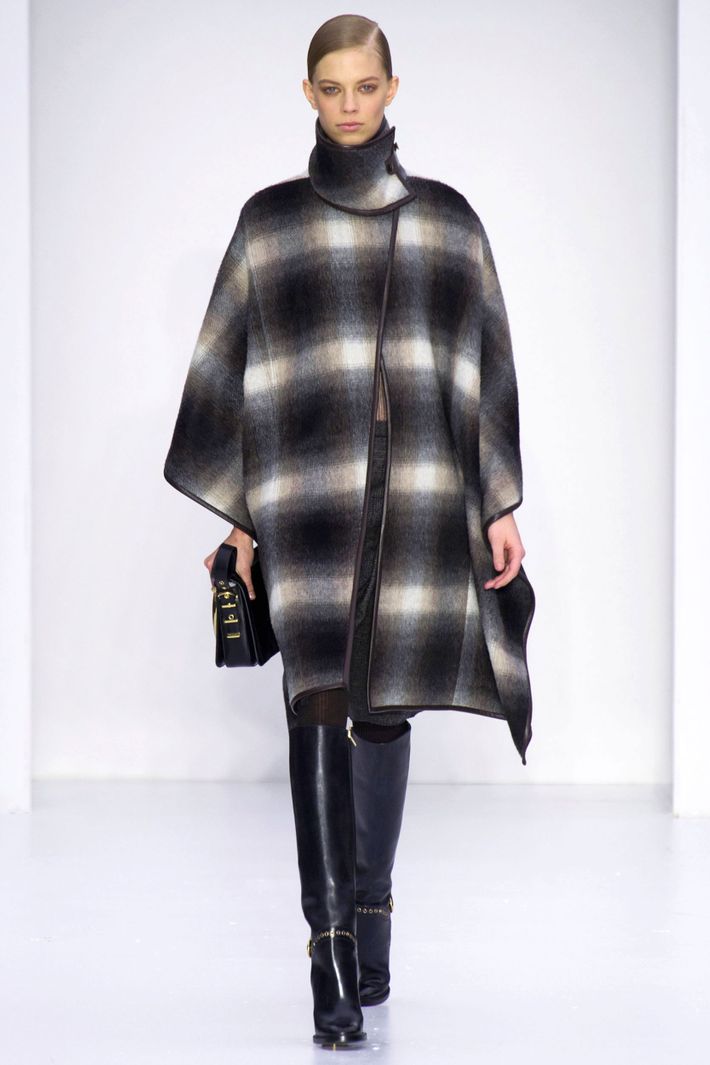 3. The runaway Instagram star of Milan was "Fashion Week Niece," the toddler spawn of Vanity Fair's Michael Carl, who popped up at several shows — and subsequently, on his Instagram account — where she complained about her second-row seats and fretted about her hair. Though the 2-year-old wore Juicy Couture to kick off the week, she's already pledged her allegiance to Prada:

4. The easiest way to get renewed attention from the street-style photographers? Dye your hair. A few street-style stars somehow found time to change their hair color between New York and Milan. Stylist Elisa Nalin went from platinum to black, while Cosmopolitan's Shiona Turini went ombré blonde (created by Cesar Ramirez, Ciara's colorist). Needless to say, it took photographers a day to figure out who they were.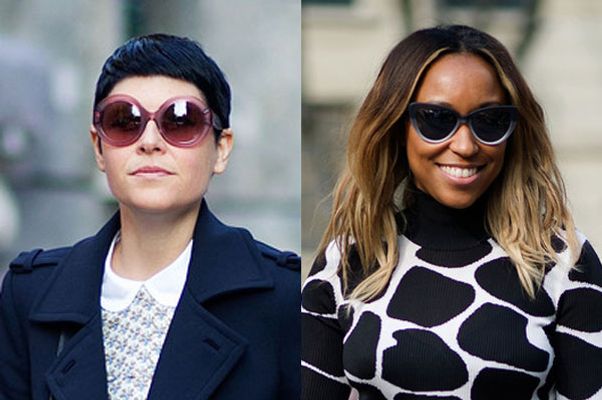 5. Mink showed up in weird new places. At Bruno Magli, pink mink wrapped around a heel; at Brunello Cucinelli, it showed up on a backpack. But the most extreme use of mink was on Dolce & Gabbana's fairy-tale heroines, who sported mink briefs.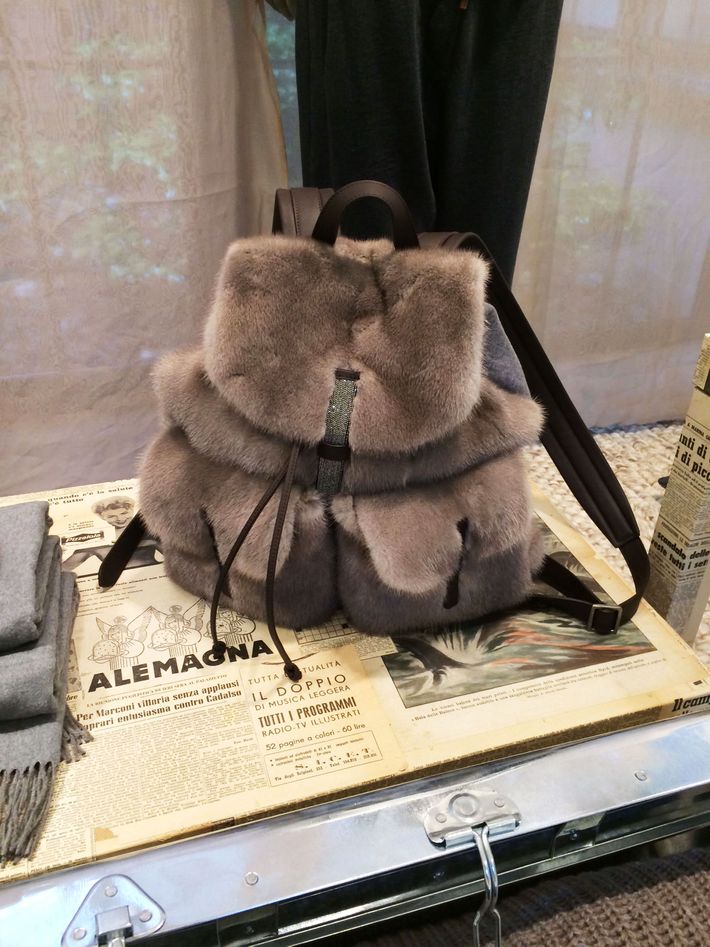 6. The front-runners for next season's most ubiquitous bags, in no particular order: Salvatore Ferragamo's new Fiamma bag (which comes in mini sizes), Bulgari's Icona 10, and Bottega Veneta's yet-to-be-named silhouette. Only time will tell if the Fendi bug bags wither on the vine.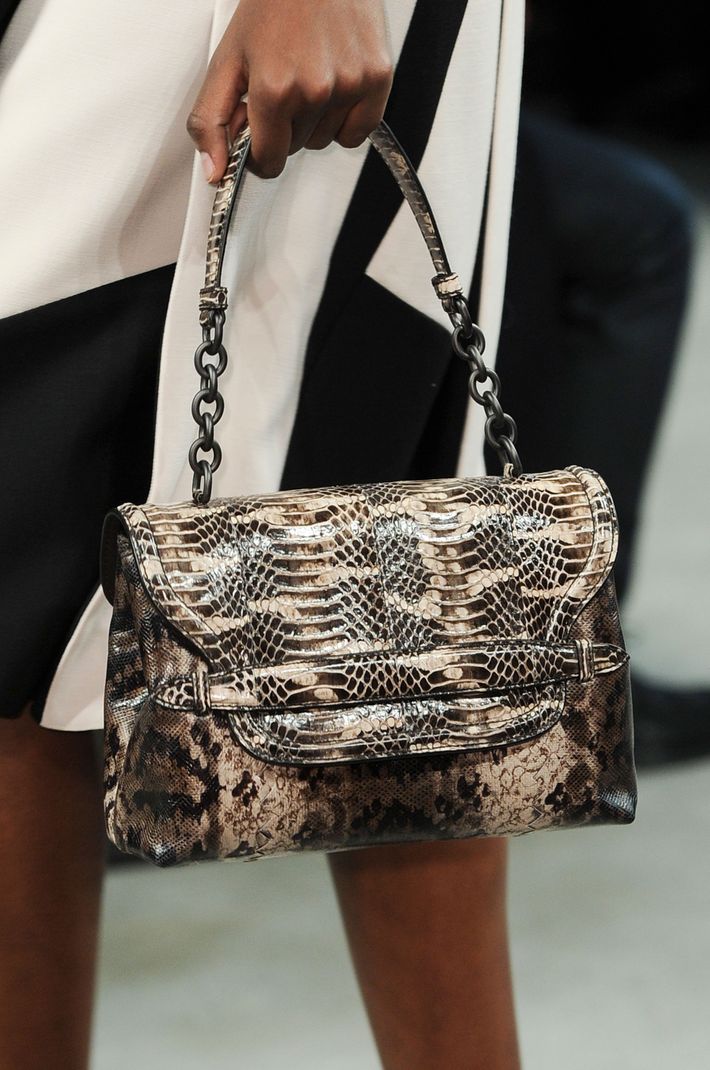 7. Marni had the worst hair to comb. The tangled web of hair distracted from the cool tribal-sport vibe that was happening with the clothes.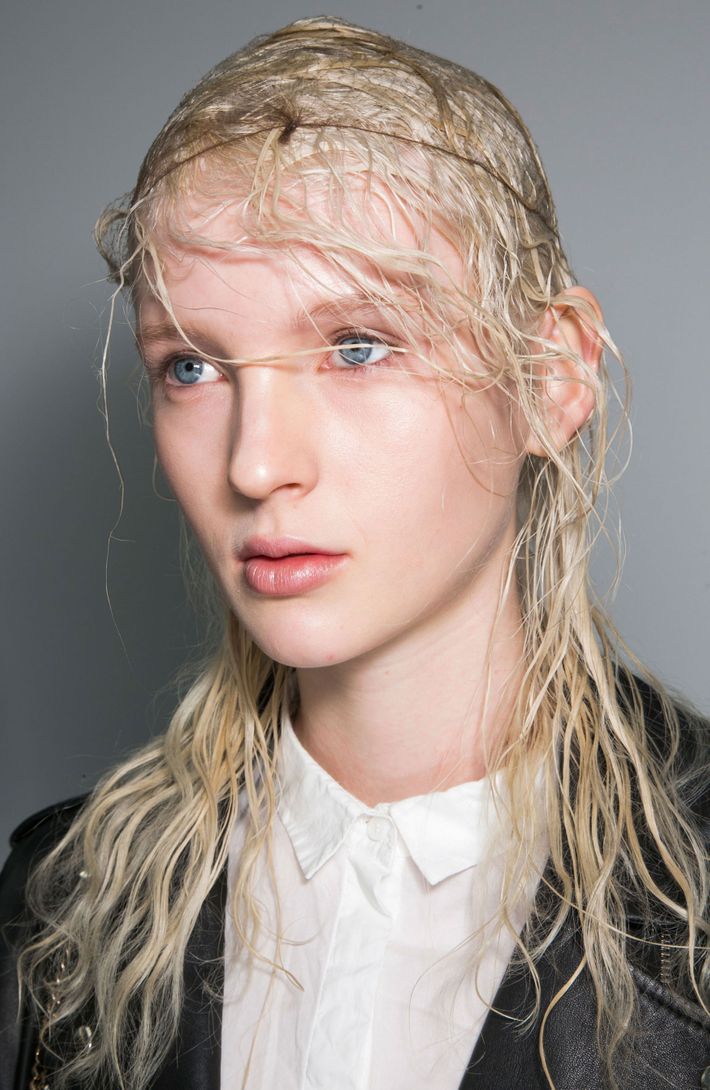 8. The most ubiquitous model of the week was Binx Walton, who seemed to be everywhere, and who also single-handedly made the case for the return of the side-shave.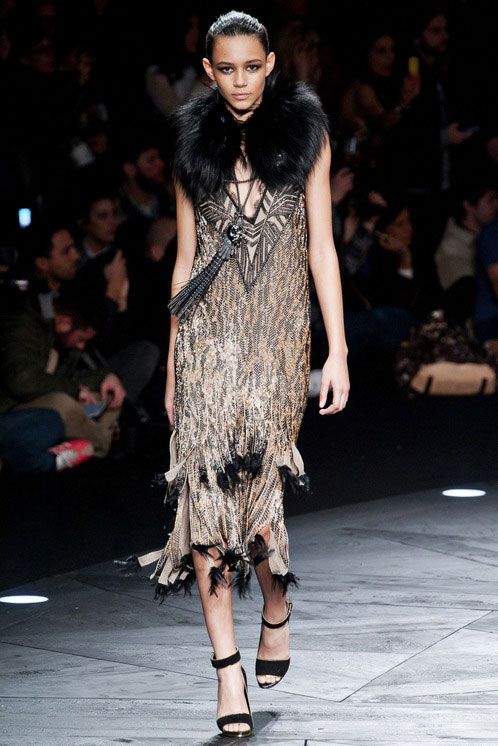 9. Some shows were literal fire hazards. WWD called Roberto Cavalli out for his antics: The stage for his show was a hotbox theatre-in-the-round. A ring of fire ignited and blazed as models sashayed around the circle. There were some good dresses for dancing, but they were overshadowed by the fact that we were pouring with sweat.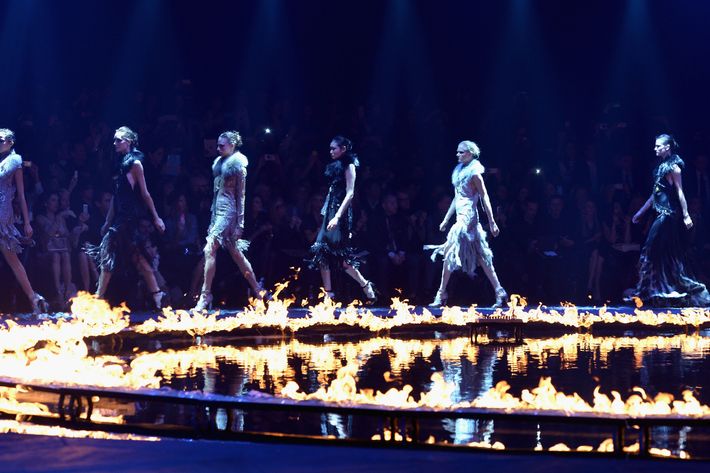 10. Finally, Naomi Campbell graced us with her presence at the noir-cowboy-themed Philipp Plein show. But, despite the bells and whistles of the runway (and, again here, actual pyrotechnics), all Campbell needed to do was drop the mike.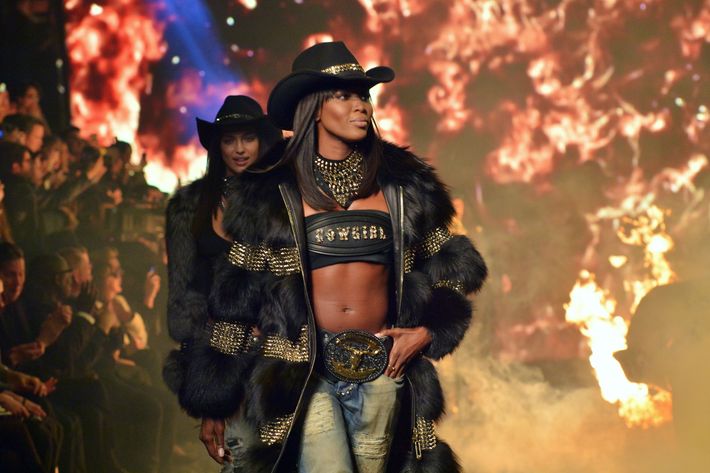 11. It's looking like the color of next season will be mossy green. There was a slew of muddy greens all over the Milan runways — at Gucci, Alberta Ferretti, and Fendi, especially — which may mean, mercifully, that "radiant orchid" probably won't be a lasting trend.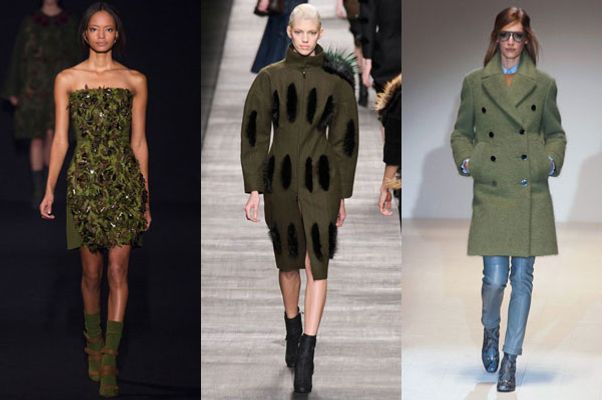 12. Grass skirts are not for Hawaii anymore. Nor, for that matter, are they necessarily for spring. Both Marni and No. 21 showed textural, feathery skirts that will surely be logical choices to wear on cozy fall days, cold winter nights, and long flights.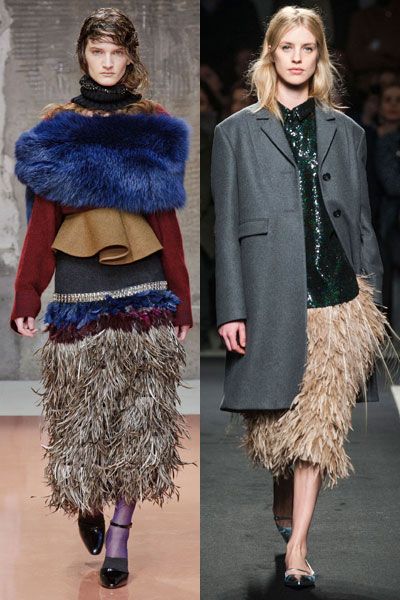 13. Fendi became the first brand to use a drone to capture video of a runway show. It captured Cara Delevingne carrying "Karlita" (the Karl Lagerfeld fur ball) from more angles than we ever knew we needed.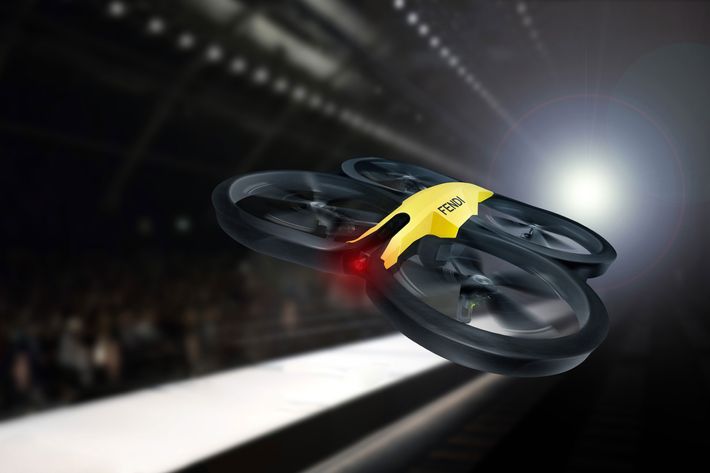 14. We may be wearing sneakers from show to show, but the runway shoes were anything but comfortable-looking. Among our favorites: Gianvito Rossi's Western-inspired boots, Sergio Rossi's homage to Peggy Guggenheim, Brian Atwood's pom-pom flamenco heels (below), and Casadei's take on Cole Porter's roaring-20s Venetian party shoes.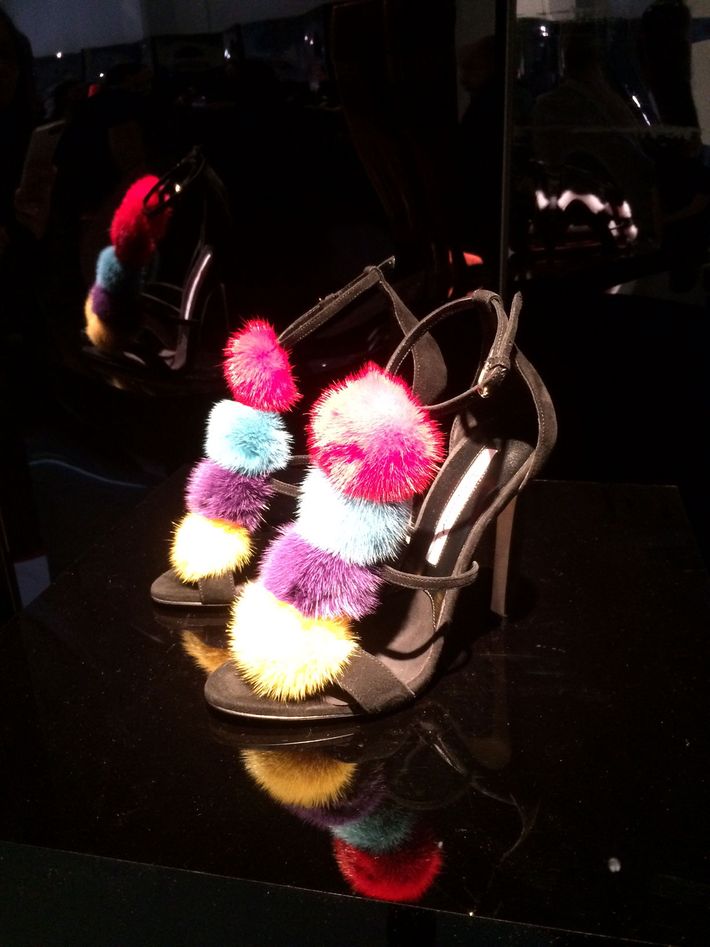 15. Anna Wintour may have skipped the Giorgio Armani show on the last day of the week, but the Emporio Armani Milano basketball team dutifully showed up at the Emporio Armani show. They were tall, handsome, and making eyes at a few audience members.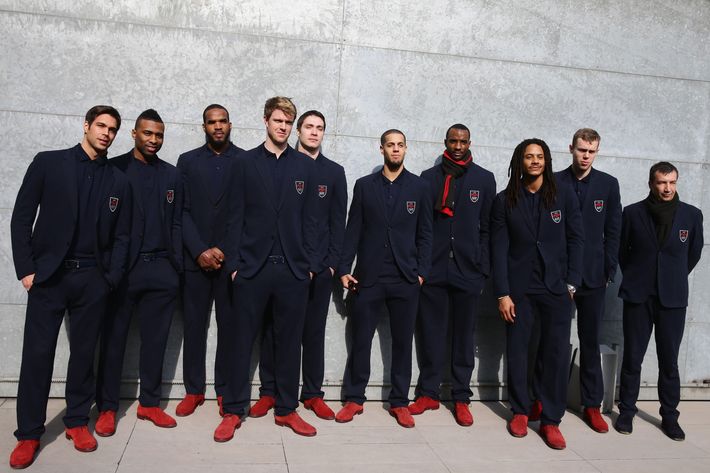 16. In New York it was Jared Leto; in London it was Bradley Cooper. The notable celebrities of Milan included Rose Byrne — who looked lovely, despite claims that she was under the weather — and Katy Perry, who was booed after arriving an hour late to Moschino. Monica Bellucci made a similarly late entrance at Dolce & Gabbana, where she flew into her seat after the lights had already gone down.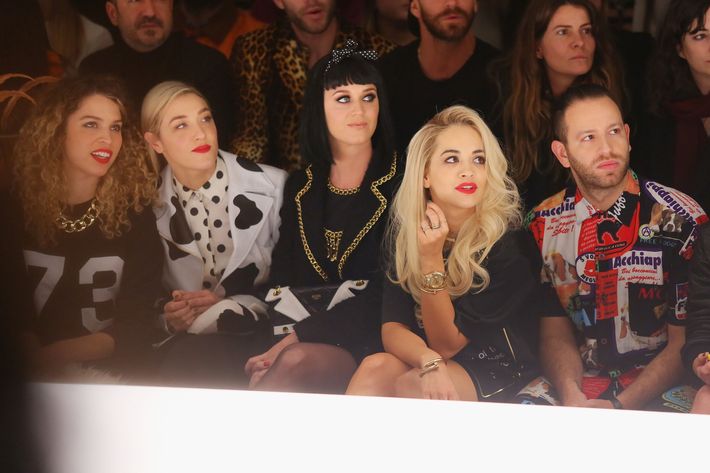 17. Anna. Della. Russo. The hometown crowd lives for her, and we can see why. She practically caused a street-style stampede the day she wore the Moschino McDonald's sweater and Happy Meal bag fresh off the runway, and then casually decided to shut down Prada: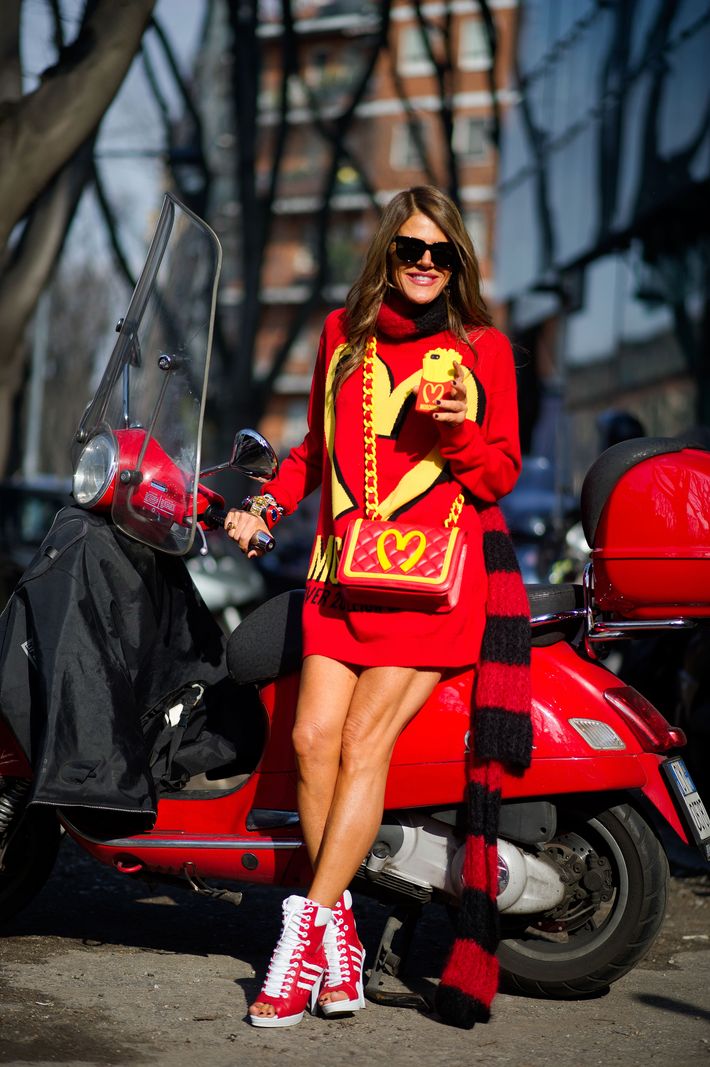 18. The best glasses of the week included Gucci's colorful lab goggles, DSquared2's gloriously sparkly glasses, and Fendi's cat-eyes — which, we noticed, Cara Delevingne got to keep after the show.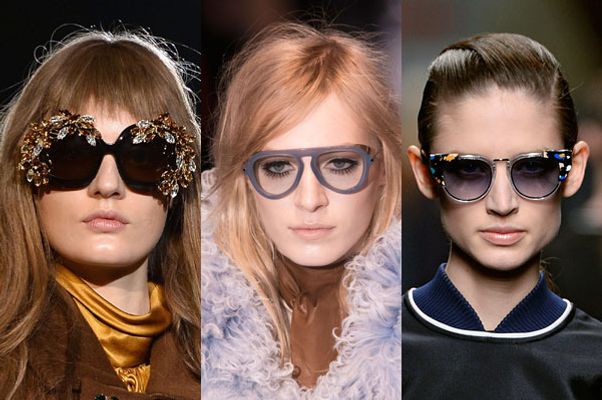 19. Following in the footsteps of the creepy Marc Jacobs soundtrack, spoken-word music was everywhere in Milan. It filtered through the house at the Alberta Ferretti and DSquared2 shows (the latter of which incorporated Little Edie's style diatribe from Grey Gardens). Prada's music, on the other hand — which was performed by an orchestra and Barbara Sukowa — was much more aggressive. But the most jarring music of the week came at Etro — where, to accompany a collection filled with bohemian clothes, the song was strangely Barry White's "Never Gonna Give You Up."
20. Hands-down our favorite accessory of the week: Dolce & Gabbana crystal-covered medieval snoods. First person to wear them with a hula skirt wins.