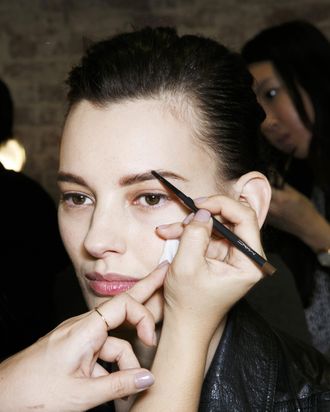 Photo: Antonello Trio/Imaxtree
Welcome to day … I'm not sure what number it is, of Fashion Week. My veins are flowing with Fiji Water, I've watched the vogueing video from Hood by Air 500 times (and almost thrown out my neck trying to replicate that hair-flip), and have relinquished my spot in the restroom line to Joan Smalls (happily). In the process, I've learned a few backstage beauty tips.
1. Most of us are familiar with Q-tips of only one size: the common, baton-shaped wands. But backstage at Fashion Week, there are enough Q-tips of various shapes and sizes to delight even the pickiest of earwax-pickers. There are fluffy ones, with ends shaped like balloons. There are slanted, pointed Q-tips, like those favored by Charlotte Tilbury. There are ones that have makeup remover inside. There are pink, yellow, and black ones. Answers for where you can find these range from "beauty supply stores" to "international drugstores," or Amazon for these precision Q-tips.
2. Some makeup artists use the beloved French makeup remover Bioderma. Some use KohGenDo Spa Water. But more often, they use a moisturizer or cream of some type, especially around the eye. As Charlotte Tilbury explained, it's less harsh on the skin and doesn't leave residue. The oils in a moisturizer are also just as effective at removing spots of makeup. Since seeing Tilbury do it, I've been using Vichy Laboratories Milky 3-in-1 Cleanser (milk, toner, eye-makeup remover).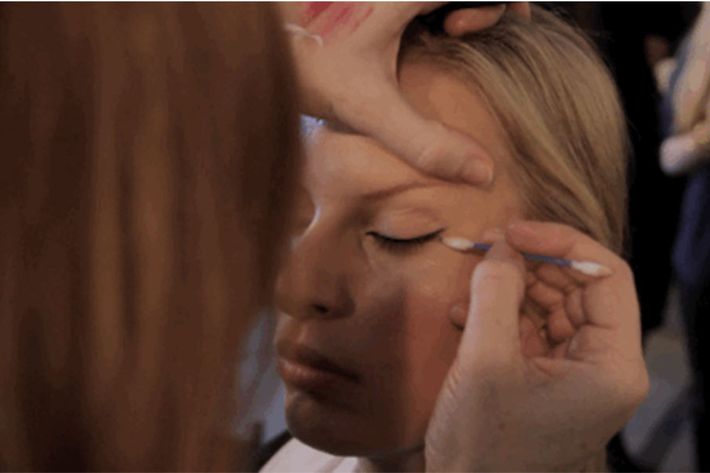 3. To remove extensions, spray dry shampoo at the root of the extension and gently massage. The extension will come right out, as I saw with my very own eyes backstage at Diane Von Furstenberg, where makeup artists furiously massaged and sprayed models' scalps with Kérastase Powder Bluff.
4. Fall is going to be all about the eyebrow. Yes, even more so. Rather than focusing on the lashes, makeup artists have been devoting twice as much attention to the brows, especially at shows that have featured raw, nude beauty (like Jason Wu and Prabal Gurung). Keep growing out those brows.
5. If there is a beauty color this season, it would be green. Or maybe it's just Tom Pecheux's personal preference, after using different variations of it at Peter Som, Altuzarra, and Derek Lam.