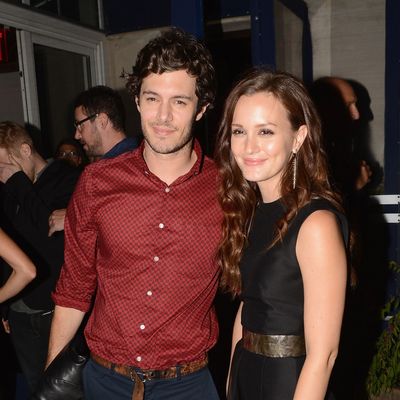 Photo: Andrew H. Walker/Getty Images
Some cupid-angel with a taste for teen dramedy arranged a love-match that unites the golden sunset of The O.C. with the glimmering pavement of Gossip Girl (they meet around Omaha, if you're curious). Adam Brody, who is forever cracking-wise as Seth Cohen in your mind, and Leighton Meester, who will forever stun you with her scheming as Blair Waldorf, have married each other.
Us Weekly found some sources who could confirm "a super-secret wedding" between Leighton Meester and Adam Brody. It's an unexpected pairing, even in the universe of Josh Schwartz fan fiction, but the course of teen love always did run amok in order to remain entertaining.
Certainly Meester and Brody are actual people whose personalities extend beyond their tour de force performances on bygone prime-time soap operas. But we don't know them at all, and so this is how we understand these things. Blair Waldorf and Seth Cohen somehow met in Omaha, and because of a complicated Visa issue and something to do with Ryan's bail and Serena's rehab, they had to get married, but then they fell in love.