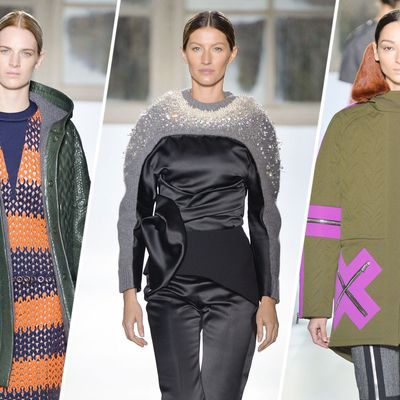 It was both invigorating and instructive to watch Alexander Wang's fall 2014 Balenciaga collection come down the runway this morning in Paris. Thursday was shaping up to be one of those days during which Mother Nature shows little mercy as she whips rain sideways through the cold air and the idea of wearing anything beyond galoshes and fleece seems like more effort than it's worth. But beyond providing fodder for small talk, the weather provided a kind of brutal backdrop against which to consider the often-unrealistic fancies of fashion.
So much of what comes down the runways seems only to make sense for those women who live their lives in nearly hermetically sealed environments — dashing from chauffeured car to penthouse apartment under the protective guidance of an umbrella-wielding doorman. Wang gave those highly cosseted women clothes in which they can face the windy, rainy, cold, unpredictable world. He did not create Balenciaga's equivalent of rain ponchos and snow boots, but as he continues to bring an urbane, sportswear-driven sensibility to Balenciaga, he offered a collection that was dynamic and stylish, yet utterly commercial.
The C-word. In fashion, it is used to refer to the garments tucked away back in the showroom — the ones deemed not interesting enough for the runway but that will ultimately fill store racks. Wang's runway collection was solidly rooted in the vernacular of American sportswear, with its toggle coats, hooded parkas, cable-knit sweaters, and shopping bags cut from patent leather and fur. It was filled with confident pragmatism. After all, fashion — despite its mythology, imagination, and daring — is also a business of SKUs and spreadsheets.
But Wang's collection was playful in its mix of colors, as with an olive embossed parka with violet detailing and a rust-colored fur hood. It served up a banquet of textures, including "braided" dresses in navy and orange, lacquered cable-knit coats, leather dresses dotted with popcorn knits, charcoal-gray sweaters encrusted with pearl crystals, and slim trousers on which zippers created decorative geometry.
Wang did not create the distinctive look of today's Balenciaga, with its devotion to high-tech fabrics and android precision. That is the legacy of Nicolas Ghesquière. But that sci-fi aesthetic has now become part of the fashion vernacular. A host of design houses, from Proenza Schouler to Wang's own signature brand, now use some element of it to tell their individual stories.
Who could resist this new lingua franca? Wang has not only become fluent, but also eloquent. So much of fashion still looks backward, trying to make a 1930s or 1950s silhouette look modern, trying to make the lifestyle of a 1970s social butterfly seem relevant, trying to make the iconography of a long-dormant fashion label fresh again.
As Balenciaga has evolved — and continues to do so under the commercially minded Wang — it has created and popularized an aesthetic that is neither timeless nor faddish. It's great strength is that it is resolutely of this era.
Fashion speaks so profoundly about our culture, in part, because it has a unique ability to sum up a time period in a single garment: a flapper-style dress from the louche 1920s, a miniskirt from the radical '60s, a pouf of a party dress from the overblown 1980s. Only hindsight can tell us what garment will ultimately define this decade, but there is a good chance it will bear the Balenciaga label.