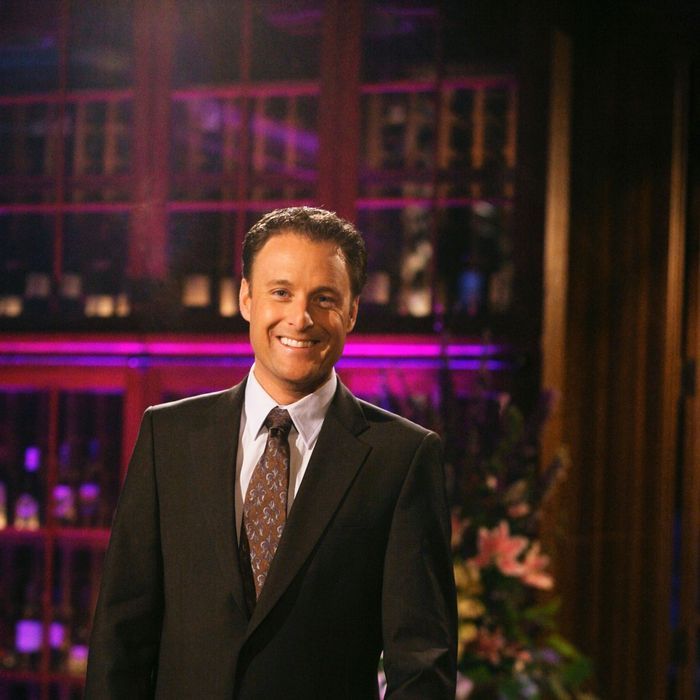 Photo: JEFF PETRY/American Broadcasting Companies, Inc./Getty Images
After 27 seasons of hosting ABC's The Bachelor and The Bachelorette, Chris Harrison knows a thing or two about the game of love. And since he's the host of a televised dating competition, his knowledge should be regarded as the gospel. In an interview with the Times Magazine, Harrison shares all the secrets he's collected about the single American man and how to find love. First, treat the task like you're a Gladiator:
 
"Love is a competition. If you don't think so, then you're crazy, because why are you dressing up, why are you wearing those heels, why are you wearing that $400 perfume? Why are you shaving your chest and eating 40,000 egg whites?"
Good question. But 40,000 egg whites seems like an overestimation. Harrison, who is privy to the grocery desires of Bachelorette contestants (which represents the shopping habits of all average American males), says yes:
"With the guys, we go through 9,000 eggs in a season, because apparently the modern-day guy doesn't have a hair on his body and eats 40 egg whites a meal. Once I told them: 'I know why you're all single. You're too busy eating egg whites and working out.'"
So what is a man to do, Harrison? He can't be a fierce competitor in the love gauntlet unless he's a hairless protein addict, but who has time for matters of the heart with all those egg white omelets to prepare? Lovin' just ain't easy.