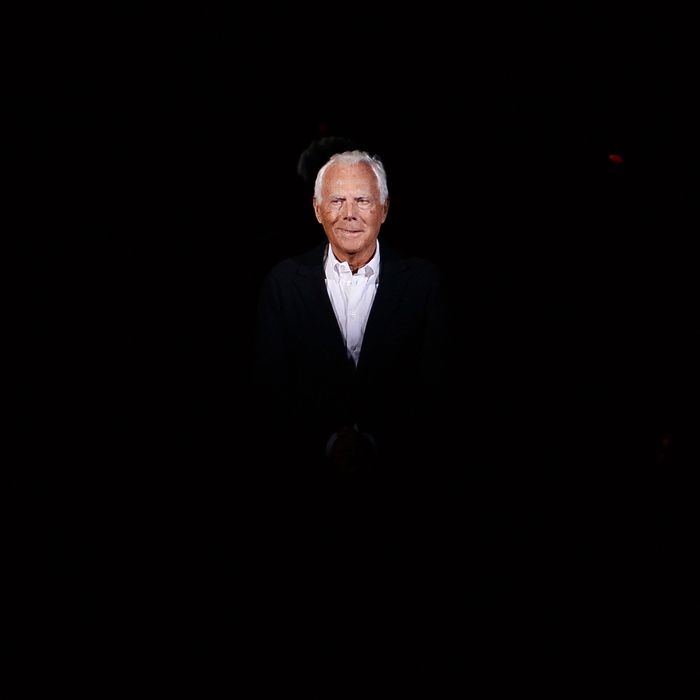 Photo: Venturelli/Getty Images
Hell hath no fury like a major designer scorned by Anna Wintour. But since it's Anna Wintour, most designers just smile, repress that anger bubble deep inside, and eat some non-gluten-free pizza. 

Not Giorgio Armani. When Wintour chose to skip his fall 2014 show on the last day of Milan Fashion Week to head to Paris, he made no efforts to hide his disappointment. In fact, he did just the opposite, and threw some verbal punches (without invoking her name) in a post-show press conference, WWD reports. Here's Armani:
There are some who prefer to snub the Giorgio Armani show and go to Paris … She said she was sending her people. But if you go to see your dentist and he puts you in the hands of his assistant, what's your reaction? They told me, 'She went to see the Privé in Paris; she has no time to see the ready-to-wear in Milan. She is influential and powerful.' But, perhaps, I'm influential as well.
Wintour's camp responded with the dental-assistant equivalent of an apology: "Anna has the greatest respect for Giorgio Armani and everything he has done for Italy and fashion worldwide," a rep for Vogue told WWD. "Unfortunately, with the fashion calendar now running for more than a month, there are some shows that Anna is not able to attend."
But let's hope she also follows up with a handwritten letter offering a lifetime supply of apology macaroons, or, at least, a T-shirt that says "I Trash-Talked Anna Wintour and Survived."