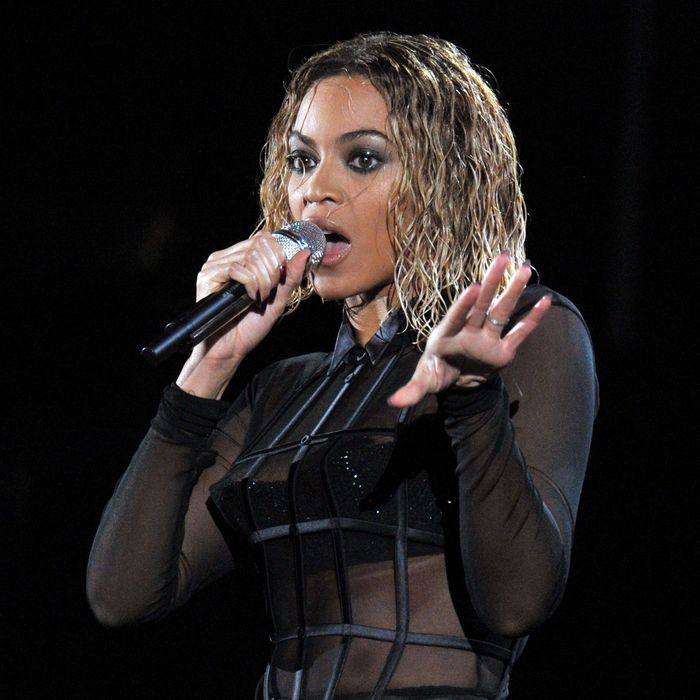 Photo: Lester Cohen/Getty Images
Welcome to the first installment of Hair Days' "Ask a Stylist" series with Wesley O'Meara, a stylist who counts Alexa Chung, Kate Upton, and Sarah Jessica Parker as clients and who blogs at We Hate Your Hair. Each week, O'Meara will share styling advice about looks we're trying to pull off.
We want to try wet hair like Beyoncé's at the Grammys. Is there any way to do this without looking insane?
Well, you're going to look insane. But, fortunately, so did Beyoncé! This is a really tricky look to try and pull off, but I think it can be done. I don't know how long your hair is, but if it is anything past the shoulders you're going to need to tie it up. Even though it is a wet look, nothing else grosses me out (except maybe spiders) more than standing next to a woman on the subway with wet hair. So, you can use K-Y Jelly. Don't laugh! It is a water-based product that doesn't dry as quickly, and it leaves the hair superduper shiny. The models I work with always prefer it over having wet, cold hair all day or having it gelled. So it gives off the effect of wet hair without actually being wet, and it rinses right out.
I suggest not trying this as a day look. That being said, you should have your makeup and outfit on-point. Heavy, smoky eye and a dark lip with dewy skin and a tight, sexy black dress and some killer heels. You can do this. If your outfit isn't on-point, someone will probably try and sell you drugs on the street because they will assume you're a crackhead.