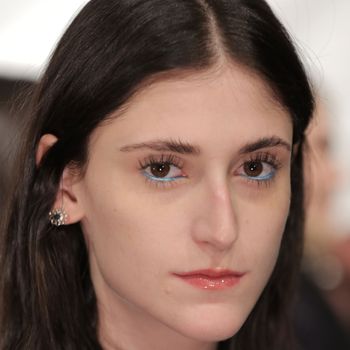 This Fashion Week season, the Cut is taking our GIF-making talents to backstage beauty. We will be reporting the best beauty looks, using GIFs to demonstrate how-tos and takeaway lessons. We begin this fall 2014 season with Creatures of the Wind, where James Boehmer of NARS taught us how to get Sharon Tate fluttery lashes and brows and an innocent-looking Stars Wars mouth, and offers further proof that blue truly is the warmest color for eyes.
Step 1 - Boehmer creates a matte base on Daiane's skin, with a slightly radiant finish. He draws on the bottom inner lid with a metallic blue eyeliner that matches a shade of brocade seen in the collection (NARS Larger Than Life Eye Liner in Khao San Road). Makeup artists are now officially using blue eyes for three seasons running.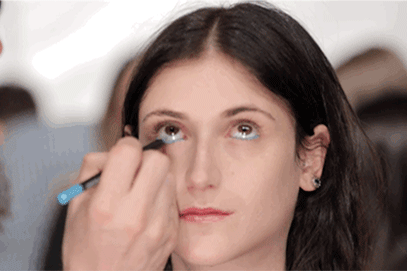 Step 2 - Daiane curls her lashes, giving you a better look at that blue liner.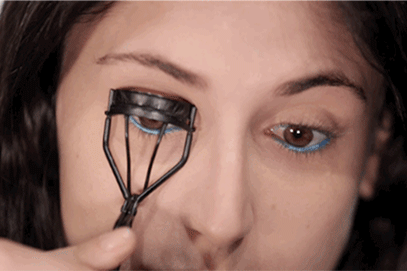 Step 3 - Drawing a little bit from the seventies, Boehmer envisioned giving the girls a brushed-up eyebrow, reminiscent of Sharon Tate. He used Oural Brow Gel to sweep the brows up slightly and slowly, focusing especially on the first part of the brow.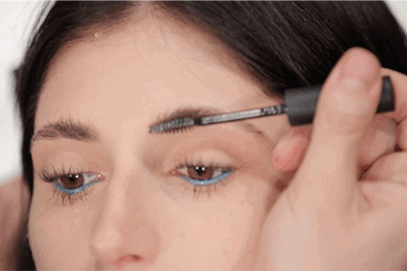 Step 4 - To create fluttery, long lashes, Boehmer focused his attention more on the ends of the lashes rather than the roots. The trick is to use dual motions with the mascara brush. He first used NARS Lengthening Mascara, swiping the mascara wand horizontally at the tips.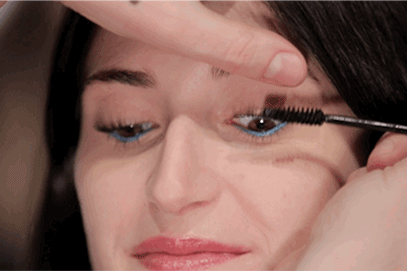 Step 6 - To prevent it from getting clumpy, he also moved slowly, working the wand vertically, doing a small portion of the lash one bit at a time. The technique is not so much of a "combing" but more painting.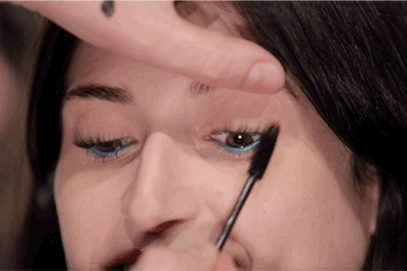 Step 7 - To create fluttery lashes on the bottom, Boehmer wielded the mascara wand horizonally and then slightly vertically.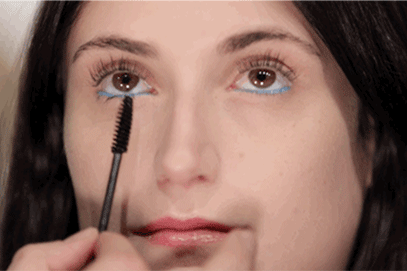 Step 8 - For an innocent, Princess Leia–looking mouth, Boehmer went glossy, mixing a blend of NARS Mauritanie Matte Multiple (new for fall 2014 — NARS Na Pali Coast is similar) with Triple X Lip Gloss. "Almost like she got into some honey. I like the idea of innocence and playing here into the Cupid's bow."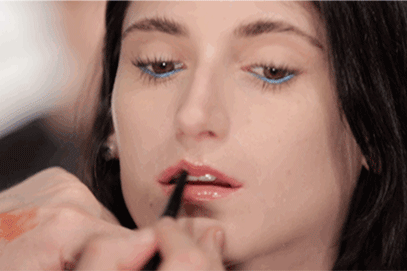 Step 9 - In almost the same shade as the lip, Boehmer stippled Rosebud Lip Salve all over the cheek.