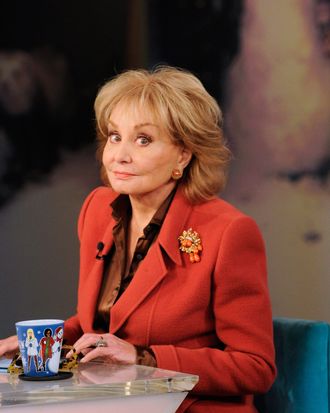 Photo: Jeff Neira/Getty Images
Barbara Walters started out this week by saying that she calls using her vibrator a "selfie" — which was such a good joke I forgot to have a feeling about the fact that Walters has a vibrator. Then, on Wednesday, Walters categorically denied vibrator ownership, with a gravity befitting a much more serious crime and person. She bid this week adieu by learning how to take an actual selfie, butt variety.
Instagram celebrity and Cirrus fitness equipment spokeswoman Jen Selter came on The View today to show the ladies a signature butt-defining workout and flattering butt-selfie angle. Watch Walters gamely do it all on The View's website, including getting down on her 84-year-old hands and knees to perform Selter's "donkey kicks." Vibrator or no vibrator, there ought to be a daytime Emmy for such a week.