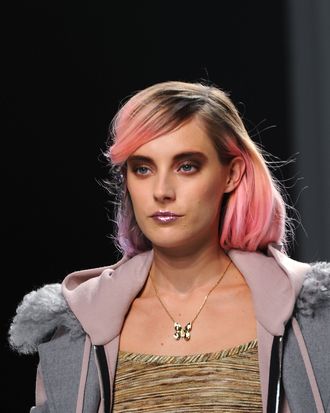 Photo: MATTEO VOLTA/Imaxtree
Fall beauty has, for the most part, been all about the boys: with several collections using pared-down, minimal makeup and hair. But for their vision of fall, Kate and Laura Mulleavy of Rodarte went girly — and were inspired specifically by the princess dreams of their childhood.
Although the beauty looks at their show today featured "princess hair" and glittery, 3-D lipstick mouths, the keyword here is girls, not girlishness. After all, the Mulleavys' childhood inspirations came from Stars Wars, not My Little Pony. The lip was a strong, glitter-flecked red-copper, not a baby pink. The hair was long and wavy, but rolled and anchored away from the face with a Rodarte metal butterfly barrette (probably with a grown-up price tag to match).
To create the lip, James Kaliardos for NARS Cosmetics did a professional version of a DIY Pinterest glitter-lip tutorial: He mixed four different colors of loose glitter (silver, red, pink, and lavender) with either NARS Deborah Audacious Lipstick (out fall 2014 — Pigalle Semi-Matte is similar) or NARS Dominique Audacious Lipstick (out fall 2014 — Biscayne Park Satin Lip Pencil is similar). "I really hope they make this," Kaliardos said backstage. Us, too. The 3-D effect of the different glitter shades made the lipstick look grown-up. "It's not like a show girl — it's glamorous!" Kaliardos explained, but with its copper tones, still a little bit dark. To create a glitter lipstick that held together and wouldn't fall off in clumps as the models moved around, Kaliardos kept the glitter-lipstick ratio in favor of more glitter. More glitter, always.
To make the loose, wavy hair of your childhood dreams (especially in the case of rainbow-haired Chloe Norgaard) Odile Gilbert created sprayed hair or extensions with John Freida Leave-In Conditioner, and then plaited two The Sound of Music–like loose braids. After drying them on low heat, Gilbert removed the braids to debut princess-y hair, then rolled and twisted a section of hair to secure with a Rodarte butterfly barrette. Just think of the waves Sleeping Beauty could have had if she had tried this technique before sleeping for 100 years.