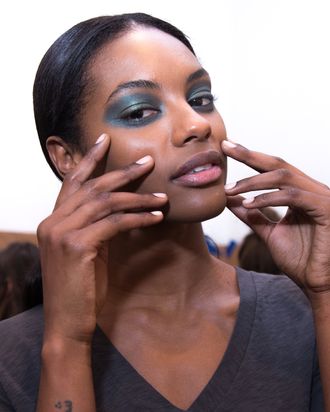 Photo: Anna Webber/2014 Getty Images
Thank goodness for Tom Pecheux. Just after giving the beauty editors their glitter fix at Altuzarra, the makeup artist reemerged at Derek Lam to create the first smoky eye of the fall 2014 collections. But in true Pecheux fashion, this wasn't a mere pretty smoky eye. It was an edgy "raccoon eye," in a color he deemed not quite gray, green, or blue, but something in-between.
"Because ladylike is not [his] thing," Pecheux paired the smoky eye with no mascara or eyebrow definition. Using a big, soft fluffy brush to deposit Estée Lauder Pure Color Intense in Camo Chrome and Estée Lauder Pure Color Ivy Envy, he created a sheer but pigmented color shape heavily around the idea. A fluffy brush was necessary because he "wanted a real 3-D look. It's an ocean, it's a river. I wanted that water feeling of something organic around the eye."
After using various shades of green at Peter Som, Altuzarra, and now Derek Lam, Pecheux joked that he had green on the brain after "liking" a picture of a green velvet couch on Revlon creative director Gucci Westman's Instagram, where they teased that "green was the new black." But as he explained, any connection was coincidental. But, in a season where words like "weird," "not too normal," and "raw" have been thrown around as beauty buzzwords, perhaps there's something about greenish about fall.