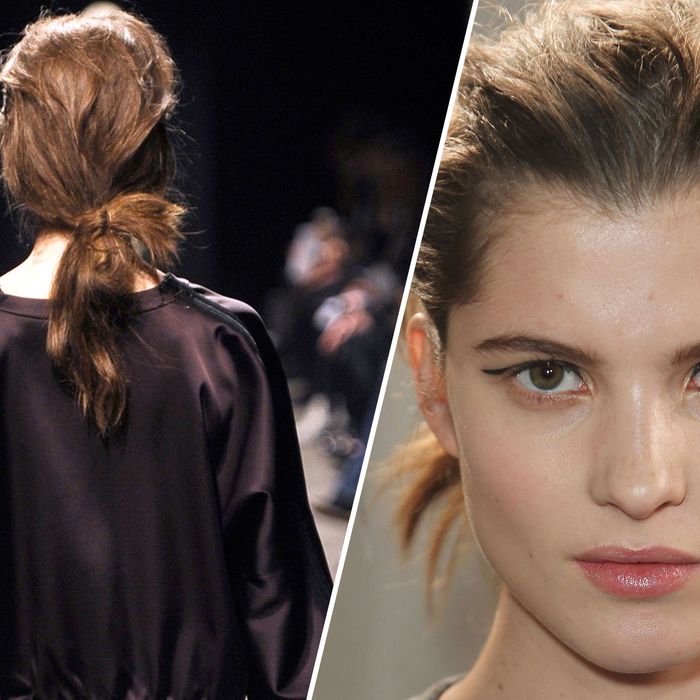 Photo: Imaxtree and Courtesy of Revlon
After an electrifying orange lip last season, this time rag & bone took a trip to the fifties in its fall show. And matching the personalized varsity jackets worn by models like Georgia May Jagger, was a strong, graphic, Katharine Hepburn liner.
But how would Hepburn do liner? Just as George Cukor once described Hepburn as an "odd bird," Revlon global artistic director Gucci Westman described the liner as a bit of a "funny shape." "It's straight and doesn't follow the lash line," she said. "It goes up and straight."
The liner — a blend of cream eyeliner (Revlon Creme Gel Eyeliner) and liquid (Revlon Liquid Colorstay Eyeliner) — is a graphic line that rests above the lash line and then triangles to meet the lash. From the side, it looks like a forked cat-eye of sorts, with a poppy sensibility that Westman said was inspired by French Ye-Ye girls. Everything else was kept simple. Because, honestly, after perfecting a Hepburn liner, who has time for anything else? Or as Westman explained: "The rag & bone girl has to be easy and street. It has to be one thing, [it] can't be fifteen different steps."
That sense of effortlessness also translated to Paul Hanlon's vision for an urban sports knot. As he explained: "It's a little dreadlock-y. It kind of looks like maybe your hair on the weekends, if you hadn't kept up with it." As the beauty editors looked doubtful about the likelihood of not keeping up with their hair on weekends, Hanlon explained that the hair was gathered into a half-knot underneath the nape of the neck. With rubber paste and matte powder, the hair took on a bit more of a windswept texture. Still, Hanlon kept it from resembling a long-term college-student backpacker by keeping the style this side of pretty — and, thankfully, not taking the dreadlocking too far.