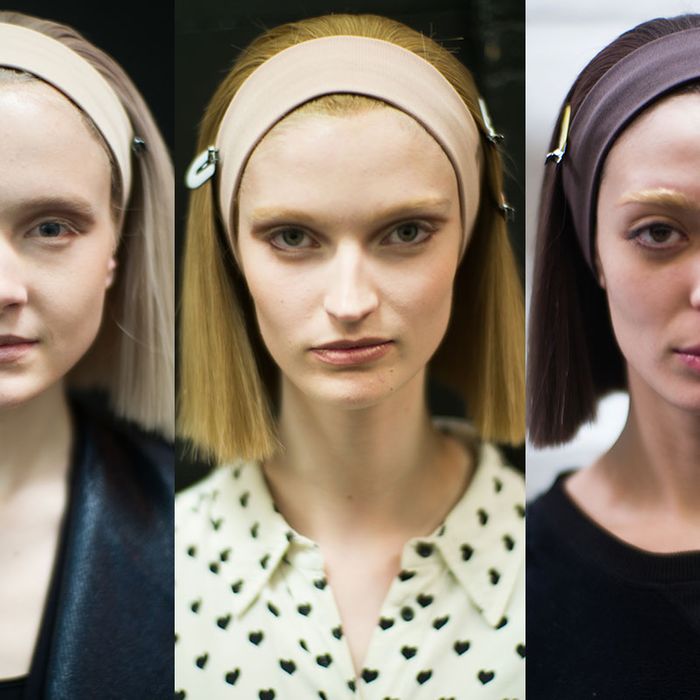 Earlier today and after seeing it all over the runways this week, I wondered whether "nude" was even a color. And today, Marc Jacobs answered that question with a resounding yes. He created a beauty palette and runway collection entirely focused around exploring nude tonality.
Nude tonality? Yes. Not only is nude a color, but between the clothes, makeup by Francois Nars, nail polish, and wigs created by Guido Palau's Redken team, there may be 50 shades of it. For his show, Jacobs even invented five new nail polish shades of Marc Jacobs Beauty nail polish (still unnamed) late last night to paint on the hands of the models in today's show. Francois Nars and Palau for Redken explained how they worked together with Jacobs to create a full spectrum of nude scaling.
Guido Palau: "We were inspired by tonality. We wanted to do shades of hair that you couldn't quite see what the color was. Is it pink? Is it brown? Is it a blonde? Last time, it was about the white and the black. These are pulled back and almost old-lady colors. There are five different tones. anthracite, a silver-y brown, when you look at them altogether, they merge but they aren't all the same. I wouldn't know what to name them. The headband matches the hair in a funny kind of way; it's almost like a painting or illustration. This feels new to me, a new way to see hair.
We bleached the wigs out and put a rinse on it so they have a tone but don't pop. They're like '50s or '60s colors. The whole thing is like an illustration come to life, this very simple shape inspired by Jessica Lange pictures and Polly Mellen. It's so perfect, it almost looks futuristic. There's no era reference when you look at the girls — it's quite eerie and unsettling and unemotional.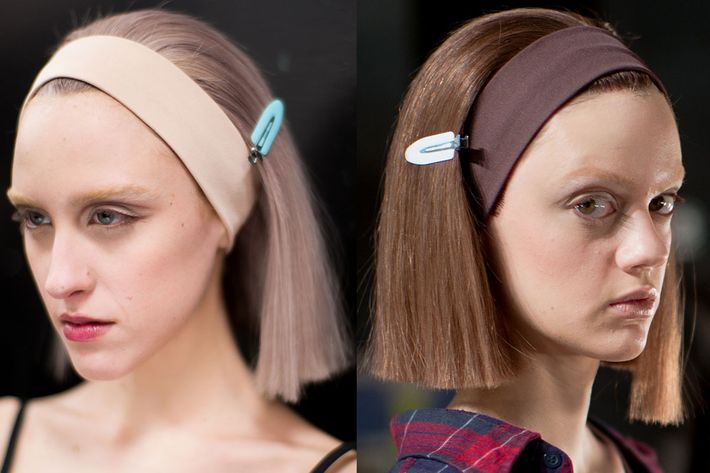 We had to blow dry all the wigs with Redken Satin Wear and ironed them with Redken Iron Silk. It's all about getting off tones, that's what he wanted to see in the hair. Marc had two hairdressers from my team with him and each look is styled with the hair so he got a complete tonality."
Francois Nars: "We based the whole makeup directly on the colors, fabric, and textures, which is very matte. The makeup overall is very matte. We are using pastel, with touches of chocolate, very earthy and silky and neutral in a way, with a specific focus on a light gray (NARS Andromeda Dual-Intensity eyeshadow will be out fall 2014; Tokyo Duo Eyeshadow is similar) on the eyelid, mixed with a chocolate in the crease (NARS Kalahari Duo Eyeshadow). The idea is to accentuate the eyelid, make those big eyelids like those seen on Greek statues. They have no lashes, mascara, nothing, but the eyelid is very drawn. I tried to do this, but in a soft way.
Lips are very neutral, beige, with a little highlight, shimmer, almost like a beige-y shimmer with a touch of silver (NARS Dione Dual-Intensity eyeshadow will be out fall 2014; NARS All About Eve Eyeshadow is similar). But all done with a finger, so no line, very soft and transparent but catches the light.
The brows are bleached and toned to the color of the hair. They aren't disappearing. They're really there and matching the hair color. I didn't want to do a 'no eyebrow.' I wanted it soft."