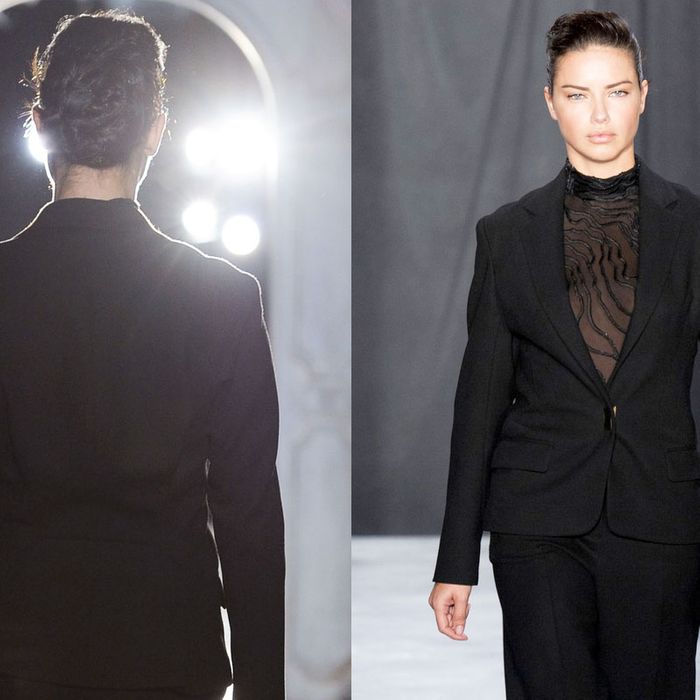 Can boyishness be glamorous? That depends on whether you find nudity glamorous and Adriana Lima (the opener of the show) in next to no makeup sexy. As the makeup artists backstage at Jason Wu remarked, "It's the first nude face in two seasons! Last year's eye look alone had five shades." This year, lead makeup artist Diane Kendal explained, it was all about androgyny, a feminine-masculine look.
But rather than a severe Helmut Newton androgyny, the look was boyish, but touchable. The lightest of eyeliner lines lined the top lash line. Lips were only given a clear, matte base coat (L'Absolu Rouge La Base.) And based on this show, tweezer sales are going to continue to go way, way down for 2014. Full brows were the focus: defined, but with soft edges. If Jason Wu were to launch another Lancome collection, based on this season's look, color wouldn't be an option. But he could surely create a Jason Wu x Lancome brow pencil.
Like Chandler describing gum, Odile Gilbert of Kerastase described Wu's collection today as "perfection." "It's why for once we could go for something sleek and chic but messed up in the back." From the front, the models all looked like they were shorn with boy crops. But in reality, they wore 50 hairpins (a guesstimate by Gilbert) or more tightly pinned their hair into a swoopy nest. Models with especially long hair had it concealed with a coiled braid underneath the hair nest, which was slicked back with Kérastase Touche Perfection. After the show, it was a nest that Hanne Gaby Odiele spent ten minutes helping another friend to de-tangle.