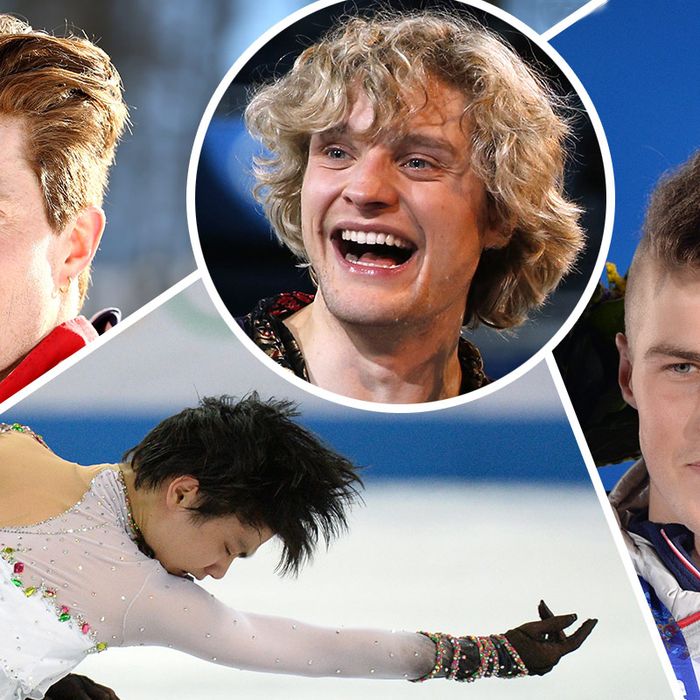 The men of the Sochi Winter Olympics offer a veritable pageant of hair styles. We were interested to find that the female athletes of this particular Olympiad were, for the most part, unremarkable in their styling choices. The men, however: WHEEEEEEEEEEEE.
The most prominent Winter Olympic hair of yore, the flowing waves of one Shaun White, were dramatic for their absence, cropped into a sophisticated swoop. It suits him well. But, if you miss seeing a cascade of curls on the snowy tundra, may I point you to Mr. Danny Davis? This snowboarder possesses an excellent pile of curls with a fabulous mustache-beard bonus combo. Davis walks that line between well-groomed and natural so handsomely. Another man with locks a flyin' in the 2014 games is U.S. figure skater Jason Brown. Brown is now synonymous with his ponytail, which, in the vein of @BobCostasEyes and @SochiWolf, received its own Twitter account.
And, though he's not a competitor, Johnny Weir, former Olympic figure skater and current commenter, must be initially acknowledged in this ode to male hair of the Olympics. He has truly exceeded anyone's fashion expectations. He has sported a knotted-braid situation (in solidarity with the Ukrainian team) and entertained some golden (victorious) highlights.
To applaud the follicles of these fellows and more, click on through.