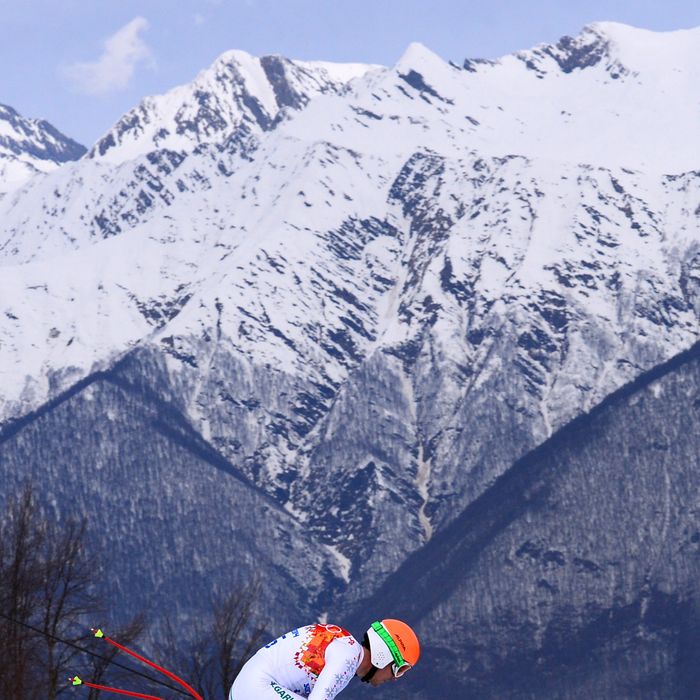 Photo: DIMITAR DILKOFF/AFP/Getty Images
The New York Times reports on a recent problem plaguing Olympic downhill skiers, hockey players, and speedskaters: They have big butts and can't buy pants.
"Yes, I have an enormous butt," a Canadian downhill skier said. A British skier, Chemmy Alcott, echoed the sentiment: "Yes, we have derrieres. We've got booties."

Figure skaters might have wispy waists and willowy Gumby gams, but skiers and power-skaters need muscular legs to sustain prolonged squat positions and catapult into crazy-fast speeds. But all that bootylicious body power translates into a tough time at the pants store. These athletes face tears to the crotches, frequent trips to the tailors, and sometimes just a total abandonment of hope in exchange for sweat pants 24/7.
Though there may be limited space for all "dat ass" in a pair of skinnies, there is absolutely no space for body-shaming when it comes to these athletes' attitudes.
"I've spent 28 years squatting in that squat position, and I'm really proud of it. It would be a lot easier for me to be a skinny, normal person. I have to work really hard to get this muscle," said Alcott. A Slovakian competitor actually enjoys the experience of trying to find jeans: "I come to the shop and they tell me, Your muscles are very nice. You are like a model, and you can buy anything you want."
Maybe it's time to revive that Apple Bottom Jeans brand, huh, Nelly?