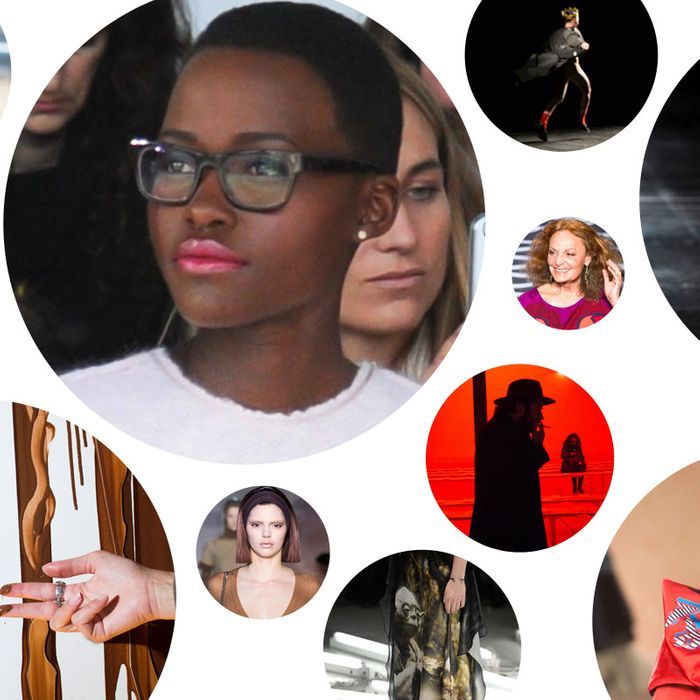 From the streaker at Prabal Gurung to the Kendall Jenner casting at Marc Jacobs; from Joe Jonas chatting with Anna Wintour to liquid-chocolate walls at Opening Ceremony and radical gender ambiguity at several shows, there were plenty of things to talk about this season. Of course, it was hard to talk about anything other than the god-awful weather. The Polar Vortex nipped at bare-ankles (and bare nipples) and the slush-moates at every corner threatened show-going entirely. But fashion week isn't for wusses, and no amount of snow could stop the car-driven editors from getting their front-row Instagrams. Here's hoping that everyone not on their way to London has time to enjoy a nice long weekend catching up on some sleep. In the meantime, read all about the things you might have missed this past week. Including some missed connections.
1. The Met Ball options this year will be worthy of Charles James! Oscar de la Renta, Marchesa, and Prabal Gurung all presented great options to wear on fashion's most important red carpet. But may the force be with the lady (or man) who tries to wears the Rodarte Yoda dress, lest Darth Wintour give you the Death Stare. (so. many. bad. puns.)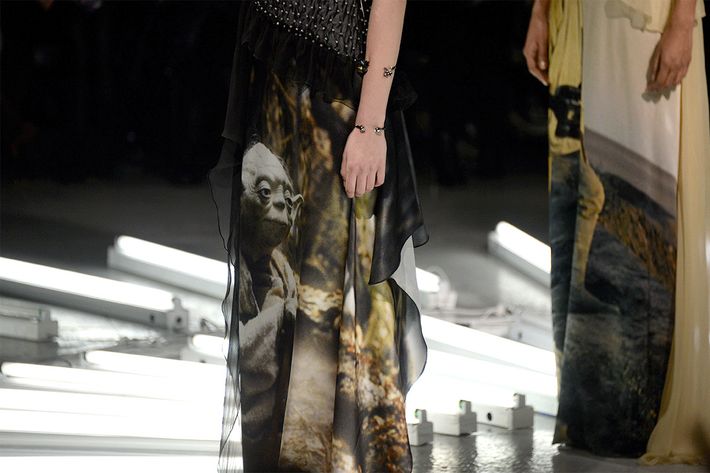 2. To celebrate her fortieth year in business, DVF sent all her models out with huge smiles, and closed her show with fifteen golden wrap dresses. A fitting color considering how much they've minted her over the decades.
3. Marc By Marc Got A Girly Reboot. Luella Bartley and Katie Hiller, the new design duo behind Marc Jacobs' newly-rebranded Marc by Marc Jacobs (which they're now calling "MBMJ"), presented a collection filled with lady-ninjas, moon boots, and overall fierceness. Not a runaway hit yet, but we have faith.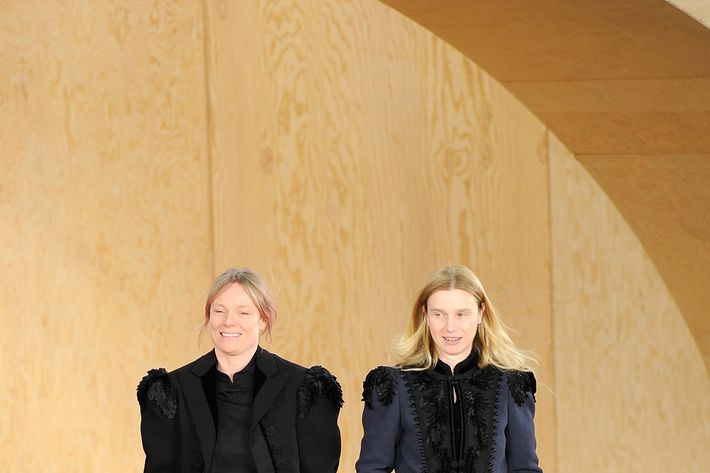 4. Boys are girls. Girls are boys. Everybody just keep dancing. At Hood By Air's show on Saturday, the Cut's Robin Givhan observed that you couldn't tell which models were female and which were male – and that was kind of the point. It doesn't matter.
5. Jeremy Scott brought to mind the brave coming out from football player Michael Sam and the conversation about gay rights that's happening around Sochi. Scott couldn't have predicted how relevant his collection would be—but in our minds, he took home a gold. 
6. Street style said "suck it" to all the grumps. Despite that plenty of editors like Suzy Menkes continue to turn their noses up at the insanity that street style hath wrought, it continued to be a season of colorful hair, colorful furs, open-toed shoes, and many actually weather appropriate looks. The Cut's intrepid photographer YoungJun Koo never missed a beat capturing it all.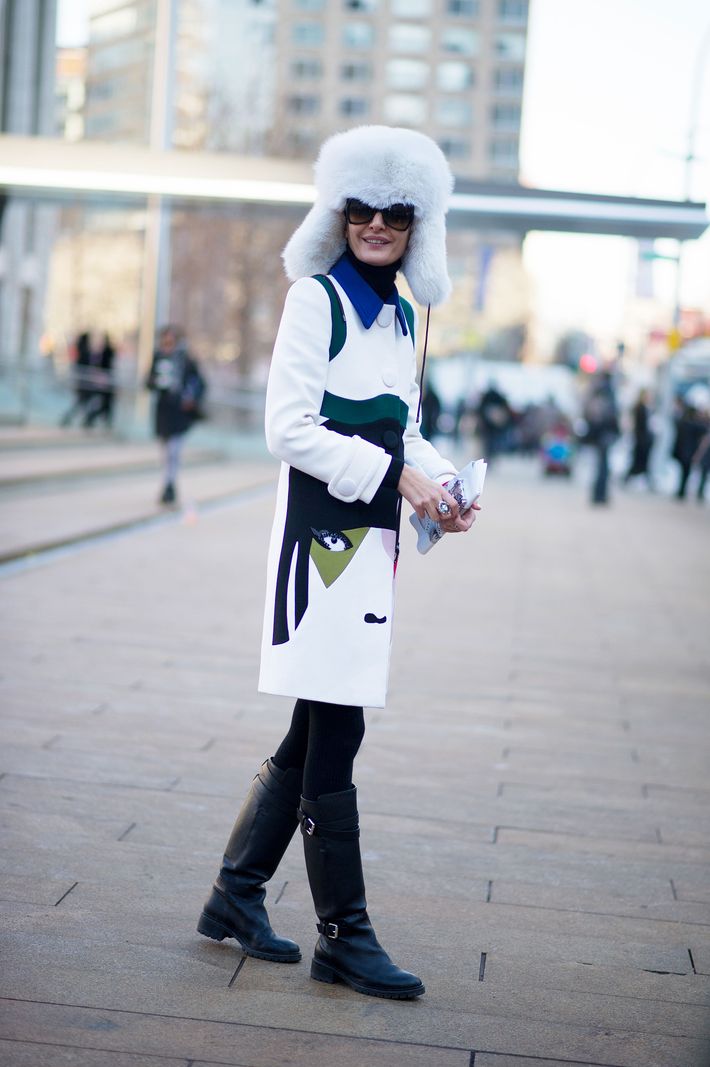 7. Thom Browne's "Wicked Nun" Show featured giant, sculptural pieces, but all we could see from the whole collection was the amazing church fashion show in Fellini's film Roma. If you've never seen it watch it this weekend while you click through the slideshow. For Thom.
8. The Chocolate Wall at Opening Ceremony was really unsanitary but really delicious. Halfway through the show on Sunday, a giant wall behind the runway began to drip with chocolate. Apparently Opening Ceremony employed 1 ton of chocolate (and 26 workers to pour it). As the Cut's Joe Jonas observed, it was the definition of a "sweet" show.
8. The Front Row Circus this season was typically filled with Disney stars, Orange Is The New Black cast members, Goop, Tracey Morgan, and our very own Jonas. Notoriously missing? Chirlane McCray, who Bill De Blasio promised would be there, and, of course, Kanye West – who apparently had RSVPed for both the Alexander Wang and Jeremy Scott shows and then just didn't show. No matter, because Lupita came to Calvin.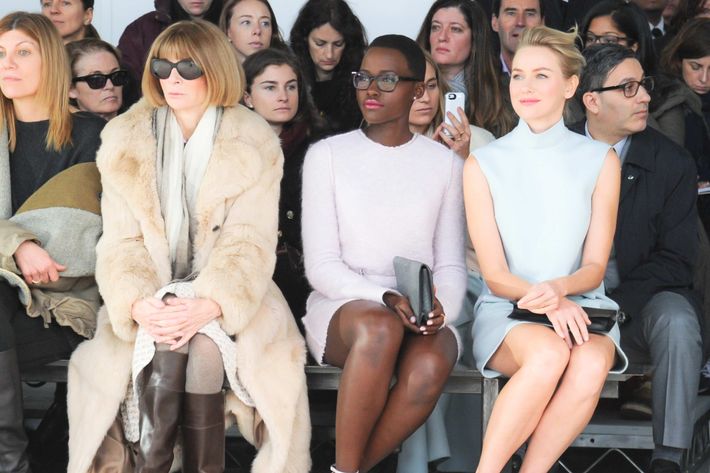 9. Marc Jacobs proved every cloud has a silver lining. Despite the lyrics to "Happy Days Are Here Again" (which played in a monotone loop all through the show), we were not convinced the mood of this collection was happy at all. Placid? Maybe. Marc Jacobs' first collection post-Vuitton felt like it was, in the designer's eyes, a welcome occasion— but also a double-edged sword.
10. Backstage and front row, the antics and drama never stop. The Cut's photographer Landon Nordeman captured the surreal scene, and Clint Spaulding manned our epic Gifs.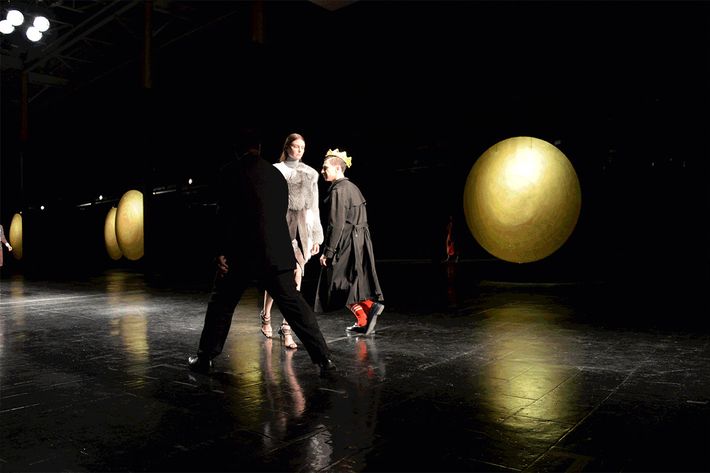 As Porky Pig would say, "Th-Th-Th-Th-Th-That's all folks." Commence your House of Cards binge-watching, mend your relationships and, of course, assume the naked fetal position emoji.
And don't forget to follow along this weekend with our London coverage.