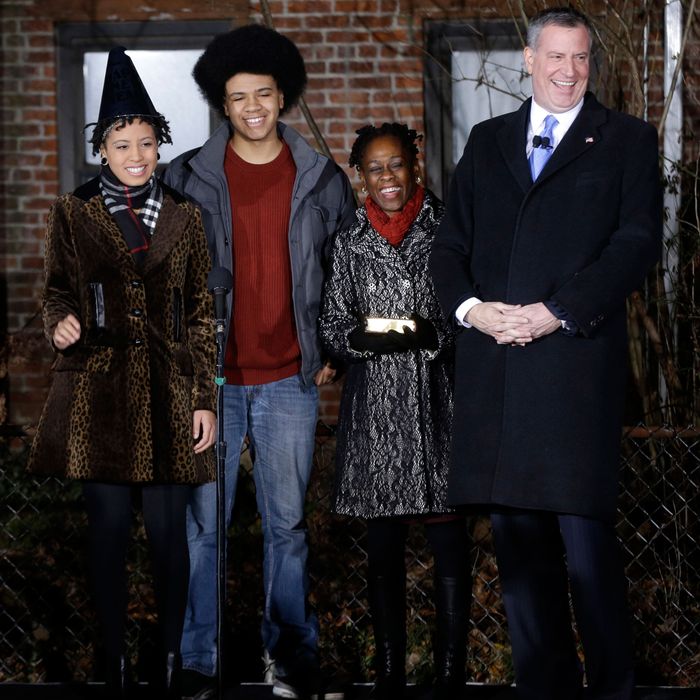 If you think the slush and puddles will make this Fashion Week particularly stressful for you, consider poor Bill de Blasio. Less than six weeks into his first term, De Blasio has plunged headlong into New York's fashion industry, a place where, according to the New York Times, the new mayor knows virtually nobody. The Times reports that De Blasio is expected to be present when the CFDA announces grants awarded to local manufacturing businesses today, though he hadn't yet met CFDA CEO Steven Kolb when the Times went to press. De Blasio met with Anna Wintour on Tuesday.
Wintour and De Blasio have at least one mutual friend in President Obama. But the mayor still presents a stark contrast to his predecessor, Michael Bloomberg. By the end of his third term, Bloomberg had become the New York fashion industry's least fashionable mascot. He attended its parties and award ceremonies and supported its causes, while his long-term girlfriend, Diana Taylor, wore its designs. Which leaves De Blasio with some very well-loved loafers to fill.
Making matters even more awkward, Wintour all but endorsed De Blasio's opponent Christine Quinn in Vogue, and reportedly donated to Quinn's campaign but not to De Blasio's. Cosmo editor-in-chief Joanna Coles, Estée Lauder executive John Demsey, Barneys CEO Mark Lee, Theory CEO Andrew Rosen, and designers Diane Von Furstenburg, Calvin Klein, and Norma Kamali all did the same.
Then there's the philosophical concern. What does the income inequality mayor have to do with the outfitters of the one percent? Coles told the Times:
"I don't think the 'tale of two cities' particularly resonates with fashion…I don't think that felt relevant to people in fashion. Not because everybody is dreaming of a mansion on the Upper East Side but because fashion feels broader and wider and more artistic than that."
Coles advised De Blasio not to "think of fashion as elitist and not worth his time, because the energy and creativity gives New York City so much." And since the mayor is not averse to politically deploying family members, Demsey recommended working the fashionable family angle. Dante's afro and Chiara's flower crowns must have come from somewhere! Wife Chirlane McCray, who wore Nanette Lepore to the inauguration and favors New York designer Anni Kuan, will attend some NYFW shows, according to the Times.