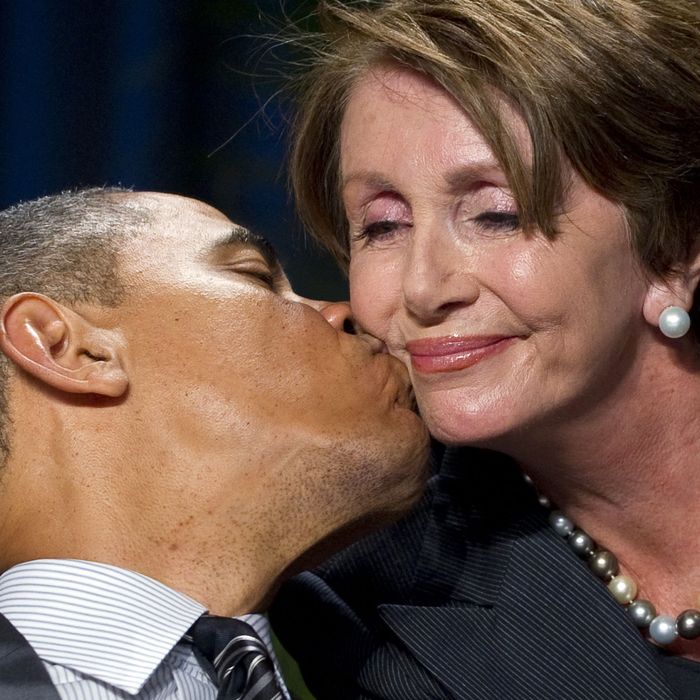 Photo: SAUL LOEB/AFP/Getty Images
As Republican operatives train candidates not to say offensively dumb things about women's bodies, Democrats hope to convince female voters that the economic policies of the Rape and Abortion Caucus are equally out of touch. Already, President Obama has advocated for gender pay equity and cast the proposed minimum-wage increase as a feminist issue (two-thirds of minimum wage workers are women). Soon, Politico reports, he'll add pregnancy-leave and sick-/family-leave policies to the agenda, which was shaped by House Leader Nancy Pelosi. The policy shift is also reflected at EMILY's List, which was founded to back pro-choice candidates but is increasingly tackling issues like Obamacare, arguing that women have the most to gain in increased protections and lowered costs. 
Republican opposition to Obamacare and the minimum-wage increase is being billed as a second war on women, in the hopes of increasing midterm female-voter turnout. But unlike last campaign season's rape gaffes, two can play this game. Republican National Committee press secretary Kirsten Kukowski told Politico that their midterm strategy is also to convince female voters that the opposition's economic policies will hurt women. "The minimum wage eliminating jobs will hurt female workers, Obamacare is hurting women who are more involved in health care decisions and household budgets," she countered. All of which is much harder to sort out than female anatomy.