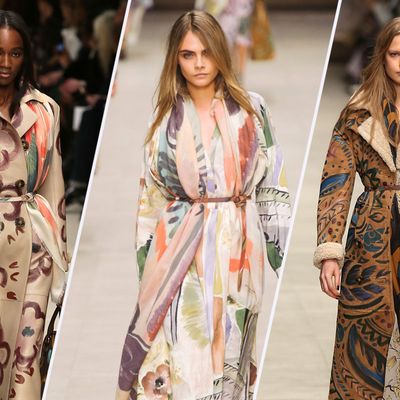 Photo: Getty Images, Imaxtree, Getty Images
London Fashion Week is known for young designers trying to build their brands with innovative, offbeat designs. So after days of edgy shows, there's a refreshing sparkle to Burberry Prorsum — the biggest, most commercial megabrand of the week. A Burberry show means a red carpet, a glamorous setting, and at least a handful of celebrities.
While the collection was as strong as ever, it slotted safely into the themes Burberry has explored over the last few seasons. Like the recent menswear collection, it was described by an insider at the brand as "painterly" — and indeed, a handful of male models who walked today with the women wore looks that we already saw at London Collections: Men last month. The two collections seemed to come very much from the same thought, which meant that today's show, though cohesive, didn't feel completely surprising.
But not everything was familiar: The brand did change up the setting, which for the last several seasons has been a light-filled, greenhouselike tent. Today it had a moodier feel altogether — a dark room with thick curtains to block out natural light. As usual, Burberry groupies had gathered outside long before the invited guests arrived. "I can't wait to see Harry Styles with Kendall Jenner!" squealed one, waiting in the cold on the wrong side of the security barrier. (Styles did show up, but Jenner did not.)
Inside the tent, one excited blogger ran down from the standing area to take photos of the name card on Anna Wintour's chair. She showed up with her niece twenty minutes later, dressed in a full-length, pale painted trench coat; Carine Roitfeld sat a few seats down also wearing a trench, though hers was a black metallic. They looked like the good and bad witches of Burberry. And Styles, whose hair seems to inflate more with every season, joined Mario Testino, Daniel Bruhl, Naomie Harris, Cat Deeley, and Bradley Cooper in the front row.
It was a big day for Cooper's girlfriend, Suki Waterhouse, who made her Burberry runway debut. And it seems she got a gift from the brand for her trouble: All the models walked out for the finale wrapped in blankets monogrammed with their initials. Most of them only got two letters — except for the extra-special Cara Jocelyn Delevingne, who had all three.
As for the rest of the collection, the emphasis was very much on painted florals and leaves, in colors that the show notes described in romantic-sounding, English-countryside terms: "elderberry," "blackcurrant," "antique rose," and "lavender grey," to name a few. There were long, embroidered lace gowns with outerwear that included short shearling jackets and cozy-looking cashmere "blanket coats." We also saw a return of the hand-painted leather and suede bags that appeared in the men's show.
By the time Burberry Prorsum shows its next womenswear collection in September, Angela Ahrendts will have left the brand, and Christopher Bailey will have taken over her role as CEO — in addition to his existing position as chief creative officer. Perhaps the closer relationship that's building between the brand's men's and womenswear will turn out to be a sensible move: Bailey's clever way of keeping this big machine running smoothly.