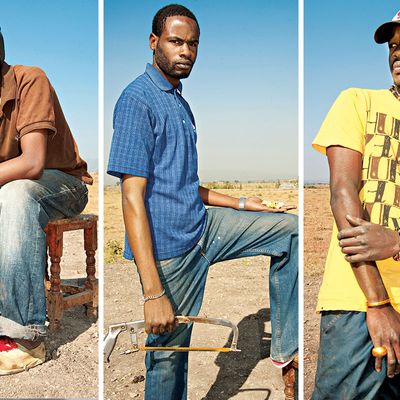 Artisans from Maiyet's Nairobi studio. From left, David Mulinga, Richard Ochieng, and the second Richard Ochieng.
Photo: Guillaume Bonn/New York Magazine
There was nothing shy about the launch of Maiyet in the fall of 2011. Amid the high-stakes grandeur of the Paris fashion season, the womenswear line swaggered with all the accoutrements of a well-financed, mature luxury brand. The runway show unspooled in the lavish salons of a stately mansion on Avenue Franklin D. Roosevelt in surroundings that were unrepentantly elegant and refined: soaring ceilings, ornate architecture, gilded moldings. The models were polished and groomed by celebrity hair wizard Orlando Pita and stylist Lori Goldstein. Maiyet had hired one of the most connected publicity firms in the business, KCD, to sell its story.
And Maiyet was telling its story to all who would listen. The company was the brainchild of Paul van Zyl, a South African human-rights lawyer who frequented the World Economic Forum at Davos and the Skoll World Forum on Social Entrepreneurship but who did not know a peplum from a pannier. He wanted to save the world. And had decided he would do it through fashion.
For a business partner, he sought out Kristy Caylor, who shared his social vision but brought considerably more experience in fashion, and together they established Maiyet, a womenswear line that would bring impoverished communities into luxury fashion's lucrative food chain. The company would build partnerships with producers of hand-woven silks, lush embroidery, and batik in Kenya, Peru, India, and elsewhere and work with a New York–based design team to incorporate them into high-end creations: a $1,750 small leather satchel, a $1,495 beaded silk sheath, a $2,400 lambskin vest. If it all worked out, the artisans would become successful entrepreneurs. And Maiyet would become a profitable fashion label with a built-in sales pitch: ethical shopping.
Lanky, enthusiastic, and with a big, boyish smile, Van Zyl exudes such earnest certainty when he talks about Maiyet that he makes its business plan seem not only righteous but inevitable. He could have built a company focused on any number of products, from agricultural goods to housewares, but he and his co-founders homed in on fashion because "we had an intuition that artisans in developing economies had a competitive advantage in fashion in a way they might not have in, for example, food," says Van Zyl. Fashion also resonates more emotionally than many other products and has wide profit margins. There are all these extraordinary artisans in underdeveloped regions of India, Indonesia, Peru, and Kenya, he adds, who "are no less skilled—or in some cases are more skilled—than their European counterparts. The only difference is design direction." Why not bring the work of these unheralded artisans to the luxury consumer and open the flow of wealth to communities desperately in need? For that matter, what was stopping a luxury-goods company from helping lift those communities out of poverty?
Before establishing Maiyet, Van Zyl was most famous for having served as executive secretary of South Africa's post-apartheid Truth and Reconciliation Commission. For a long time, he trod the path of a dynamic human-rights lawyer, visiting underdeveloped parts of the world—places often just emerging from violent upheaval—and trying to persuade those in the developed world not only to pay attention but also to act.
Caylor had worked at Banana Republic and the Gap, most notably on the Product (Red) project, spearheaded by Bono, to raise aids awareness through product branding. She'd also served as president of Band of Outsiders and consulted for a fair-trade company based in Guatemala. In her travels with Van Zyl, "we kept encountering these spectacular artisans," he says. "This is true luxury," the two realized, because "the very core of luxury is the artisan." (A third co-founder, Daniel Lubetzky, a serial social entrepreneur best known for founding Kind healthy snacks, helped to conceive the idea but is not involved in day-to-day management.)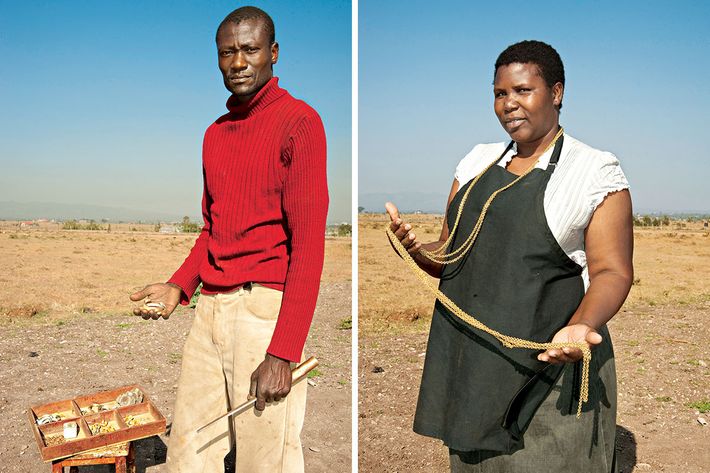 For investors, they began seeking out the sorts of people Van Zyl would see at Davos, where the idea originated—Van Zyl says he had become galvanized there by the proposition "that you can harness the power of markets, and not just philanthropy, to sustainably lead to positive social change." He found support from, among others, Richard Branson (the founder of Virgin Group), Wendy Schmidt (president of the Schmidt Family Foundation, which is knee-deep in Google money), documentarian Abigail Disney (grandniece of Walt), Jochen Zeitz (a sort of sustainability guru at Kering luxury group), and other assorted keepers of cash who "all wanted venture-capital-style returns but who were also compelled by the vision of what we wanted to do," Van Zyl says.
The world of philanthropy has long known how to use Seventh Avenue to spur donations and raise our collective consciousness. Charities have inspired what might be called "pity purchases," a transaction driven by liberal guilt, lefty do-goodism, or a host of other politically correct motivations rather than that most potent and enduring driver of obscenely priced fashion: pure, unadulterated desire. But ethical fashion still carries the stigma of being inelegant, precious, and a bit twee—unlike in the food industry, say, where customers eagerly pay a premium for farm-to-table bragging rights. Van Zyl wanted to change that. Instead of offering fashion as philanthropy, Maiyet would make products that resonate with customers who are willing to pay top dollar for them.
But first, they had to find their artisans. After a scouting trip Van Zyl took to Kenya, Caylor traveled there to meet with Anton Onyango Otiende and his wife, Benta, who became their first partners. The Kenyan couple were casting brass from a tiny workshop in a tiny house in a wretchedly poor district of Nairobi and selling to locals. Ten children (seven biological and three adopted after being orphaned) were underfoot as the couple heated brass into molten liquid using a bicycle pump to power their makeshift furnace—a very dangerous arrangement. Maiyet connected them with Nest, an eight-year-old nonprofit organization, which awarded the Otiendes a grant to construct a better, safer workshop; provided an interest-free loan to build a new house adjoining the workshop; and offered training in bookkeeping and business development. All told, Nest supported the couple's business with about $100,000.
They have made the most of it; the two now have a staff of sixteen. "Maiyet pays on time, which is good. We deliver and they pay, which helps," says Anton Otiende in an e-mail interview, translated from Swahili. "Last year, there was good work, and I could pay the staff and school fees, and I didn't have to get work outside." And Anton recently launched a training program for orphans who have aged out of the social system. "I have seen how much orphans suffer," he explained in a video about his growing business. "If I can get another plot of land, I would buy it and build a facility for them. Those interested in my profession, I would teach them."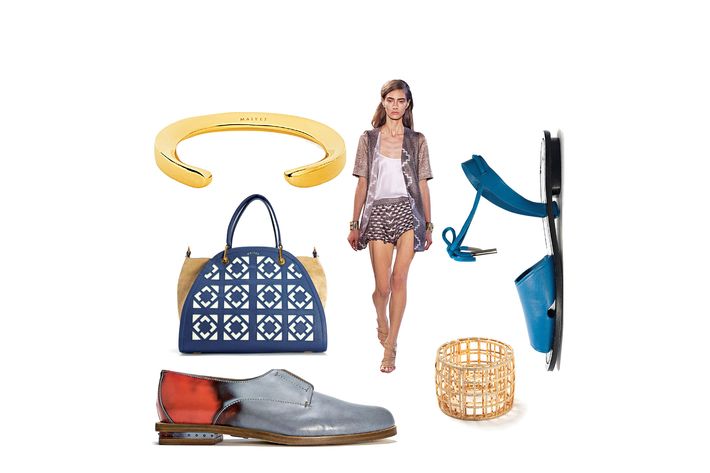 In the two years since Maiyet launched, it has survived rainy seasons, wayward goats, designer upheaval, and the opening of its first flagship store on Crosby Street—a sleek fashion gallery where sales representatives casually tell the details of the brand's story, also printed on its tags: "Maiyet is pioneering a new luxury by celebrating the rare and unexpected. Rooted in craftsmanship, Maiyet is cultivating the next generation of global artisans from Kenya to Indonesia, Colombia to India, Peru to Italy. Due to the handcrafted nature of our products, certain irregularities should be expected."
Now an eight-person design team works with a dozen artisan groups throughout the world to create products ranging from ready-to-wear to jewelry. At the company's most rarefied, a bespoke jewelry collection is ready for its debut. Artists in Kenya will make about a dozen made-to-order pieces each month. And while Van Zyl will not release annual revenue figures for the company, it has set a goal of exceeding $100 million in sales in the next five years. The line is available in some 50 stores around the world, most prominently in Barneys New York.
At Barneys, the brand has the special attention of chief executive Mark Lee, who, in a conversation about the spring runway season, singled it out as one of a handful of collections that he is particularly keen on. Maiyet "is one-of-a-kind," wrote Barneys' chief operating officer, Daniella Vitale, in an e-mail. The retailer was immediately intrigued by Maiyet's strong social message, but in the past, its buying team had had the disheartening experience of looking at fashion lines filled with good intentions but lacking in quality or contemporary aesthetics. "I wish it were different, but if the product is not good, the social-consciousness piece becomes invisible to the consumer," Vitale noted. "The customer responds to the product first. To our amazement, the Maiyet product was beautiful. They had really done their work on the sourcing, infrastructure, and relationship with these artisans and communities. It was evident in everything they presented."
Maiyet was naturally thrilled but also relieved by Barneys' reaction. "I knew we needed the validation," Caylor says. "If we launched with the social mission first, we wouldn't be able to change the conversation. We needed people who had been in the business a long time to say, 'You're good.' "
Caylor describes the aesthetic of the brand as "modern, bohemian minimalism—something that feels authentic and has a handcrafted feeling, but minimal, not overly embellished and costumey." The embroidered dresses float, the leather jackets are cut with sharp angles, the shoes are sensual but not raucously sexy, and the jewelry radiates warmth in eighteen-karat gold. At Barneys, the collection hangs alongside labels such as Greg Lauren, the Elder Statesman, Tess Giberson, and Nili Lotan.
To some degree, at least aesthetically, Maiyet is wooing an audience already captivated by brands such as Dries Van Noten or Marni, which often draw inspiration from traditional ethnic fabrics, embroidery, and prints. And by taking on the mantle of "luxury brand," it is also setting itself up for comparison to companies such as Chanel, Hermès, and Bottega Veneta that mythologize their reliance on traditional techniques and craftspeople whose skills can be traced back generations.
But Maiyet—a word derived from Ma'at, the Egyptian goddess of truth, balance, and order—doesn't have a legacy or even much pizzazz. It is not a venerable name that has been resurrected. It has no company DNA about which to brag and no Paris archive to plunder. Maiyet also lacks a star designer. In an era when boldface names skip from one company to another or do double-duty by crisscrossing the Atlantic, Maiyet—as a brand—has no public face. Its first creative director, Gabriella Zanzani, left the company last year, and Caylor took the reins only in the fall, to oversee the Resort 2014 collection.
"We don't have a legacy, but we're tapping into the legacy of artisans around the world," Caylor says. During one particularly trying project in India, the designers were attempting to work with a geometric block print, but couldn't settle on how to carve the block to produce the effect they wanted. Quietly observing was a diminutive gentleman with 35 years of experience in the tradition. Caylor finally succumbed to her frustrations and told him, "Do it however you want."
"Two weeks later, it was gorgeous," she says.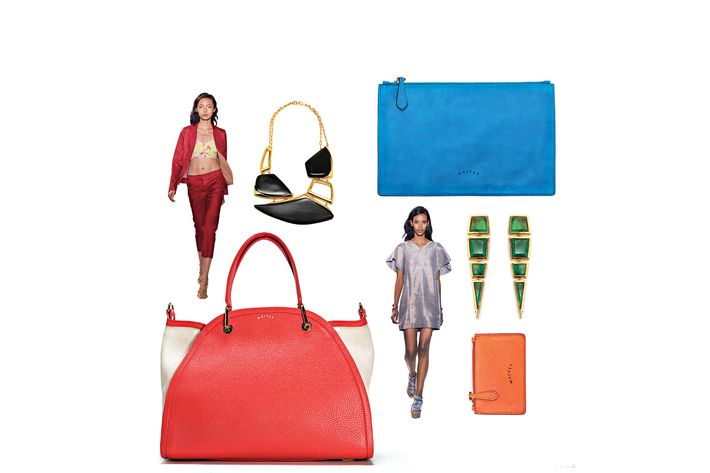 For all its success on the retail and design end of things, Maiyet has not completely eliminated cultural miscommunications and miscues while producing high-end products in the developing world. Caylor has worked with artisans who do not have cell phones or Internet access, and sometimes, she says, "they have no idea why we're asking for the thing that we're asking for." The company has had to negotiate delays caused by weather patterns, she says, not because airports were closed or flights were canceled but because artisans in Indonesia can't produce batik prints during the worst of the rainy season because the air is simply too humid. And then, says Van Zyl, there are the silk weavers in India who work out of their homes and can't work when the temperature soars because, without air conditioning, it's too hot, and if the doors are left open, the goats come inside and get themselves tangled in the looms, and, well, it's the kind of mess that the folks over at Hermès don't have to worry about.
Not every artisan Maiyet approached jumped at the opportunity to reach a larger audience, to become a capitalist. Some of them had been persuaded to work with Western companies before, only to be left in the lurch when those firms changed direction or simply moved on. Other artisans were more concerned with preserving their traditions than transforming themselves into 21st-­century manufacturers. "If since 800 A.D. there's been a certain style of rug-making in your community and you're never going to change, those people are not going to be good partners," Van Zyl says. "The younger artisans are more open and ready. And they want to make money."
How much money? Maiyet's promise: fair pay, commonly and vaguely referred to as a living wage. "The short answer," Van Zyl says, "is the artisans set the prices."
Many of them also receive advance deposits for orders—something that fledgling design houses in New York surely wouldn't mind getting. And to help their artisans understand their customers and the patois of fashion—and to avoid underpricing their work, Van Zyl says, "we sent them clippings and a Vogue subscription so they can see where their stuff ends up and have a real sense of where their skills are landing."
Of course, Maiyet's artisanal model does not threaten the exploitative supply chains that deliver cheap textiles and garments to the developed world: The work of twelve groups of artisans, no matter how well paid, could never offset the downward pressure on wages that comes from those masses of bargain-obsessed customers. But with the help of Nest, the company is planning to expand its footprint, constructing a 30,000-
square-foot silk-weaving facility in Varanasi, India, which will be able to produce thousands of meters of silk each year and will provide jobs for some of the tens of thousands of unemployed weavers.
Only a few months before Maiyet's spring 2014 fashion show, news began trickling in about the building collapse in Bangladesh that killed more than a thousand people. "It gave me chills," Caylor said of the accident. But it also reaffirmed what she knew and believed. "We're not producing $1 billion of product a day. I've been in that world. I know that world. I cannot understand how you have a $1 T-shirt made in a humane way."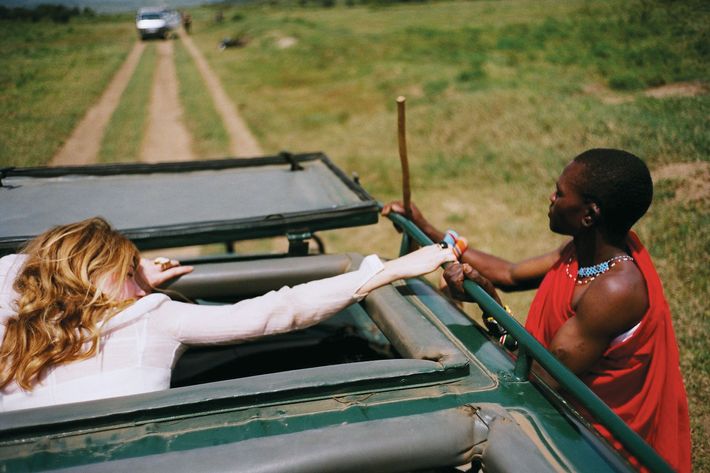 The ambition of Maiyet, Caylor says, is to get consumers to place greater value on the skills of folks in places such as Bangladesh, to find a way to nurture entrepreneurship there, to make the moral purchase glamorous, to create a viable alternative to bottom-market factories. Not everyone can shop at luxury price points, but it's there that mythology is born and reputations are built. If the luxury market can fetishize Lesage embroidery, can it not come to do the same with Varanasi silk? If it can romanticize Florentine leather workers, can't it do the same for Kenyan brass workers? If the artisans of Western Europe can live solidly middle-class lives, why can't those in Africa and Southeast Asia? Never mind, for a moment, that the livelihoods of those European artisans are being challenged, too, by competition from cheaper labor in the developing world.
Maiyet presented its spring collection at the École Nationale Supérieure des Beaux-Arts on Paris's Left Bank. Unlike in New York, where the formal fashion schedule is open to all comers, Paris exerts stubborn control over its calendar: Anyone can bring a collection to Paris, but not just anyone can do so under the auspices of the Fédération Française de la Couture du Prêt-à-Porter des Couturiers and Créateurs de Mode. Which is one reason that, when naming the brand's most substantial accomplishments in the past two years, Van Zyl mentions the opening of the Crosby Street store and the progress on the Varanasi silk factory but ends on a very different milestone: "Getting onto the official calendar in Paris vindicated our commitment to saying we want to be taken seriously for our product."
Under a night sky, the models paraded through a colonnade surrounding an open courtyard. The dresses, in white and shades of lemon, dove gray, and cantaloupe, floated on the cool air. And a light brush of embroidery and glitter gave them a sense of rich rarity. The silhouettes, skin-baring and relaxed, made them modern. The collection was well received.
*This article originally appeared in the February 17, 2014 issue of New York Magazine.