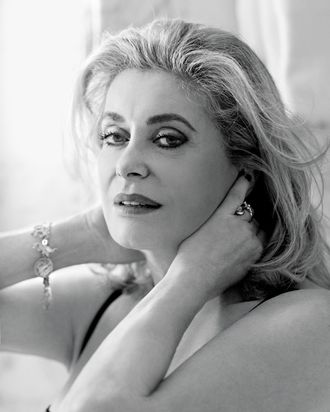 Photo: Dominique Issermann/New York Magazine
She was 13 when she began acting and in her 20s when she earned an international reputation for her icy beauty. Five decades later, she is still très belle, non? For her 112th turn on the screen this spring, On My Way, the French actress plays a former beauty queen on a soul-searching road trip.
Photographs by Dominique Issermann at Le Meurice hotel in Paris on February 5. Makeup by Thibault Vabre; Hair by Jean Claude Gallo; Manicure by Béatrice Rochelle; Shoes by Louboutin; Tights by Wolford; Body-suit by Eres.
*This article appeared in the February 24, 2014 issue of New York Magazine.