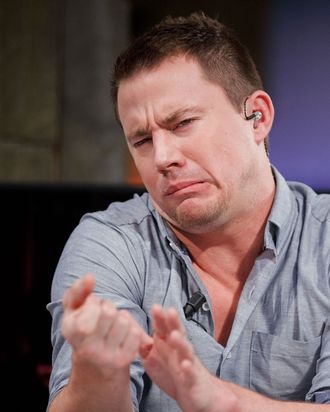 Photo: Gonzalo Arroyo Moreno/2013 Gonzalo Arroyo Moreno
Handsome adult Channing Tatum went on Ellen to talk about being a new dad to an actual newborn. The interview is very sweet and his daughter sounds super cool — she only likes to listen to either Prince or Drake and she's 8 months old. Anyways, dear sweet Tatum says that fatherhood has given him a new lease on life, and it comes with a whole new adjective: fappy. Here is how innocent-baby-foal Channing Tatum defines fappy:
Me and my wife like to say I am very fappy … I'm very fat and happy right now.
Someone get this handsome fellow a link to Urban Dictionary and sit quietly and then start laughing until you cry. Because while Tatum's definition is adorable, fap has already been claimed as onomatopoeic Internet slang for masturbation. Either darling seal pup Channing Tatum has no idea or he's pulling everyone's proverbial thumb. Either way, excellent work, neologism innovators.