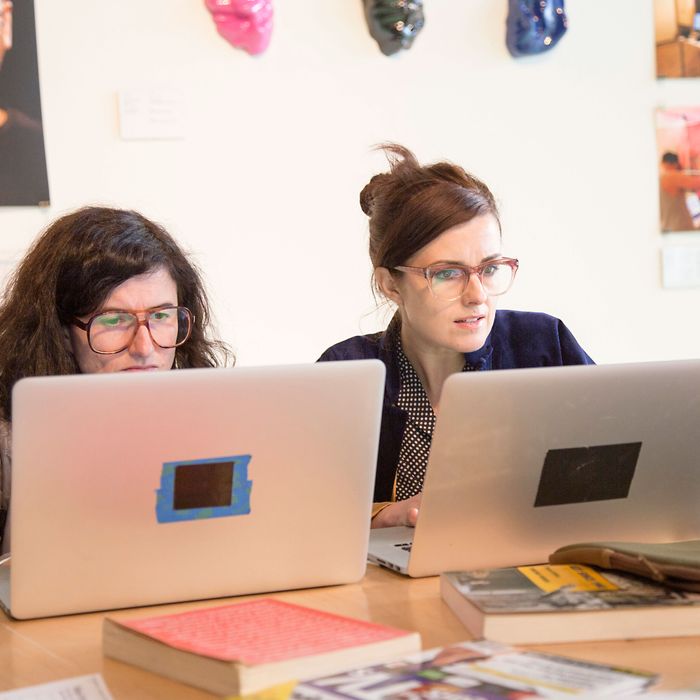 It felt like finals week at the Chelsea arts nonprofit Eyebeam last weekend: More than a hundred people — mostly women — were crowded laptop to laptop, the sounds of keyboards and quiet requests to borrow chargers echoing off the concrete floor. They had gathered for the first-ever Art + Feminism Wikipedia Edit-a-thon. At Eyebeam, and satellite marathons across New York and in more than twenty cities internationally, women were researching and writing, an effort with the twofold goal of bolstering Wikipedia's entries on women artists and of encouraging more women to edit Wikipedia.
I'd seen the event on Jezebel's commenter blog and felt compelled to attend out of a mix of curiosity and guilt. Wikipedia famously bears one of the starkest gender gaps in contemporary culture — less than 15 percent of its editors are women. As a result, the Internet encyclopedia is a lopsided, Axe-scented version of the world, one where Sex and the City has fewer citations than a single character from Grand Theft Auto. But unlike other spaces where women are underrepresented, Wikipedia doesn't have any official gatekeeper excluding us. No one hires you to edit Wikipedia. Which means it's the kind of thing you can't really complain about unless you do your part.
And what better place to make one's Wikipedia debut? According to Art + Feminism organizers, if you look at the Wikipedia pages of a male and female contemporary artist of similar stature in the art world, the female artist's page will typically be less developed. Organized editorial sprints aim to correct such imbalances, usually by focusing on particular topics, like the Ada Lovelace Day edit-a-thon held at Brown University last fall to create and edit pages for women who have contributed to STEM fields. Art + Feminism promised editing tutorials from expert Wikipedians, IRL human company, light refreshments, and free child-care for those who RSVPed. That last perk was thanks to Laurel Ptak, an Eyebeam fellow and one of the event's organizers — she spent a year working in Sweden ("Where all anyone thinks about is providing free child-care," she said), and a few hours child-proofing a room in Eyebeam's basement.
The generous social services were a reminder of one of the more basic obstacles that might keep women from editing Wikipedia: a lack of leisure time. One prominent theory for women's absence is that — in spite of changing domestic gender roles — household drudgery still means that women have less free time than men do to spend mired in obscure online research projects. "For big events like this, that think about ethical things, I think we have a responsibility to follow through," Ptak said.
Another big deterrent — and one without a temporary fix for the weekend event — is the argumentative and trollish atmosphere of Wikipedia. On Saturday, a trainee editor (just one of the event's impressive showing of senior citizens) asked a prominent Wikipedian called Lane Rasberry if revealing her gender identity on her user page would attract the site's infamous vandals. "Anyone who identifies as female on the Internet is subject to discrimination that males don't ever experience," he said. "It's been said that Wikipedia is perhaps harsher than other places. If you're comfortable exposing yourself to a bit more criticism, go ahead." When I asked Rasberry if I could use the quote, he suggested I speak with some women for my story.
One of those women, one of the Edit-a-thon's organizers Jacqueline Mabey, thinks most of the Wikipedia gender gap comes down to socialized gendering. "We don't raise young women to consider themselves authorities on anything," she said. "We raise them to doubt, constantly, their work and themselves." Librarians are widely considered the only female-dominated group that reliably loves Wikipedia — but even they, said Mabey, tend to doubt their qualification to edit it. "These are women with double masters degrees," she said. "I'm like, yes, you can edit it! The 18-year-old boy who doesn't know anything is editing it, and he doesn't even question it!"
With only the most superficial knowledge of contemporary art, I was pretty sure my self-doubt was legitimate. But I did recognize one name on the event's list of women with stub pages in need of expansion: Sharon Hayes, a multimedia artist who has shown at the Whitney. I'd heard of her because a friend works for her gallerist; once, when I was early to meet him after work, he parked me in front of one of her video pieces. It was a four-minute loop of black and white title cards with descriptions of female voices that had appeared in newspapers from the nineteenth century to the present.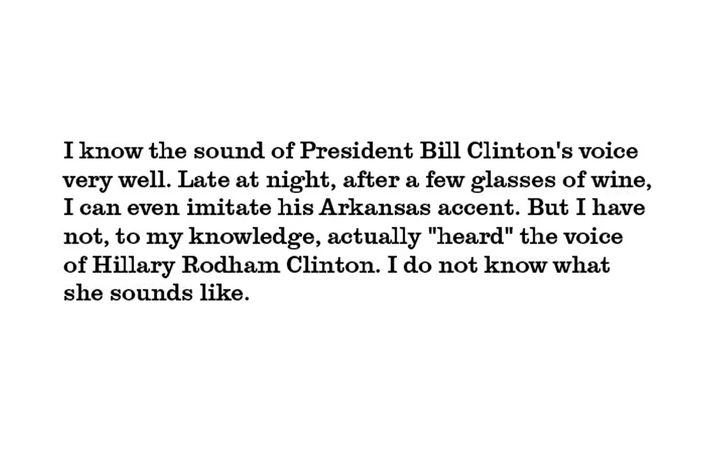 I wasn't the only one using personal connections to approach the work at hand last Saturday. I overheard one woman near me working her way through her cell-phone contacts. ("Hey, I'm at this Wikipedia Edit-a-thon, let me know if there's anything you want me to add to your page.") Filmmaker Barbara Hammer created a page for her wife, Florrie Burke, a human-trafficking expert who was recently awarded the inaugural Presidential Award for Extraordinary Efforts to Combat Trafficking in Persons.
This is not, strictly speaking, Wikipedia protocol. One of site's cardinal rules is not to "edit Wikipedia in your own interests or in the interests of your external relationships," and it's broadly interpreted. In the debate over whether to change transgender Wikileaker Chelsea Manning's name and pronouns after she came out publicly, some administrators were banned from editing pages on transgender topics for what amounted to having trans friends. So even though editing-for-pay is verboten (Sarah Stierch, an early practitioner of the women's edit-a-thon, was reportedly fired from her post at Wikipedia's nonprofit foundation for taking a $300 side gig) it's not exactly a labor of love, either. The ideal Wikipedian is the someone with nothing at stake in the topics at hand, but the time and stamina to research, explain, and defend them in lengthy debates. In other words: not the most obviously qualified person to write the encyclopedia.
Still, not even my sincere interest in Hayes could make editing her Wikipedia page fun. In a span of four hours, I read a couple dozen news articles about Hayes and some articles about the words in those articles. I summarized them in seven sentences, three of which I formatted and published. It was boring, in the methodical manner of high-school French homework. No wonder more women don't do this, I thought.
But the alternative to unpaid tedium (and engaging with the pedants who relish it) is for women, their accomplishments, and their interests to be written out of the handiest body of human knowledge. Equality, it appears, requires equal drudgery — probably no surprise. And while the world awaits a shortcut for online chores (Wikipedia homework for students? Paid Wikipedia ambassadors?), at least the nearly 200 pages created or expanded last Saturday should be a help to someone, somewhere.
"Undergraduate art history papers are never going to be the same after today," Ptak said.