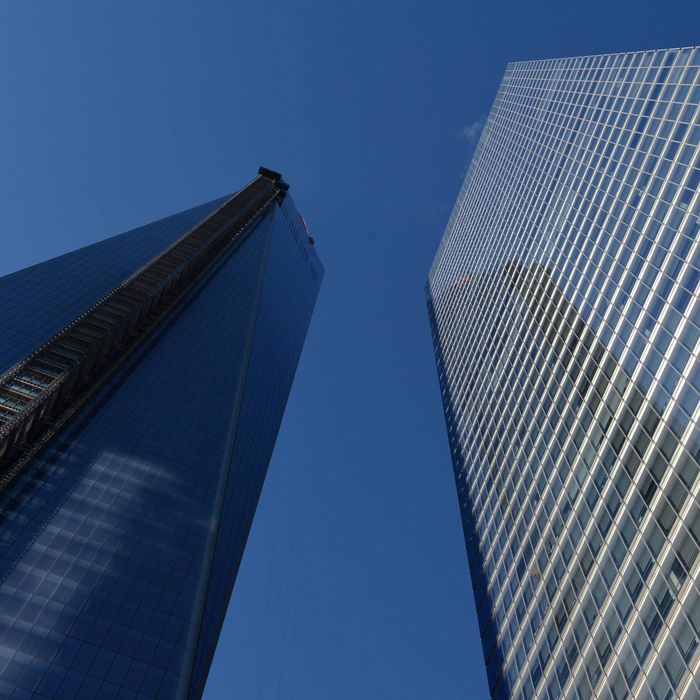 Photo: Stan Honda/AFP/Getty Images
Condé Nast's official World Trade Center move-in date looms nearer: Well, it's in January 2015, but a lot of preparations need to be made, obviously.

WWD reports that in an internal memo sent to staff, CEO Chuck Townsend outlined what to expect in the new building. And if you believe the publishing myth that building floor assignments matter — they do, they really do — these initial details speak volumes:
Vanity Fair and The New Yorker, the old-guard, good old boys' clubs, will inhabit floors 41 and 40 and 39 and 38, respectively — just levels below the executive floor on 42. W — which has always been at Condé's Third Avenue satellite building rather than at 4 Times Square — finally gets a spot in the mothership, but it will share the 32nd floor with Golf Digest.

The fashion power-grouping, including pet projects of Anna Wintour, will be found in the 20s: Glamour, Lucky, and GQ are on 30, 29, and 28, respectively, while Vogue editorial is on 25, directly above the photo studio. (The editorial and publishing teams of Teen Vogue, Details, and Architectural Digest  are sprinkled on various floors, with the publishing teams of more major brands.)

Don't read too much into the Golf Digest cohabitation, W. Because really, the only floors that truly matter are the "remarkable amenity floors on 34 and 35" just two floors up. Townsend writes that those floors are "connected by an extraordinary spiral staircase" and house a reception area, conference center, library, art gallery, private dining room, the cafeteria, and an after-hours café.