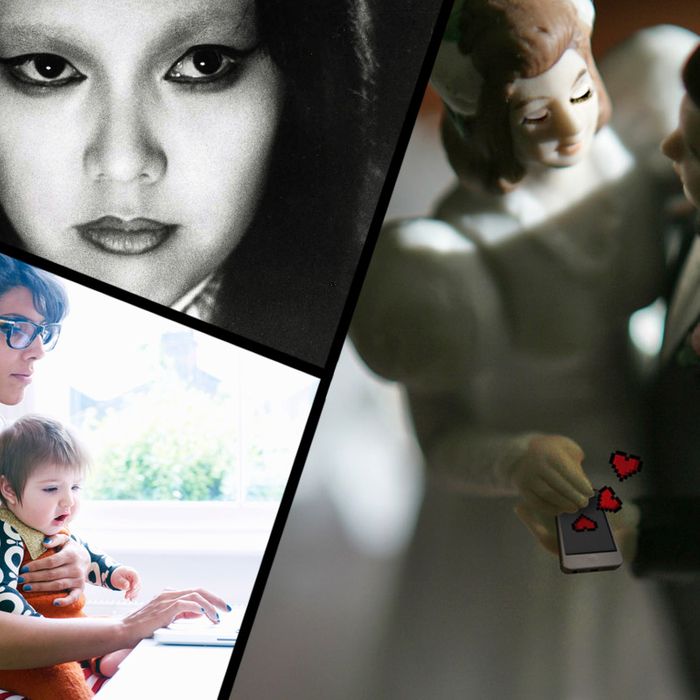 Photo: Clockwise from Top Left: Courtesy of BAM; Jan Cobb; Tara Moore/Getty Images
This week, the Cut's pursuit of female-centric topics led writers to imagine the perfect monogamy app, list the worst possible Valentine's Day dates, and ponder movies about female vengeance.
1. What's worse than being single on Valentine's Day? Here is a whole assortment of bogus couple activities, like "sex paintings" and CrossFit "buddy carries."
2. How do we close the Wikipedia gender gap? Kat Stoeffel writes that it comes down to just getting on Wikipedia and editing away. Ignore the the fact that it's really, really boring.
3. Speaking of, any wonderful women of yore to recognize? Yes, consider the fantastic life of Shirley Temple: the patron saint of curls and charming stubbornness.
4. What do we love more than sex, according to studies, dubious and otherwise? Allison Davis gathers a bunch of research about things we claim to value more than sex, like moisturizer, coffee, and eternal youth.
5. What are the best films about female vengeance? BAM has a new series called "Vengeance is Hers" about women with an eye for retribution.
6. Why is it so hard to find feminist stock imagery that doesn't suck? Kat Stoeffel spoke to LeanIn.org editor Jessica Bennett about Getty's efforts to develop a Lean In collection of feminist stock photography.
7. What's that Princeton Mom up to these days? Oh just trying to steal holidays and make them about her Find-A-Husband-ASAP idea. Here are some other holidays we suggest for her.
8. Why are apps so dedicated to matchmaking and not to helping already-matched couples? Ann Friedman asks why the marrieds don't get to swipe their way to new possibilities.
9. Any exciting outfits outside of the tents? Well, Shia LaBeouf dressed as a paper-bag prince.
10. What if I just want a little taste of Fashion Week? For Fashion Week's effects in the real world, Kat Stoeffel spoke to people about it ruining their relationships and Allison Davis imagined the Craigslist missed connections that NYFW could inspire.