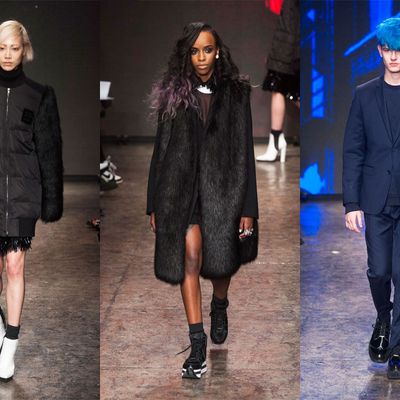 For her 25th anniversary DKNY show, Donna Karan cast "real" people — meaning that she sprinkled creative, preternaturally stylish, regular non-models in the usual lineup of skinny, tall people. The result? A whole lot of cool people, and also an incredibly diverse runway she dubbed the "New York Mash Up." Karan told the AP: "DKNY really is about the streets. It's about the streets of New York, the energy of New York, the people of New York."
The regular old Joes of New York who walked the runway included artists, nightlife hostesses, tattoo artists, skateboarders, personalities like Hannah Bronfman and Chelsea Leyland, rapper Angel Haze, A$AP Liz, and even a self-identified cyborg (Juliana Huxtable identifies as a D.J./writer/cyborg).

It was a show that was refreshingly dedicated to celebrating the beauty of a big cross-section of humanity, with real diversity in race, sexual orientation, gender, tattoos, hair color, skin color, size, and shape — well, they were mostly the same size and shape — and it was pretty awesome.