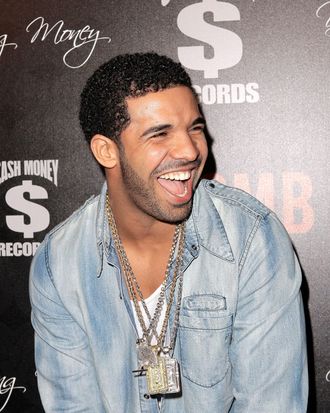 Photo: Mike Windle/Getty Images
TMZ reports that a New York jeweler is suing Drake over copyright infringement — the jeweler claims he created a $50,000-diamond-studded platinum owl pendant for Drake, and now the rapper is creating unsanctioned replicas. 
Drake has responded with what amounts to: Haha, no, seriously, man. He points out that the design of the necklace is an ancient Egyptian hieroglyph from over 5,000 years ago, and says this hieroglyphic owl symbol cannot be copyrighted. We're not talking about tiny Eiffel Towers or tiny soccer ball charms or BFF necklaces here. This is ANCIENT EGYPT.
Drake, by the way, is a longtime fan of this symbolic owl creature, which is the Egyptian hieroglyph for the letter M. The owl was on the cover of his 2011 mix-tape, he's worn clothes with the owl for some time (designed by Nate Willis), and it's also  the symbol of his collaboration group OVOXO. Some say that this owl is connected to the Illuminati or Masons or a similar group; others say owls are guardians of wisdom. I prefer to imagine that Drake just had the same educational hieroglyphic stamp kit I did as a 4-year-old and remains into it.