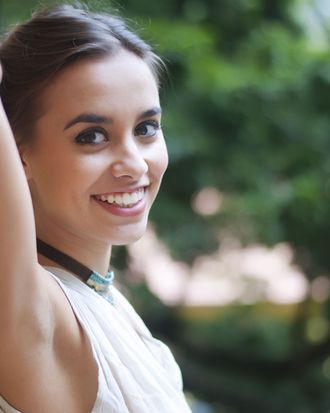 Dove's latest real-body campaign is focusing on the most maligned part of a woman's body — not the muffin top or the thut — but the armpit. The company wants women to see their underarms as a thing of beauty and power, not just a site of "odor and wetness." Dove has released an ad that, among other things, serves as a love letter to the pit — and attempts to teach women their underarms aren't a dirty thing (even though, biologically speaking, all armpits — not just women's — kind of are, just saying).
But Jen Drexler, senior vice president of the Insight Strategy Group, who analyzed the ad, tells the New York Times:
"Women do not think about how beautiful their underarms look and they couldn't pick their underarms out of a lineup, so Dove is saying, 'We've invented the problem, and now we're solving it for you,' which is a classic approach for beauty brands."
So what is the resolution to a lifetime of pit shame? For starters, pithy new billboards with slogans like "Dear New Jersey, When people call you 'The Armpit of America' take it as a compliment." And of course, more deodorant — but this time, in the form of Dove's new Advanced Care line, which should be applied in loving strokes while doling out armpit-empowering mantras.