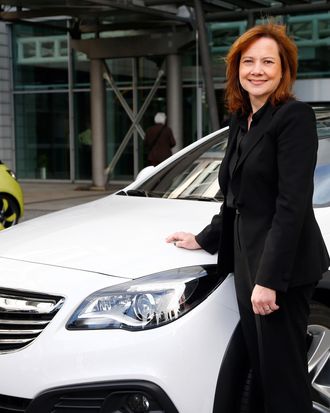 Photo: Bloomberg/Getty Images
Mary Barra's perch at the top of General Motors is so historic, the new CEO  was seated with the first lady at the State of the Union earlier this month, and shouted out in the president's speech. But according to SEC filings, Barra will make about half as much her predecessor, Dan Akerson. ThinkProgress reports that Barra will make $4.4 million annually, where Akerson made an estimated $9 million in base salary and stock options. Adding insult to injury, GM will continue to pay Akerson more than Barra, $4.68 million, to serve as an outside senior adviser.
Bloomberg Businessweek says this could all change. GM is still reworking its compensation plan in the wake of the 2009 bailout, and Barra's long-term stock options will be announced at the annual shareholder meeting in June. And, to be fair, $4.4 million is plenty of money! Is there a salary at which one is allowed to stop leaning in already?
In less Sandberg-ian wage gap news, Congressional Republicans have made it clear that they will not vote to raise the minimum wage from $7.25 to President Obama's proposed $10.10. Women make up nearly two-thirds of minimum wage workers, and nearly two-thirds of $2.13-an-hour tipped workers.