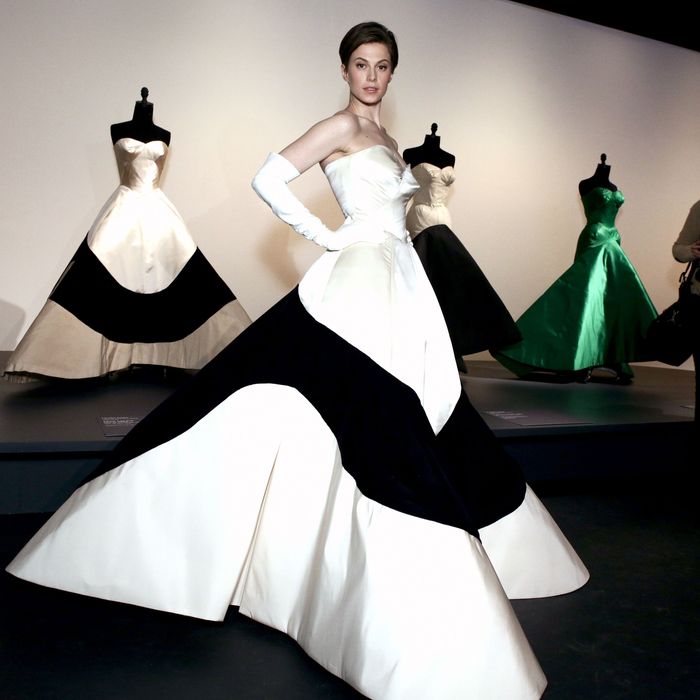 Photo: Andrew Toth/Getty Images
Construction is underway at the Anna Wintour Center for Kids Who Can't Read Good and Who Want to Learn to Do Other Stuff Good Too Costume Center — which meant that this morning's press breakfast in honor of its big spring show, Charles James: Beyond Fashion, took place in a hall below the Egyptian galleries. It felt like the appetizer to a big, fancy, main course that will be unveiled just in time for the Met Gala in May.
Several dramatic ball gowns from the Charles James archives were lined up against one wall — many of them strapless and bell-shaped, opening in fanned ripples like giant paper flowers. James, who's been called "America's best-known couturier," is the first subject in recent memory not to be associated with a current design house (he died in 1978). And maybe that's just as well: During his remarks, the Costume Institute's curator in charge, Harold Koda, talked about James with a welcome degree of distance. 
"James is only difficult in the sense of a persona, when you think about him in the conventional terms of a fashion designer," Koda said. "I think that part of my problem with him is that when I think of the great designers of the twentieth century — it's Vionnet, it's Balenciaga, I have my list — they marry commerce with design. James was someone who didn't care about his clients, he didn't care about his partners, he didn't even care about his family. He was dedicated completely to the pursuit of his creative expression. And in that sense, he was a true artist."
The climax of the event came when Koda introduced Elettra Wiedemann — the statuesque daughter of Isabella Rossellini — who emerged in a spotlight to swelling music as if it were her debutante ball. She wore a re-creation of James's most famous Clover Leaf dress, which he originally made for Austine Hearst to wear to the Eisenhower Inauguration in 1953. (She wore it a few weeks later to the March of Dimes instead.)
Wiedemann, arms akimbo and chin up in elbow-length gloves, glided around the room and posed for photographers in front of the real dress, which was displayed behind her on a mannequin. "How does it feel to have it on?" we asked her. But — silent as a mannequin — she just lifted up her chin, blinked quickly, and spun back around.