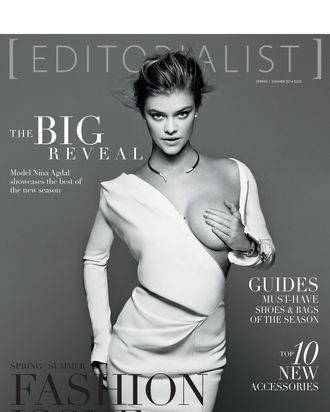 Photo: Derek Kettela/Courtesy of Editorialist
A year after its initial launch, Editorialist, from the identically named luxury e-commerce site helmed by former Elle accessories editors Kate Davidson Hudson and Stefania Allen, is releasing its first print issue. Web to print! Starting this Friday, the biannual print edition will be distributed during Fashion Week, as well as later this month in Paris.
The concept — which includes fashion editorials, style guides, and celebrity features — sounds not very different from traditional print fashion magazines, except with even more emphasis on shopping: Issues will align with "real-time shopping seasons" in an effort "to more closely align reader aspiration with access," according to the press release. (The complimentary print edition will also be available online and on mobile devices.) The move to print comes on the heels of a similar announcement from Net-a-Porter, which, coincidentally, also plans to launch the first print edition of PORTER this Friday. (It will not be free.)
The first issue is covered by Sports Illustrated turned high-fashion model (and partyer) Nina Adgal in Tom Ford — holding, Upton-like, a single boob — and features other ubiquitous young things, including Lily Kwong, Hannah Bronfman, and both Olivias, Wilde and Palermo.