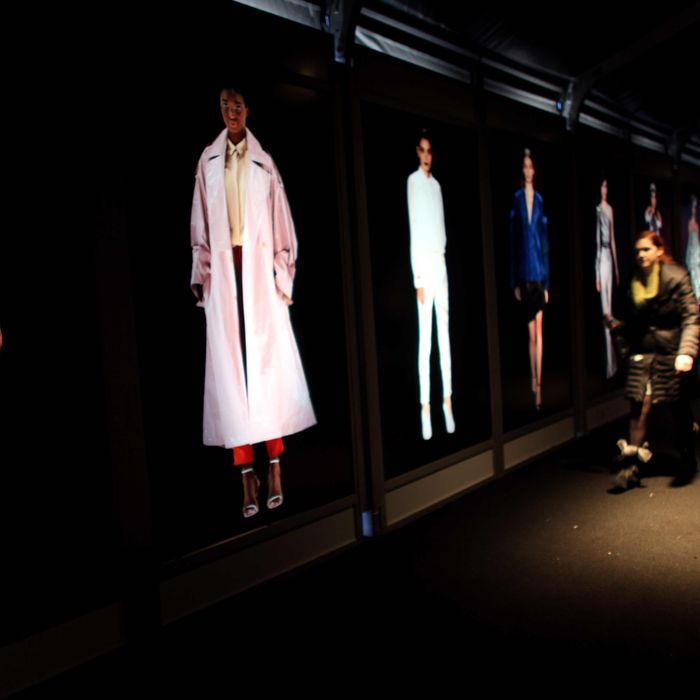 News came a few months ago that the tents at Lincoln Center were undergoing an overhaul in advance of February Fashion Week — a move to address complaints from designers that the experience of going to a show there had become a free-for-all, a stressful experience without a hint of exclusivity.
Now, IMG unveils the fancy "new tents" — designed to reinfuse Fashion Week with the buzzwords of the season: "fashionability," "graciousness," and, of course, "exclusivity." The construction is extensive, but it's unclear whether these improvements will solve Lincoln Center's problems, and lure back major designers who have flown the coop to downtown show spaces. "The establishment do move on," says IMG Fashion's vice president and global creative director, Jarrad Clark. "That's part of success. We wanted to create something that is attractive and versatile to the next generation of emerging talent."
On the eve of Fashion Week, the Cut got a tour of the new Lincoln Center, which now has a bistro, an "intimate" lobby, and — wait for it — an E! 360 Cam. Below, a rundown of what to expect at the new tents this season: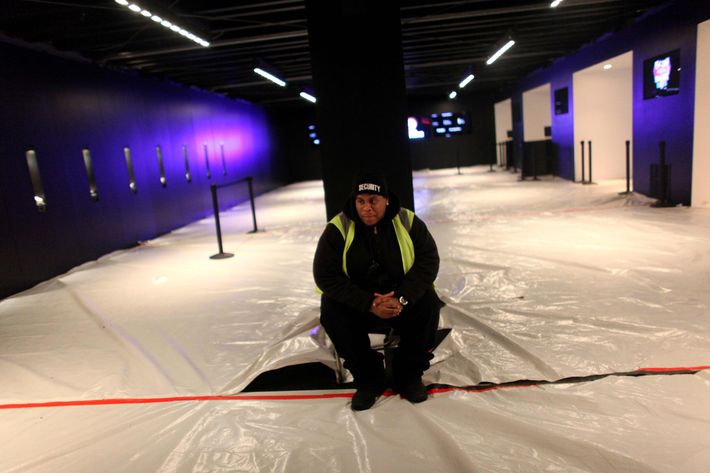 The Ire-Inducing Vestibule: To cut down on the massive lines that form inside the actual tents, the Vestibule is the first check-in point for the shows. This space (which we predict will become a giant bottleneck) offers either actual people or self-service scanners for check-in. Expect this new addition to cause a lot of confusion, a lot of angry tweets, and a few temper tantrums. But this is where the increased exclusivity comes in. "We want to control it a bit, and cut down on the queuing and hanging around. People are going to stop and ask you for your invitation and what show you're going to," says Clark.  The catch: To get past this area into the actual tents, you must have an invitation or seat assignment for a show that day. Credentials alone won't get you in.
Good-bye Airport Hangar Lobby, Hello Sex-Club Chic: "We're in a tent, but we really didn't want it to feel like a tent," says Clark. "We wanted to create a bricks-and-mortar-esque feeling to the structure." To create what Clark calls "pockets of fashionability," IMG selected sexy black interiors as opposed to the white tent interiors of yore. The company also enlisted fashion illustrator Richard Haines to design projections, and Getty Photos to create a mini-exhibition showing shots from IMG fashion events worldwide. The overall effect does make the space feel more intimate and smaller. Which means you'll really feel the crush of the billions of fellow tent patrons.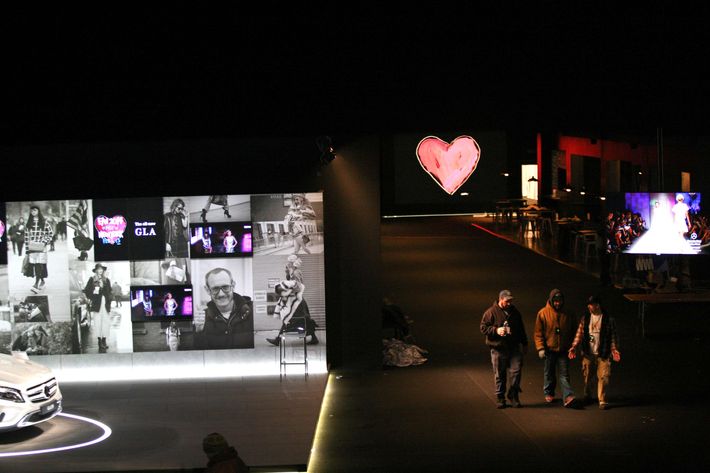 The Venues: The Theater and the Salon (formally the Stage) have remained mostly the same — though the Salon capacity has been reduced from 850 to 550 seats per designer requests, and offers tiered seating with more legroom. The space that is most different is the Pavilion, which, with 6,500 feet of open space that is totally customizable (all the benches and walls can move), feels newer and more contemporary. Currently there are seven different configurations, though producers think eventually there will be up to seventeen different ways for designers to use the space.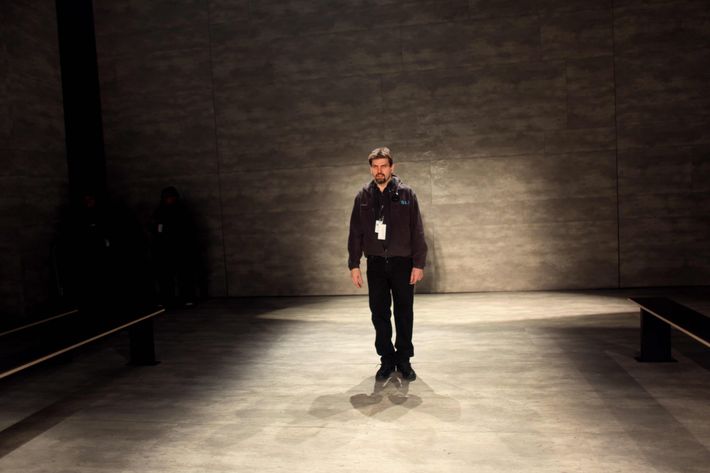 A Better Backstage: They have relocated the Porta Potties. This is groundbreaking.

Less Play, More Work: The DJ booth is gone, but mercifully not the booze. There are two nicer lounge areas. One with black leather couches and the ability to reserve tables, and the brand-new IMG lounge that feels more VIP or like a West Village apartment. Both are meant to create spaces for members of the press, buyers, and financiers to sit and have a quiet meeting. A new bistro offers actual table service for all those power lunches. The press area, however, still looks like it will be a lot of jostling for outlets and sanity.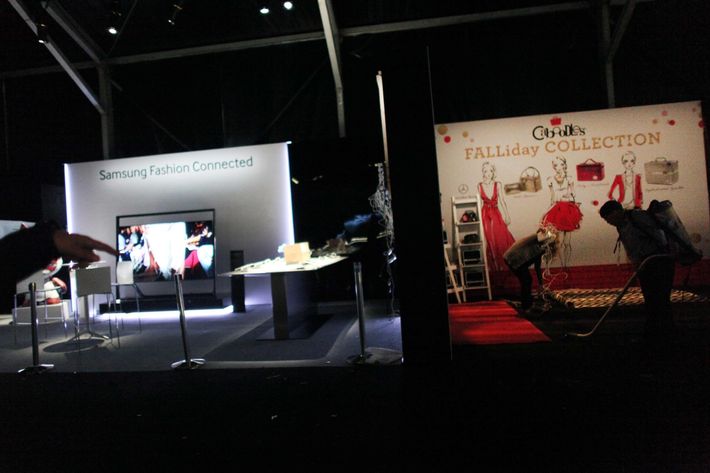 There's More Immediate Technology: Just call it a Smart Tent. This Fashion Week, IMG has put a greater emphasis on real-time updates to social media. There's an Instagram Wall that shows all Instas tagged with #nyfw or #mbfw, Instops for model interviews and selfie opportunities that will be posted under @mbfw, and an E! 360 Cam (yes, the same one that's at the award shows) that allows designers to transmit their opening and closing looks to the masses, instantly.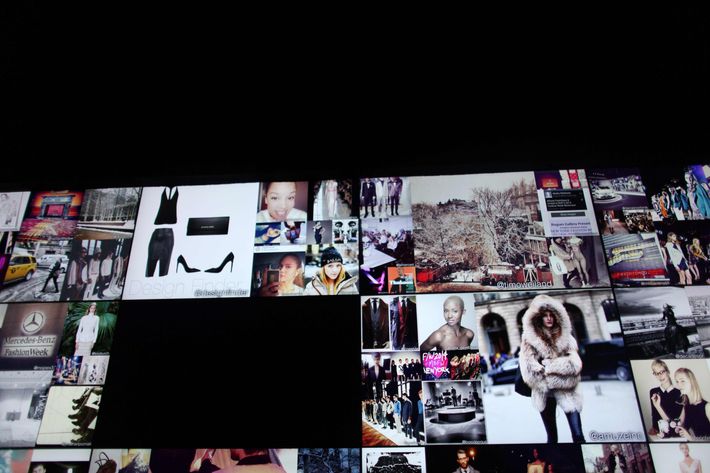 Sure That New Bistro Is Nice, But You Maybe You Don't Have to Come at All: IMG found success with its live-streaming experiment of the past two seasons, and has plans to broaden the experience with something called the "Digital District," which will eventually mean that designers don't have to attend the shows to be present. Designers will eventually have the option to "show"  short films or other unique pieces of storytelling that will be on the schedule, as opposed to investing in a show every season.

The Blogger Debate, Solved? Not Really: "We didn't say anything about who was allowed. It was just assumptions made by many," says Clark, diplomatically, when asked about our suspicions that the new design of the tents was intended to keep out fashion bloggers. Instead, he says, they are just working to ensure that shows are filled with people who are "productive and meaningful to the industry." Though what that actually means continues to be up for debate. He continues: "If there's non-mainstream media who are involved with designers, and their brands, they're still being invited to the shows, they're just not being credentialed. We don't take everyone who wants to show on our schedule, and we don't take everyone who just wants to come to the event."

So far, Clark reports that "feedback from designers has been amazing" but let's see how everyone reacts to  the increased "exclusivity, graciousness, and fashionability" — and the increased security muscle — after today.