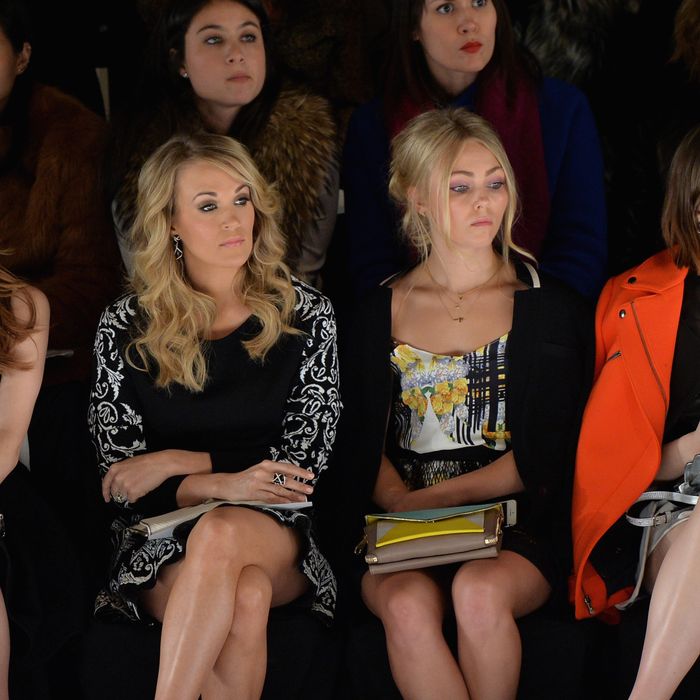 Photo: Larry Busacca/Getty Images
"Does anyone have brain damage yet?" chirped Zosia Mamet in the front row at Rebecca Minkoff on Friday afternoon. "Because I just might." Mamet was sitting in the hot zone of the front row next to AnnaSophia Robb, Carrie Underwood, and Anna Kendrick, and the photographers were so vigorous in their persistence to get a shot — of just two of them, then three, then finally all four — that pretty much everyone in both the front row of section B and the three rows behind it were blinking away blind spots. None of it seemed to dampen Mamet's mood; in addition to that crack, we saw her chuckling with a reporter who snuck around behind her to do an interview, and playfully ribbing a photographer who pronounced her name the way it's spelled. "It's Za-sha, just so you know," she teased.  "Totally a-okay. I just want to help." It probably helps her as much as anyone else: Zosia has to be sick of having to explain to people how her name is pronounced, so it's refreshing to see that she still manages to keep a sense of humor about it. We'll see if by next season she's changed it to something catchy and easy to say, like just Z, or even better and more sensible, Lil' Z.Mam.
Minkoff's show was the first one we've attended this season that actively brimmed with celebrities, all of whom — per usual — sported cute outfits with the kind of Minkoff accessories that give our credit cards PTSD (because we immediately want to buy them). Model Coco Rocha sat on the other side of the runway facing the Underwood Zone next to fellow model Agyness Deyn, who is nearly unrecognizable now that she's sporting straight honey-brown locks. You could've told us she was on some CBS procedural and we'd have believed you. In the section adjacent to the Four Horsemen of the Carriepocalypse, Nickelodeon beauty Victoria Justice sat next to incredibly tall Disney Channel co-stars Bella Thorne and Zendaya, but they all seemed fairly friendly with each other, which is disappointing, as we were hoping for a Sharks-Jets-style throwdown for the tween set. (Imagine the tabloid coverage if Justice had reached over and ripped off Zendaya's giant updo — Twitter would light itself on fire!) They all wore knee-high, elaborate boots, which in Zendaya's case were backless, exposing some goofy athletic socks. She paired those with a forest green leather coat and shades, which made her look about 27 instead of her actual 17. She and Thorne spent much of the show gossiping, and Thorne made the rounds with a tall blond hunk who rubbed her back extensively during her on-camera interview with E! and only let her go because he was seated one row back and off to the side. Oh, young love. We hope you kids survived the three-foot separation.
But the lion's share of the attention was on The Carrie Diaries — by which we mean, what Underwood was doing, who she was doing it with, and the fact that AnnaSophia Robb was involved. Kendrick, in a strappy black sundress and with a white blazer nearby, was on Underwood's right; Mamet, with an orange jacket on her shoulders to offset the chill of a short skirt, was down the other end. They found space for Robb on Underwood's left, at which point the Carries real and fictional greeted each other like excited old friends and even took a selfie (after which a fan made Robb take a solo self-portrait with his own phone, which she handled gracefully but with perhaps the smallest amount of understandable confusion. Don't you want to BE in your fan photo, sir?). But as chatty as Carrie Underwood was with the erstwhile Carrie Bradshaw, she was the opposite with reporters, refusing any and all interviews. "I'm sorry. She's the boss," her very apologetic PR person said over and over again. Tony Danza might have a thing or two to say about that — plus, it's a shame, because Underwood would've gotten lots of compliments on her gorgeous high-heeled red booties. It's doubly strange because Underwood was the very first famous face to show herself in the venue: Usually the big-name celebs who don't want to talk to anyone hide out backstage and then hustle to their seats right before the show starts, the better to escape the fondlings of the unwashed masses. But then again, her early arrival did mean that Carrie and her very bouncy head of blonde hair — it is exactly as you imagine it to be — safely got to her chair before there was even a whiff of a gnarly media scrum. If the brain damage is going to happen anyway, you might as well endure it without body bruises and crushed toes.