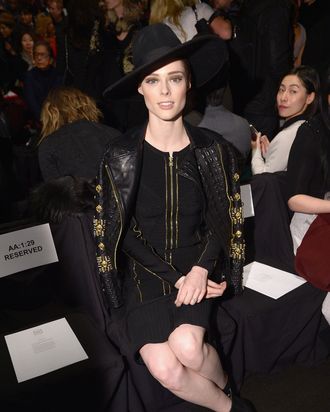 Photo: Michael Loccisano/Getty Images
The first thing we saw when we walked into Hervé Leger on Saturday afternoon was Blue Bloods' Sami Gayle awkwardly holding a pair of panties. Not, we must stress, her own panties. These were stunt panties, and they were the brainchild of one of Fashion Week's many crackpots, who was trying to get celebs to wave the prop knickers while posing for pictures with her. She nearly succeeded, until Gayle's PR person yelped, "No product photos," and saved the day. The Crackpot drifted off to look for Coco Rocha — whom she kept referring to as "Coca Rochas" — and left the rest of the front row unmolested. Including, hopefully, Coco herself, who was clad in a giant hat and therefore had a convenient disguise.
The front row was packed, as is traditional at Hervé Leger. Petra Nemcova attended, as she does every season. We spied Suits' Sarah Rafferty sitting with her co-star Meghan Markle, the two of them looking like they could easily star in a spin-off called Hair, so shiny and bouncy was theirs. Across the runway from them was Vampire Academy star (and Lea Thompson offspring) Zoey Deutch, looking sleek and lovely in a ponytail, and sitting next to Jesse Metcalfe and his girlfriend, actress Cara Santana. And if you think there are air quotes around the word actress, think again, because she has appeared in Beverly Hills Chihuahua 3: Viva La Fiesta!, and anyone who lived to tell that tale probably deserves the credit.
Down at the end of the row was Jamie Chung (of the upcoming Alfonso Cuarón—created series Believe), and, in the interest of full disclosure, we might be in love with her now. We were sitting right behind her, and thus overheard as a fellow reporter asked her what she carried for her breath. Altoids? Gum? This was clearly for a beauty story, and he posed it with a wink, but she – as one would — cracked up and asked him what he was insinuating, before turning to us and wondering what we carried to ward off the heartbreak of halitosis. She then gaily chit-chatted with us about all manner of things, including the extremely important issue of Twizzlers versus Red Vines – we agree that Twizzlers are too waxy, and Red Vines are the bomb — and the fact that she didn't realize the tents apparently now offer lounges for celebs who need to change between shows, because she left all her stuff in her car and would have to run back and strip down in her vehicle in the ten minutes before Mara Hoffman's show. We are, as you know, two salty old bags with shriveled-up hearts, so someone has to be pretty charming to get us to untwist our britches. So congrats on that dubious achievement, Jamie, and in return, we kindly suggest that you stay away from anybody waving free underpants. We want better for you.