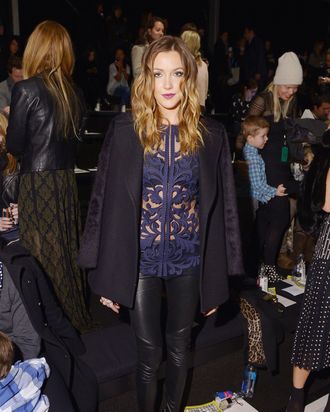 Photo: Michael Loccisano/Getty Images
Sunday morning is rough time slot for a show, because even people who weren't at splashy Fashion Week parties the night before still need to sleep off whatever happened to them on Saturday. But Katie Cassidy looked very spry at Lela Rose, her giant sunglasses the only hint that she might be as tired as anyone else.
She was certainly chipper enough — though we did overhear her telling a reporter that she hates Valentine's Day, so maybe leave her alone if you run into her next week. She also chatted with us a bit about her fashion blog, Tomboy KC, which she says has forced her to actually pay attention at shows so she can write about them. Stars: They're just like us.

They're also like us in that they're spending their off-hours trying to catch up with the Olympics. Katie told us she caught some of yesterday's figure-skating on the plane — "It's shocking to me how much I fly" — and was delighted to be reunited, at least televisually, with the Olympic champion of her youth, Tara Lipinski, who is now doing commentary for NBC. "Now, I'm like, 'Oh my God. These [skaters] are so young! You're like, 15 years old! You need to go to school!'" Plenty of time for that; in fact, presumably, right this second they're enrolled at the University of Hangovers in Sochi. That ought teach them about working through the pain as well as anything can — even Fashion Week.