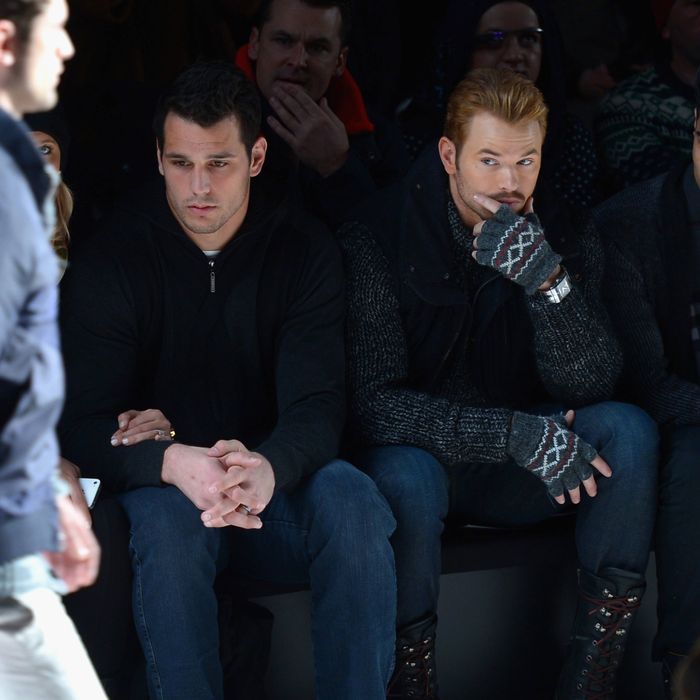 Photo: Michael Loccisano/Getty Images
"Who is that guy?" someone asked us, deep in the press scrum at Nautica on Friday afternoon. "Kellan Lutz," we said. "Who?" she shouted. "Kellan Lutz," we repeated. "WHO?" she screamed. "KELLAN LUTZ," we yelled. "He's in Twilight."
"Oh. I never saw that," she said, placidly, then took a picture of him anyway and wandered off. But as she left, a man pushed past her to get a better look at Lutz. "He is a hot pocket," the man announced — which seems like a compliment, so don't worry, Kellan. For every one person who has no idea who you are, there is another who wants to wrap you in a foil envelope and heat you up and eat you.
It also turns out that Kellan Lutz is kind of (perhaps unintentionally) hilarious. We overheard him telling one reporter that he always wanted to be a sailor, and then elucidating that this was pertinent because "Nautica" sounds like "nautical" and sailors are nautical. We next overheard him telling another reporter that he likes the brand because "the sea is the dominant water source of the world," which we're pretty sure is the Zoolander line they discarded in favor of "moisture is the essence of wetness."
All of these bons mots were delivered with total enthusiasm and sweetness, so you kind of have to love the guy. We asked him if he was planning on watching the Olympics, and he said that he'd watched some last night, and planned on watching some tonight, but "there's just so much Olympics." It's true. Seventeen days is a lot to focus on when you're really just dreaming of the open sea.
Speaking of focusing in on sports, Nautica also always boasts at least a handful of cute athletes in their front rows, and this season was no exception. We spied San Diego Chargers linebacker Andrew Gachkar chatting with former Jets/current Eagles wide receiver Brad Smith, the latter of whom appeared to be wearing Google Glass during the show, which significantly detracted from his cuteness. No one looks hot in those things, and it's time we all just accept that, preferably before they give us all some crazy eye disease.
Rounding out the front row was the Wanted's Siva Kaneswaran, who is very handsome indeed, and who seemed to be having a delightful time. We can only hope that he and Kellan Lutz hit it off backstage, because we suspect Kellan has some sea shanties just itching to come out, and the Wanted could probably use a hit. "The Sea (Is the Dominant Water Source of the World)" sounds like a hit to us — you're welcome, boys.