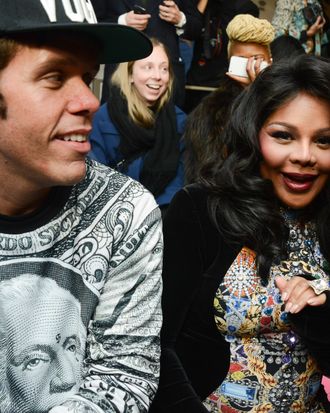 Photo: Shanae Nae/BFAnyc.com
When we saw The Vampire Diaries' Kat Graham at Betsey Johnson on Wednesday afternoon, she seemed totally cranky. She was sitting next to Zendaya (who looked seriously ridiculous in a capri-length, animal-print catsuit and a competing bandanna) and tapping myopically at her phone. When we asked if Graham was doing interviews, a PR girl looked at her and Graham said, "Uh, NO," as if we'd asked her to wash her face with some nice Sochi tap water. In all fairness, who expects the press to want to speak to you when you're attending an event specifically designed for people to get press?  That's just crazy talk.
The good news is that Graham perked up considerably between Betsey and The Blonds, which was much later that night. Granted, it's hard to be cranky at The Blonds — unless you have something against intricately beaded catsuits, headdresses, drag queens, nearly naked costumed men, and/or fun. Graham was wearing a really, really short white dress that was at least 60 percent plastic, which she couldn't sit in without flashing her undies to the row across from her. Despite having to protect her modesty by placing her clutch over her crotch — and the merciful benefit of a passerby blocking her backside when she bent over to put something on her seat — Graham was enthusiastic with reporters, posed for photos, and loudly exhorted the models to "work it." Whatever she did between 3 and 9 p.m., it worked. Maybe she's just not a morning person, and maybe her mornings begin in the middle of the afternoon.
Down the row from Graham, we spied Lil' Kim — who looks less and less like herself every year — as well as a variety of contestants from RuPaul's Drag Race. Among the last to arrive: the irrepressible Paris Hilton. We'll give Hilton this: She always shows up looking immaculately groomed. But she also has a habit of coming in very late, carrying multiple cell phones, and generally looking like someone trying to eke out a 16th minute of fame. We don't usually advocate plonking such a person in front of a parade of intricate bustiers and splashy, beaded catsuits — it's like waving the proverbial red cape in front of the kind of bull who might wear it without panties. But hey! If she's really going to keep happening, she might as well remain visually dramatic.