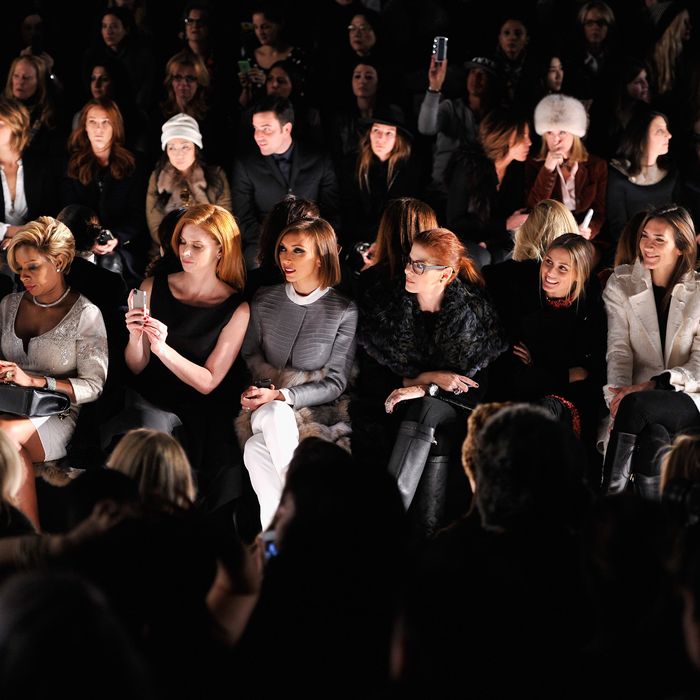 Photo: Stephen Lovekin/Getty Images
For a moment on Monday afternoon, it seemed like red hair was a requirement if you wanted to sit front row at Dennis Basso: The first two celebs we spotted were Suits' Sarah Rafferty, whose titian tresses are exceptionally pretty, and everyone's favorite Smash survivor Debra Messing. Her hair was pulled back into a relaxed ponytail, and no, former hate-watchers, she did not have on a menagerie of scarves — possibly because her exuberant coat-length fur vest would not have allowed for one more thing around her neck.
Every time we see her at Fashion Week, Debra seems like a total kick, and this was no exception. She talked animatedly with Rafferty, laughed with Giuliana Rancic, bonded warmly with Olivia Palermo (about what, we don't know; perhaps a shared love of accessories or ponytails?), and had what seemed like a very dramatic conversation with Hal Rubenstein. As we pushed past, we accidentally caught her saying to Hal, "… IF he's ALIVE," which is the worst kind of soap-operatic snippet to overhear because it makes us want desperately to beg for the details. Instead, we got an earful of her repeating her phone number to Rubenstein three full times. We did not write it down, but in the cold, hard light of our hotel room we kind of wish we had, because … IS he alive? We need to know.
Rancic, it must be noted, has a really odd Fashion Week face — in the sense that when she really likes something, she screws up her nose as if it has an offensive smell, and then once it's past her, she turns to a seatmate and mouths, "That is gorgeous." Or, since that seems to be the official word of E! red carpet coverage, maybe that's just the only adjective that rolls off her tongue anymore. Mary J. Blige, down the way, was a lot more impassive in her reactions — perhaps there really is no room for hateration in this particular dancerie — and had on a massive fur jacket and a seriously spectacular diamond necklace that, if real (which surely it was), must have been worth a literal fortune. It sparkled like a mouth in a toothpaste commercial every time anyone took a photo.
A little further down the front row was Katie Cassidy, who was wearing a sheer top with a visible bra for something like the fourth time in two days; and model Carol Alt, who spent a great deal of the preshow period wiggling around like her tights were drifting down. André Leon Talley looked predictably dramatic in a giant fur-trimmed robe and a red caftan, and we noticed a variety of Real Housewives of New York — LuAnn, Sonja, and Ramona, for those of you keeping score. None of them threw any prosthetic limbs at anyone else, nor were any drinks thrown in any faces. A shame, really. In a place where so many women are wearing fur turbans, you'd hope for a little interpersonal drama. Maybe they were too busy wondering, also, about the aliveness of the mystery "he." Good luck sleeping tonight with that unsolved.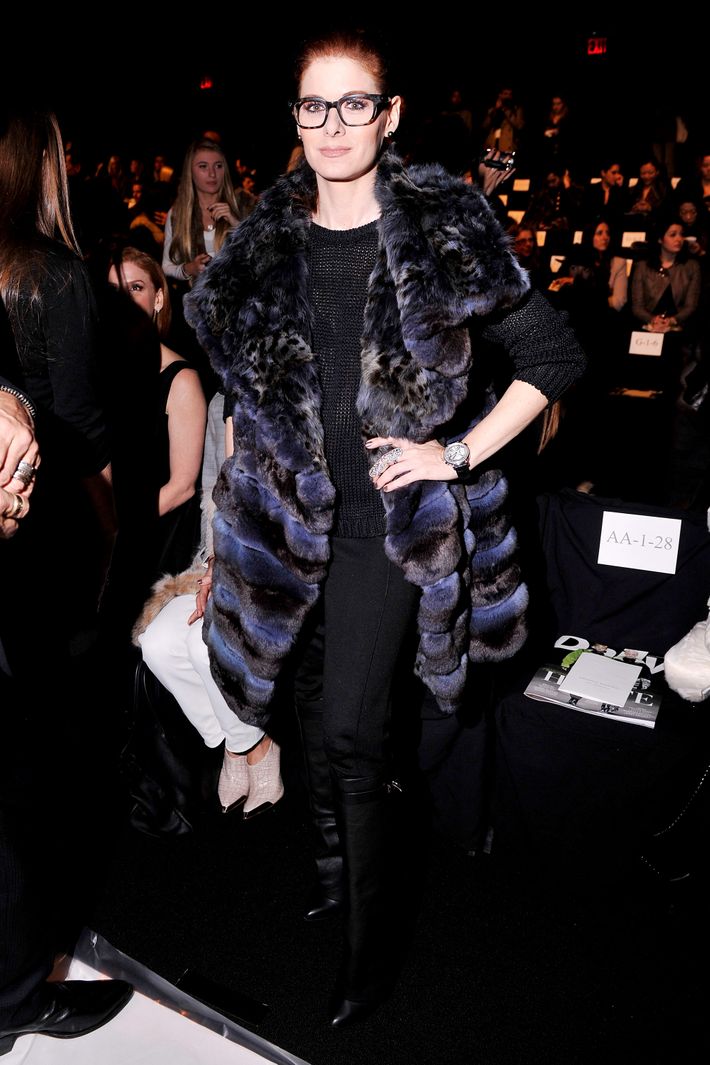 Debra Messing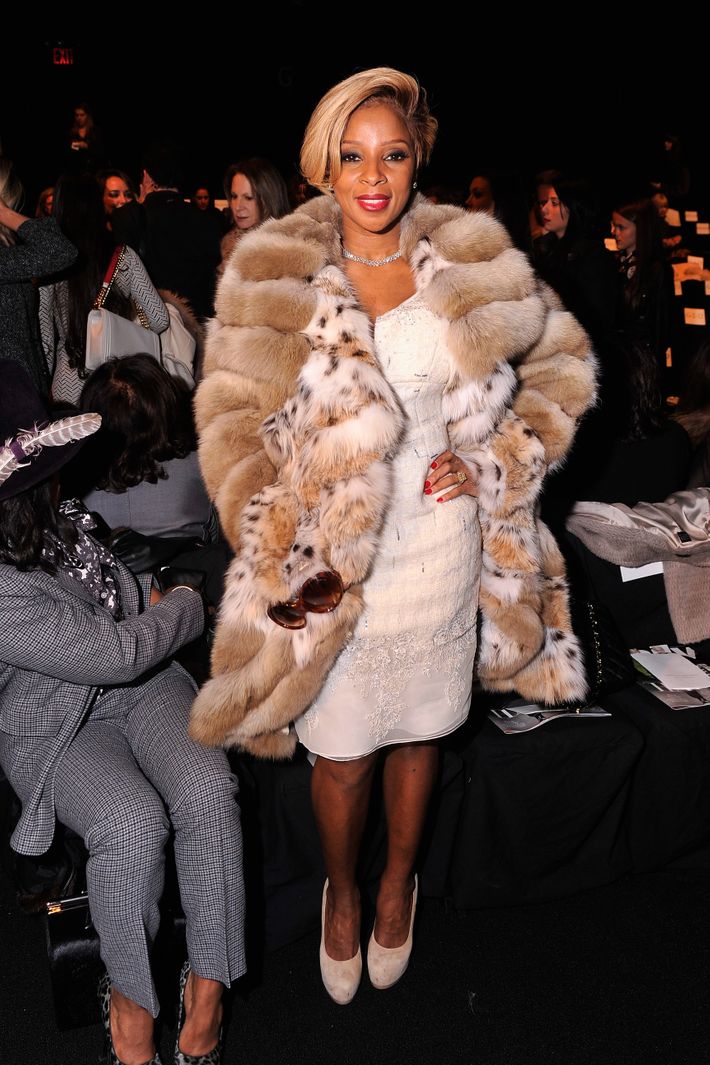 Mary J. Blige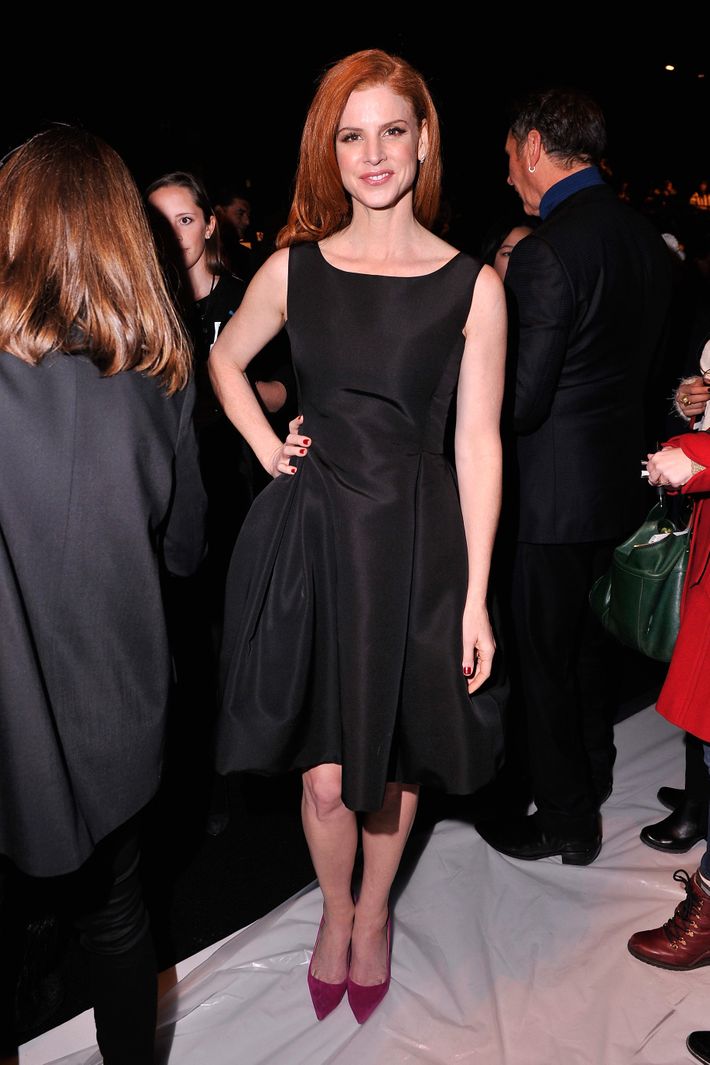 Sarah Rafferty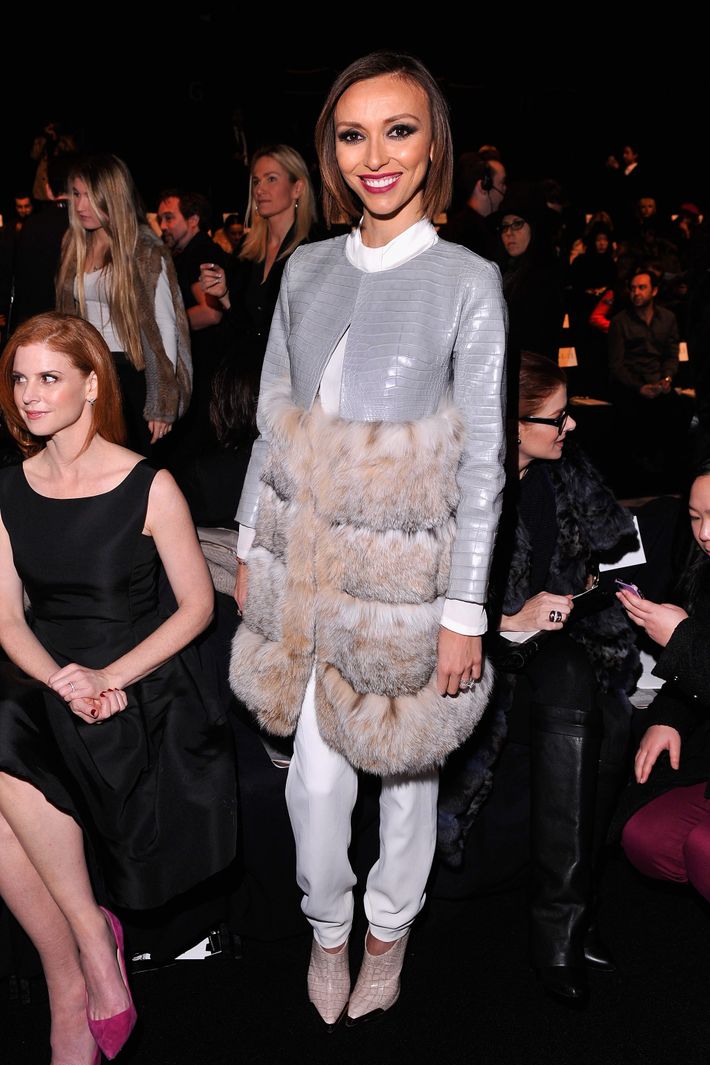 Giuliana Rancic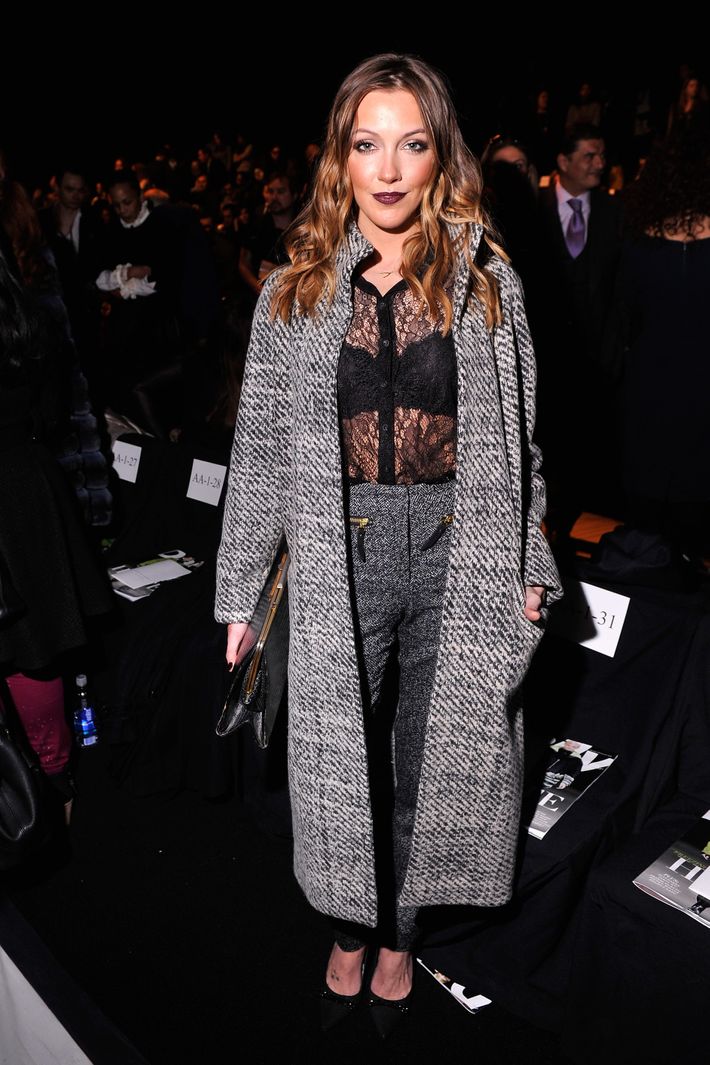 Katie Cassidy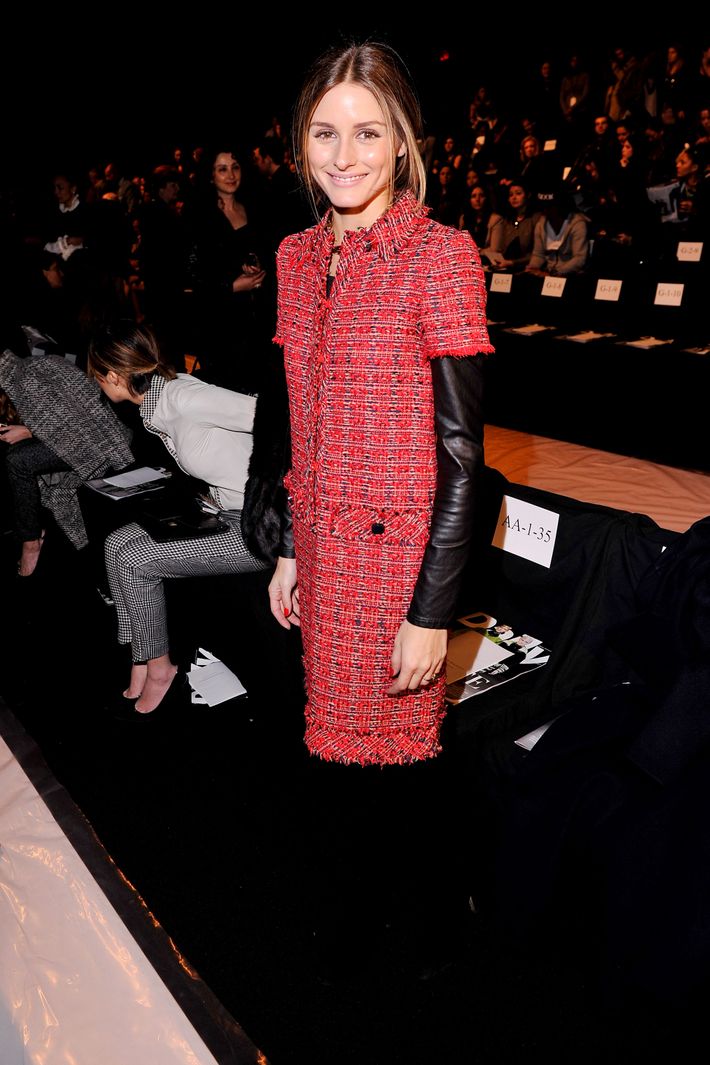 Olivia Palermo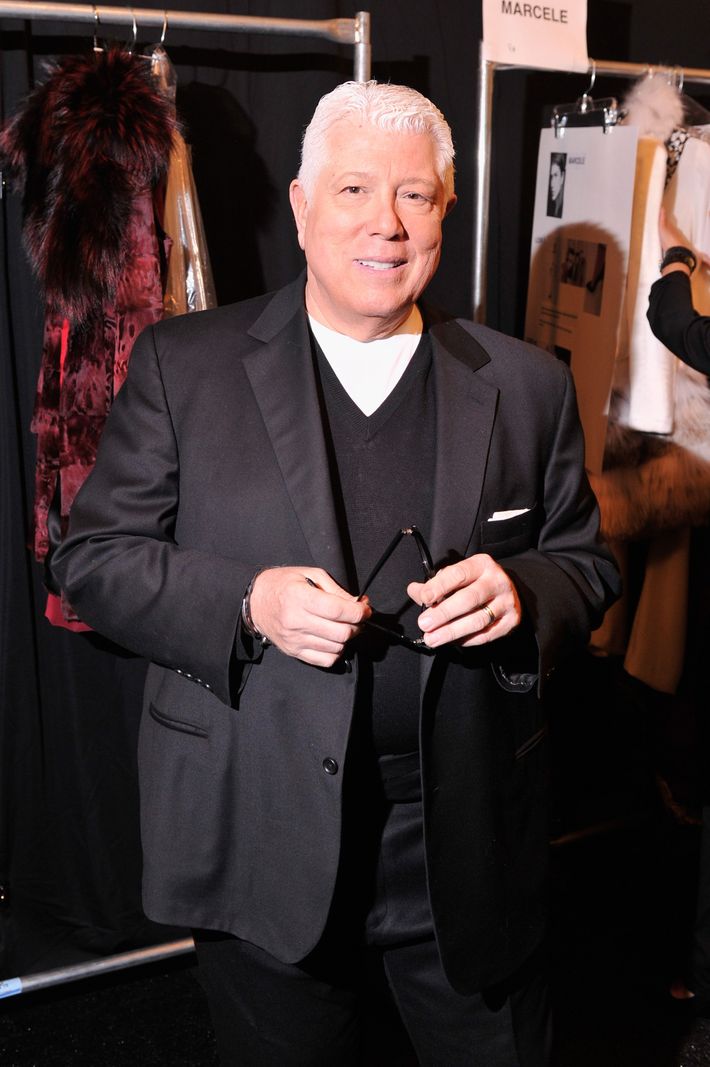 Dennis Basso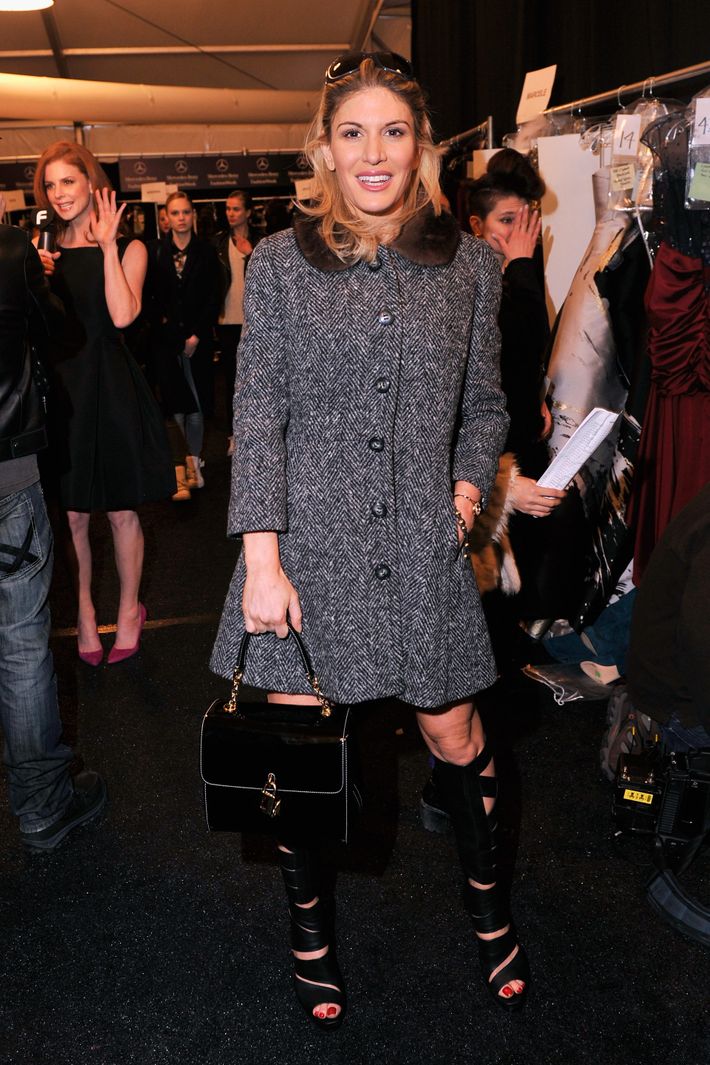 Hofit Golan