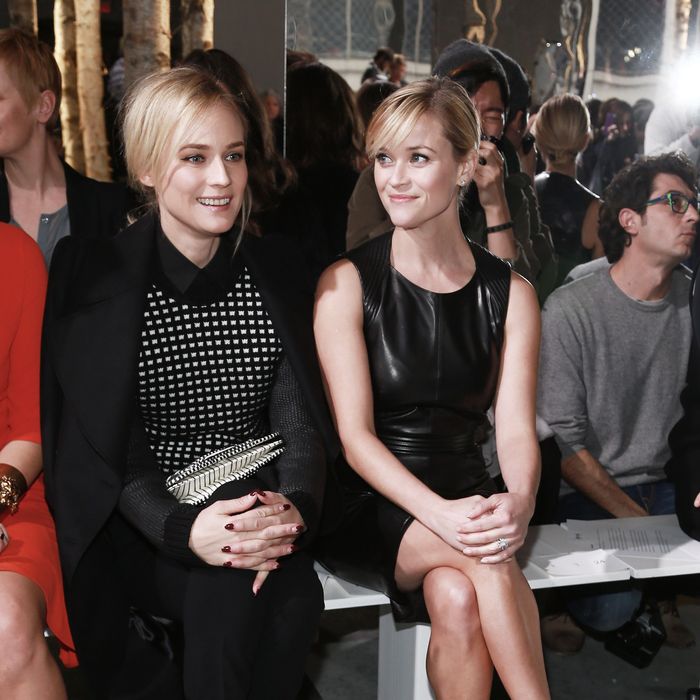 Photo: Paul Zimmerman/Getty
For his first collection as the artistic director for womenswear at Hugo Boss, Jason Wu clearly went into his little black book and dialed up some of the most exceptional DNA he could find. The front row at Wednesday afternoon's show (also the label's first focusing solely on women's clothes) was a veritable A-List buffet, although with a sneeze-guard made of burly men in suits instead of Plexiglass.
The first one out was Diane Kruger, who was (refreshingly) actually dressed for a cold winter day, in pants, laced stiletto booties, a sweater, and a wool coat draped over her shoulders. Kruger did a couple of press shots, then hightailed it backstage again for a break, pausing only to do a brief on-camera interview in German. We wish we spoke it, to know whether it was about, say, shoes, or her homeland's luge skills.
Photographers then got a hit of testosterone, in the form of both Scott Eastwood — Clint's extremely dishy son — and rugged Scottish hunk of man Gerard Butler. "Oh, yeah, he is … YEAH," purred a girl behind us. Butler humorously tried to organize his photo ops with Scott before retiring to his seat and catching up with a friend. "I haven't been in New York much, and when I am, I'm not going out," he told her. "I'm being a good boy." And a thousand women and just as many men will now exhale sadly and have to regroup emotionally.
The room fell oddly silent seconds before Reese Witherspoon emerged. By then the runway was clear of everyone but photographers and a couple of nosy old hobos (us), so we got a good look at Reese in her great leather dress, every inch a perfect gilded sun-kissed California blonde. She's super petite but has an aura of a much taller person, and we have never seen anyone so chill about walking into the flash-photography lion's den. Presumably that's what happens when even your off-hours at the grocery store and outside medical buildings are documented for media posterity.
The ensuing photogenic union of Witherspoon and Kruger almost obscured the arrival of Benedict Cumberbatch, but we are very good detectives ourselves, Mr. Holmes, and we can smell attractive high jinks a mile away. The combination of the two ladies together and the rush to document the Batch's very dapper presence (he is more handsome in person) did, however, successfully keep anyone from noticing Gwyneth Paltrow being ushered to her seat. It wasn't until they cleared the runway and the wall of humanity parted that we saw the Goop sitting there, gleaming in black and white with black pumps that had large gold adornments roughly the size of a snack plate. She looked sophisticated, willowy, and Zen — so, pretty much same-old, same-old. We wandered past a few times, taking in the Essence of Goop, hoping that simply being in her presence would give us better quads and a greater knowledge of obscure foreign sea salts, and maybe also beam into our brains an easy recipe for organic, free-range, cruelty- and fat-free macrobiotic Doritos. Alas, apparently there is no Goop-to-human mind meld, so instead of gaining wisdom that would transform our very souls, we bolted off to our seats and sated ourselves with a handful of life-sustaining actual Doritos. We figure, with all that perfect DNA in the front row, the universe needs to balance it out with guests like us whose genes are at least 25 percent cheese powder.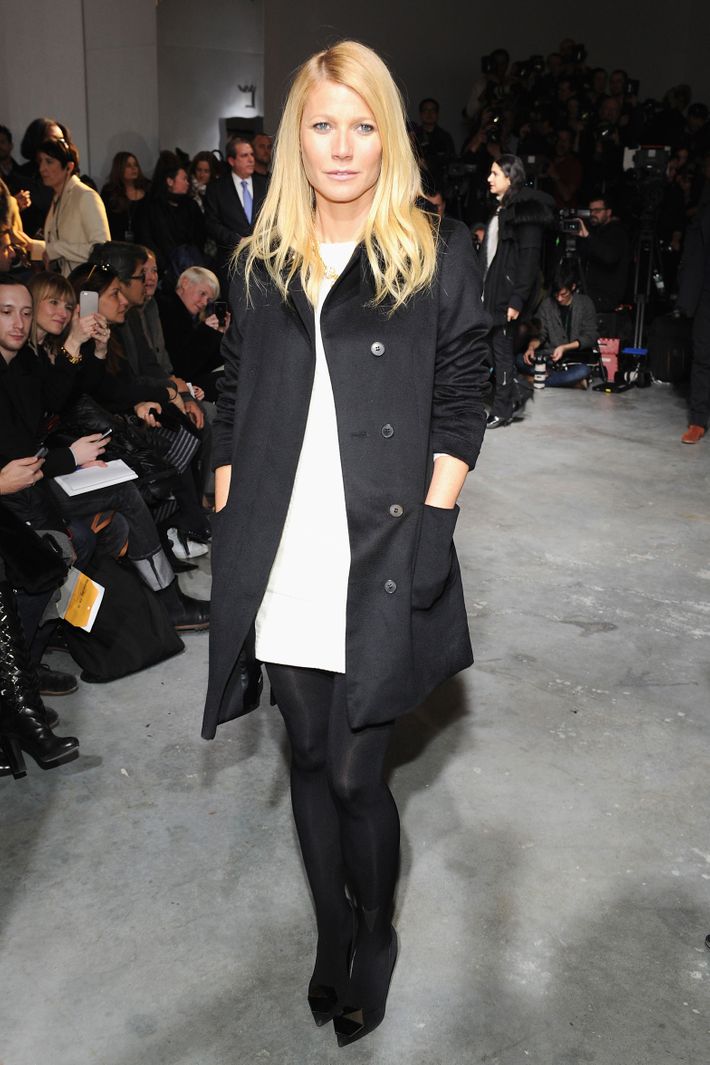 Gwyneth Paltrow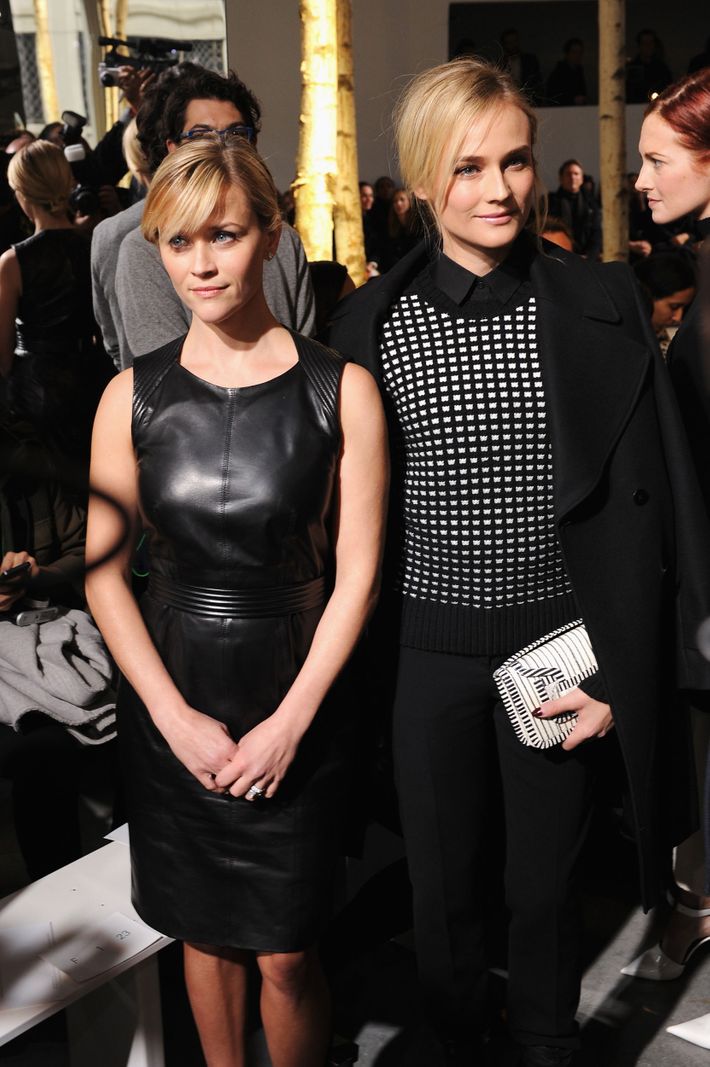 Reese Witherspoon and Diane Kruger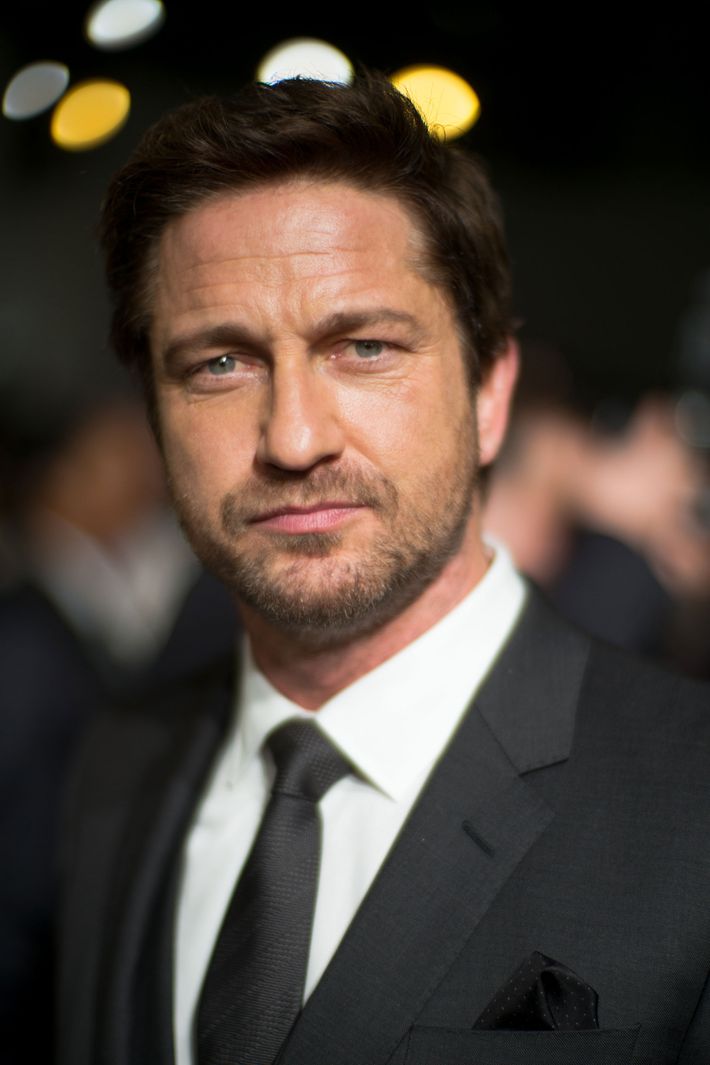 Gerard Butler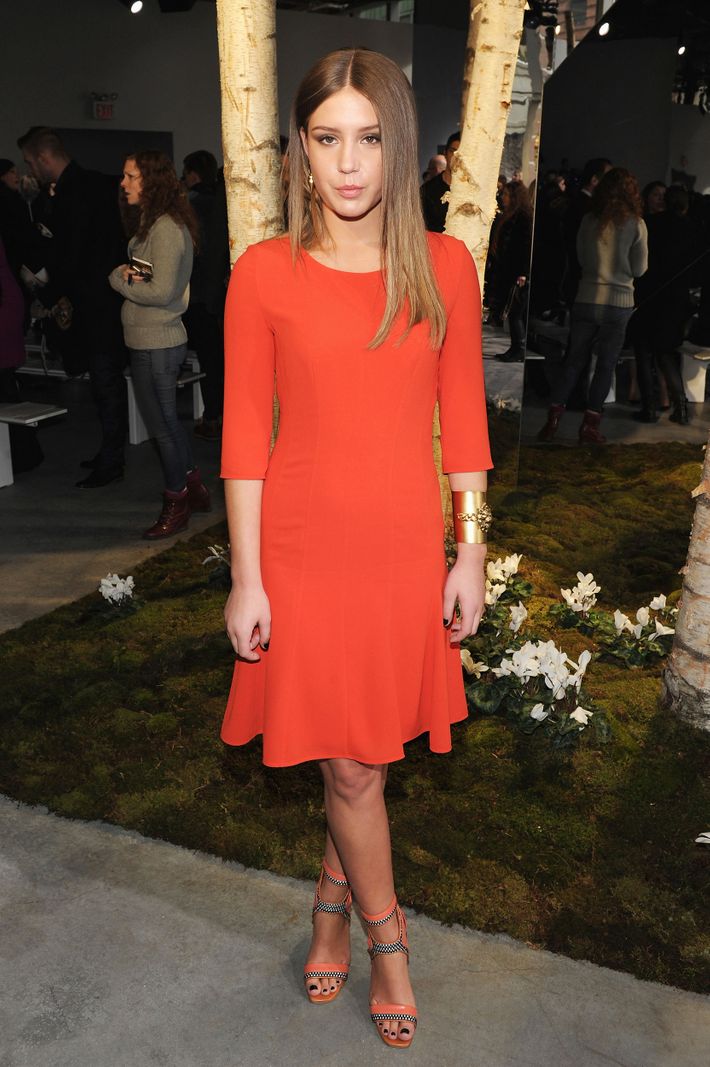 Adele Exarchopoulos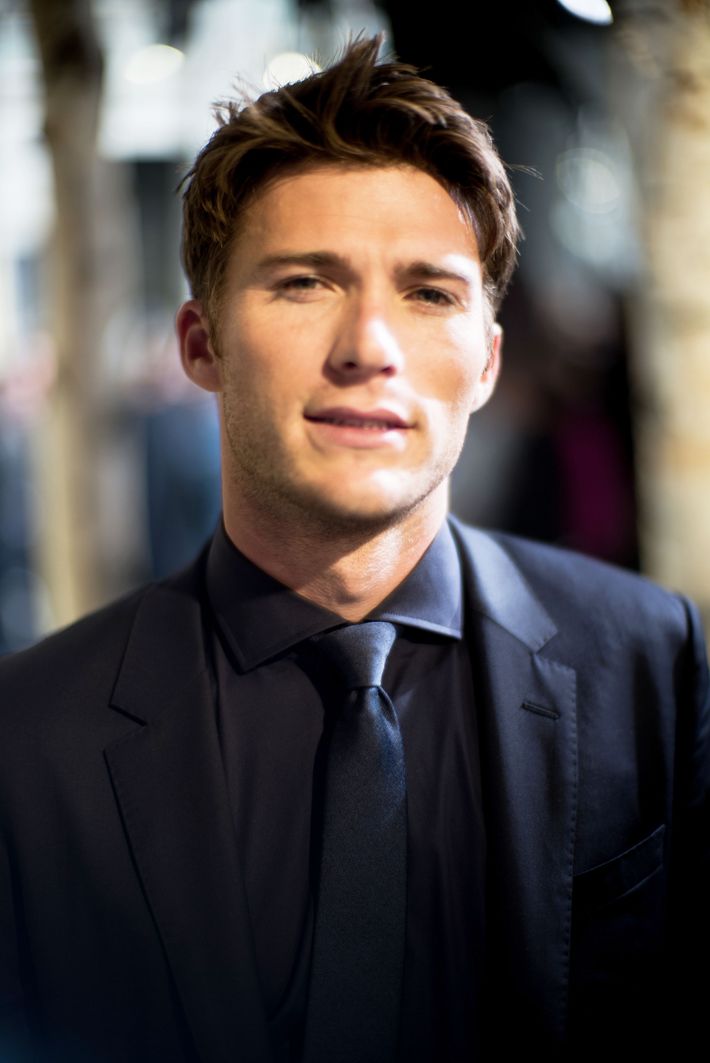 Scott Eastwood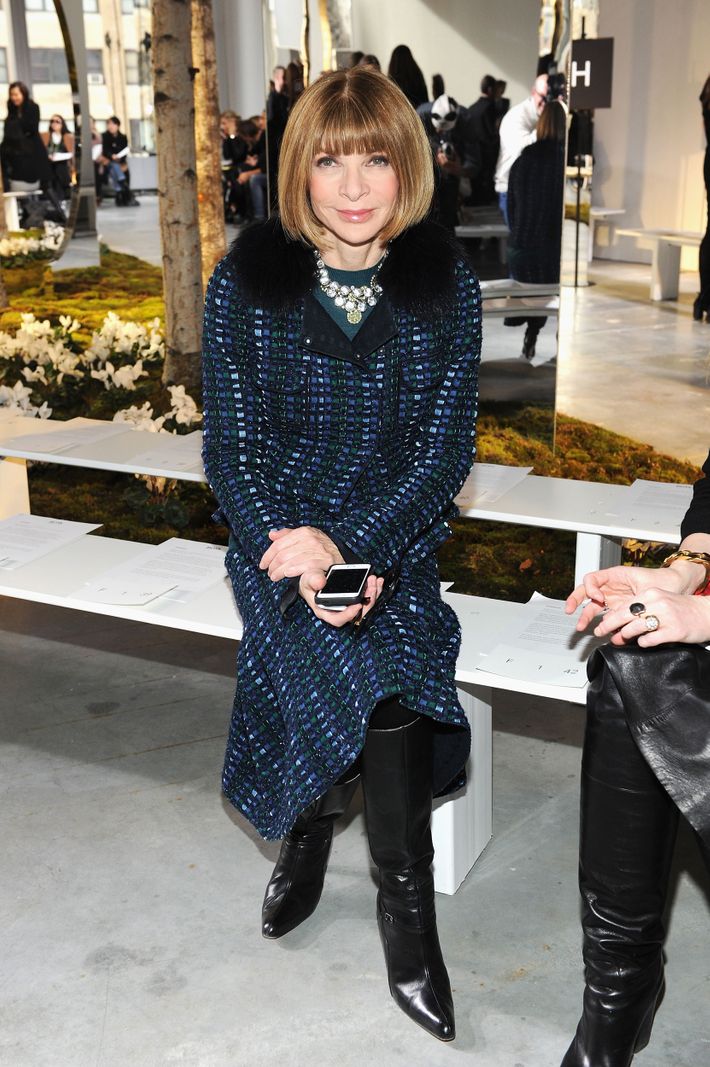 Anna Wintour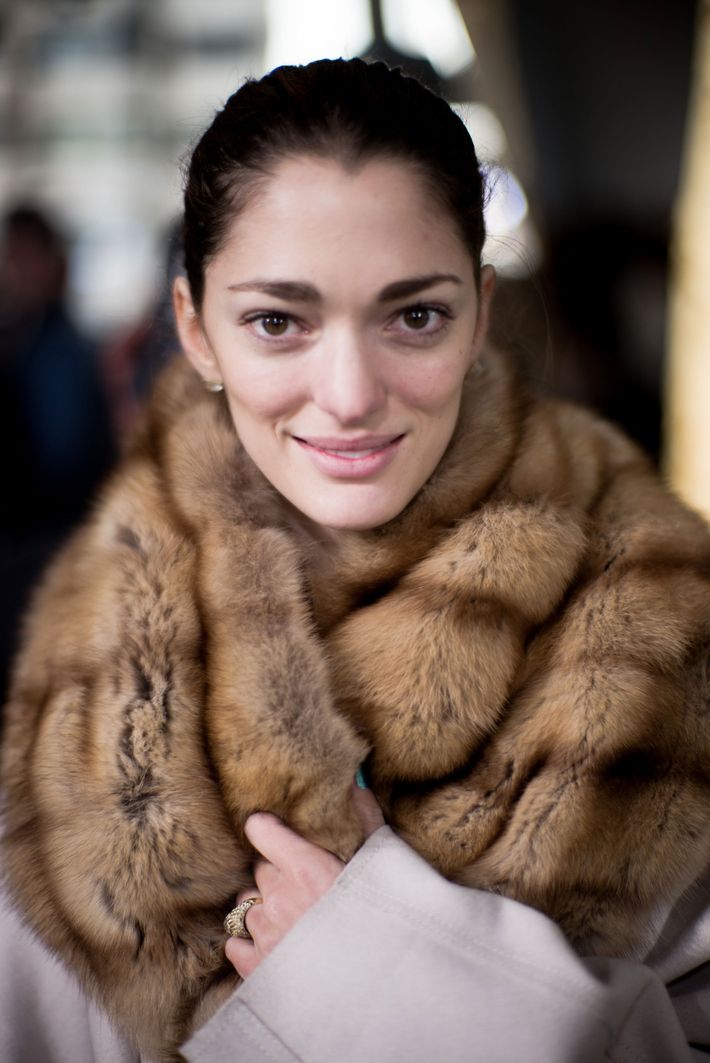 Sofia Sanchez