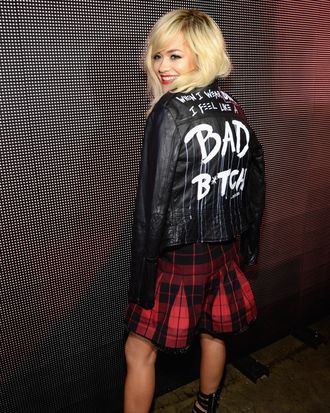 Photo: Larry Busacca/2014 Getty Images
"Don't push. If you push, I am kicking you out," announced one of the celebrity wranglers at DKNY on Sunday. We appreciated her attempts to calm the media mob, not least because we took a camera battery to the face when Rita Ora came out, at which point people seemed fully ready to break a few noses if it meant getting their shot. The DKNY people were smart about shepherding Ora — the current face of the brand – to a spot near the wall where she could pose while the photographers rotated in for a picture, but the simple act of getting there required squeezing through the crowd, and when they finally spat her out on her mark, Ora shot a cute OMG expression at a couple of the reporters before she snapped into model mode. It never seems to matter how famous you are; Fashion Week flashbulbs are a whole different breed, and not for the faint of heart.
Ora had on a plaid dress, strappy shoes, different colorful art on each nail, and a leather jacket with a quote attributed to her on the back: "When I wear DKNY, I feel like a bad b*tch." (Censorship theirs, which tickles us, because surely a real bad b*tch would kick that asterisk to the curb.) Rita is shooting 50 Shades of Grey right now, which she said has been a fun departure from the performing she's used to doing. "I mean, I can fuck it up the first time and I'll get another one," she grinned. "I've never had that before!" And of course, reporters were pushing her for spoilers – to which she actually squealed and flapped her hands, which is only about two steps removed sticking her fingers in her ears and shouting, "La la la, I CAN'T HEAR YOU." We did hear her compliment Jamie Dornan's work as Christian Grey, and as to queries about how far the film strays from the book, she thought for a second and then carefully replied, "It came from the book, so … when you watch it, it'll speak for itself." Or perhaps moan.
Everyone's celeb-spotting radars were on the fritz, though: Rumors swirled that Selena Gomez was there, but it turns out a couple of cameramen were referring to Victoria Justice and the others meant Zendaya – in fairness, if you put them in a blender, a liquid version of Selena Gomez is probably what you'd get. Other lensmen clamored for photos of a curly-haired girl whom few of them actually recognized. "It's a blogger," someone's producer said. "Ugh, are you KIDDING ME? I'm not giving up my spot for that," said a cameraman who was waiting in line to talk to Victoria Justice. Smart move, because the preternaturally lovely Victoria made for a better picture, in what amounted to a sports bra with a mesh panel in the front. This was paired with black high-waisted pants with sporty white stripes down the side, so at least it was Of A Theme, but it was also Of A Cleav.
We spied Justice's stylist handing out business cards to a couple of the crews from outlets she or Victoria liked working with, which certainly counts as making the most of your moment. As was Zendaya, who's had on super dramatic, Wintour-like shades everywhere we've seen her – which today she paired with a summery khaki suit with elastic-waist pants, a coral shirt, and heels, which she said she's been navigating with trepidation. "I've slipped multiple times, but I haven't actually hit the ground yet, so that's good," she said, noting that she's unlikely to change what she wears just on account of the weather. "If I like it, I like it, so I'm going to wear it and I'll have to suffer the consequences." Sounds like someone's taking advice from the back of Rita Ora's jacket.