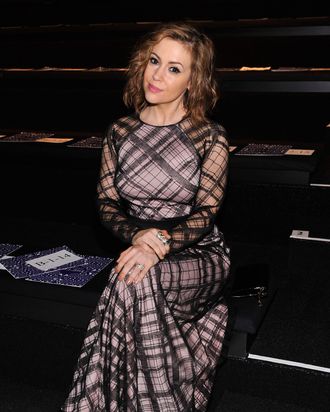 Photo: Stephen Lovekin/Getty Images
We joke that every season our Fashion Week Crabby sets in earlier and earlier, but day one is a little early to look unhappy. Which is why we were surprised on Thursday afternoon to see Alyssa Milano in the Tadashi Shoji front row mostly frowning at her phone and looking like she didn't want anyone to talk to her. Indeed, although she let a fan take a picture of her, Milano appeared to be spurning would-be interviewers and spent her pre-show time either poking at her smartphone with her back slightly turned to the rest of the row, or staring into space. Between her depressive pose, the somberness of her floor-length black-and-gray windowpane-length belted dress, her messy bob, and the amusingly oppressive heavy violin music in the venue, Milano evoked a tragic widow from an old gothic afternoon soap — the kind of person who just found out the casket is empty and that her husband merely faked his decapitation. It's okay, girl. Project Runway All Stars wasn't that bad.
Alyssa should've turned to the side a bit. Not only did 30 Rock's Katrina Bowden look a bit lonely and perhaps in need of a chat several sections down the way, but Carrie Preston — an Emmy winner for The Good Wife — was only one body away from Milano, having a grand old time with blonde actress Andrea Powell (who played a vampire in the fifth and, mercifully, final Twilight movie). The two of them snapped a photo together and seemed to be having so much fun that Preston actually apologized for being too caught up in, as she put it, "just being girly," to jump up for an interview. Preston, now red-haired, used to be a blonde herself, so maybe they were discussing who actually has more fun. In fact, Preston told us she's noticed that a different hair color does sometimes matter. "It changes how I'm perceived," she said. "It is a totally different kind of dude that checks out a blonde than checks out a redhead. I live to tell you that is true." We wondered which type of guy she prefers to have checking her out. "Well, I've been a redhead now for four years, so … " she grinned.
Preston, who is based in New York, said that aside from a little travel-related stressing whenever she has to fly west for work, she's been unfazed by the polar vortex. (It's not a Fashion Week if people aren't discussing how freezing cold or broiling hot they are.)  "With the proper coat and shoe gear, you're good to go. I wear the big down coat and the boots," she said. Then, with a laugh, she gestured to her bare legs and black heels. "Usually. I had to go through the snow in these shoes to get in and out of the car. I didn't think that through." Maybe next season Fashion Week should hire people to carry celebs from the curb to the tents on litters, Cleopatra-style. We would pay good money to see that.  And, pro tip to Alyssa Milano, it would be a great way to make friends.
For more from the Fug Girls, visit their blog here.