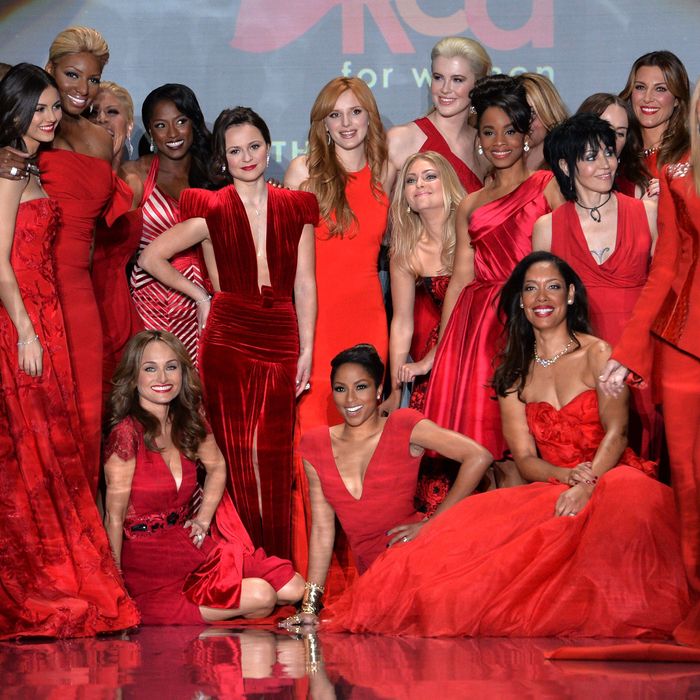 Every February Fashion Week, the Red Dress Collection show — an American Heart Association event in service of raising awareness of heart disease, particularly in women — serves as a festive kickoff to Fashion Week by sending a slew of celebrity (and "celebrity") models down the runway to a buoyant mix of pop songs, sporting assorted designer gowns. On the one hand, it's warm, earnest, and sincere, and a welcome respite from total fashion intensity, to the point where it's hard to get too worked up about any of it. However, it's also hard to watch every second person raise the roof and not feel like you're at a country club gala raising funds to renovate the golf course. We found ourselves wishing it truly were Beverly Hills, 90210, and that Kelly Taylor's mother would pop out to emcee the whole thing while high on cocaine and say something terribly embarrassing about Joan Van Ark.
Instead, Thursday night's show began with Star Jones, whose legitimately touching story about surviving open-heart surgery was undercut somewhat by her being introduced as "the face of heart disease" — which is probably not the way Jones herself would ideally phrase that line item on her résumé. Then the parade of celebs began, and it was an incredibly mixed bag, both performance-wise and in terms of cachet — the models included everyone from a local Knicks broadcaster named Jill Martin to entertainment journalist Alicia Quarles, to actresses Jill Hennessy and Rutina Wesley and the aforementioned Knots Landing star Van Ark, most of them in either underwhelming or actively unflattering dresses. Or, in Van Ark's case, a Dr. Moreau–worthy hybrid of slacks and a cape.
The opening model was Ireland Baldwin, in an uninspiring red shift, and we choose to imagine she was chiefly relieved that her stepmom, Noted Recluse Hilaria Baldwin, wasn't anywhere to be seen taking "spontaneous" yoga Instagrams while Ireland hit the catwalk. Anika Noni Rose sang along to her own song from the Dreamgirls soundtrack, stopping multiple times so that she could twirl. Taryn Manning from Orange Is the New Black did the opposite, motoring up and down that sucker so fast that we barely registered that her dress was actually pretty good on her. A heavily pregnant Daphne Oz seemed fixated on making sure we all realized she was gestating: She repeatedly pointed at her eight-months-along belly and mouthed things. Rock legend Joan Jett weaved dangerously, to the point where we thought, and maybe prayed, she might topple into the front row. And Real Housewife NeNe Leakes mostly seemed interested in shooting finger guns at her co-star Cynthia Bailey, who was supportive in a hat — we like to think the two things are related — in the front row. (At least we know they're not currently fighting, if you keep track of things like that.)
The best of the bunch: Skater Sasha Cohen in a plunging deep-red velvet number; Victoria Justice, who was stunning in an Oscar de la Renta strapless gown and who mixed a refreshing smile with a minimum of mugging; Gina Torres, whose Marchesa on an island of red froth wasn't to our liking but which she managed to work like a pro; and AnnaSophia Robb from The Carrie Diaries, who did her alter ego Carrie Bradshaw one better by strutting very capably and not falling on her face. But it was erstwhile Olympian Lindsey Vonn who got the biggest cheers of the night by making her way down the runway on crutches, then briefly, triumphantly, waving them in the air for photographers. She may have questionable taste in men (sadly, Tiger Woods was not in attendance), but it's sad that she couldn't make it to Sochi, although we privately decided that she and Sasha Cohen were reading Twitter backstage and chatting about how relieved they are not to be in Russia bathing in dangerous face-water and catching pink eye from Bob Costas.
Leona Lewis was supposed to walk, but instead perched mysteriously  in the front row, where we briefly spoke to her. She informed us that we'd be better off dealing with Sunday's upcoming storm if we had some "really cute moon boots." In fairness, she's probably right. Leona was joined in the audience by trainer Tracy Anderson, a.k.a. the woman we can credit (or blame?) for how bad Gwyneth Paltrow's legs make us feel, and singer/Kardashian clone Adrienne Bailon. We also spotted Selena Gomez lookalike Jacquie Lee, the 16-year-old runner-up from the last season of The Voice, who told us that her Twitter followers actually call her "Selie," a mash-up of her name and Gomez's. Lee was charming, and totally composed, in that way that suggests she's a genuinely good kid with non-nightmare parents — and she was the first to give them credit for that. "I have an awesome mom and dad. They keep it from going to my head. And my little brother," she added after a beat. "He's like, 'Ew, I see you everywhere, it's so annoying.'" Imagine if they'd let actually her model, dude.