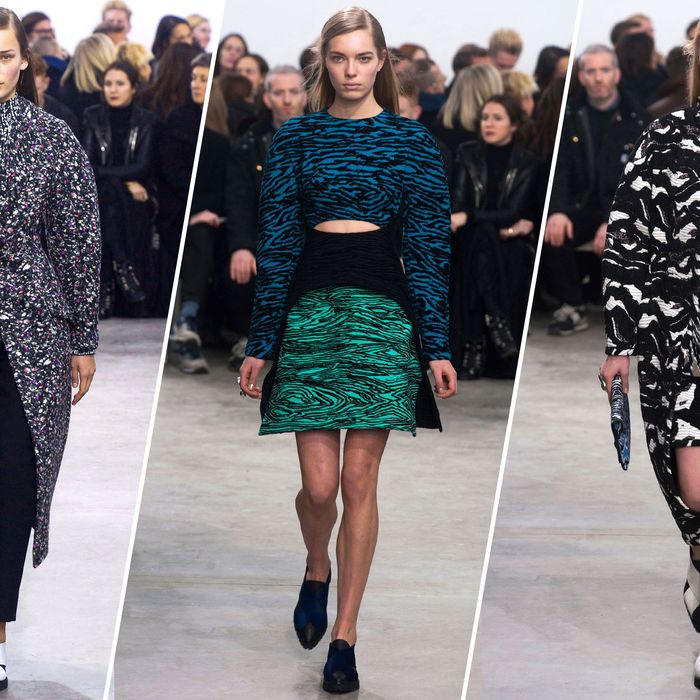 On the subway, everyone looks the same. On a frigid weekday afternoon on the C train, it is virtually impossible to distinguish men from women based on attire. Everyone is just a body swaddled in shearling or a parka. Knit caps are pulled low, and thick scarves are wound snugly around the neck and the bottom half of the face. Only the eyes and nose are visible. The footwear is a blur of lug-soled boots, salt-stained oxfords, and the occasional pair of half-tied, impractical sneakers.
Male or female. It doesn't matter. Today, it's cold. So whatever.
But this is also the new norm. Fashion is technical, pragmatic, and cool, full of swagger and confidence. Everyone wants to look strong and capable. Everyone can be pretty if they like. The concepts of masculinity and femininity are in flux. Whom do you love?
This new reality was sketched out most overtly earlier this week at the Hood by Air runway show, in which the usual signifiers of gender were deliberately muddled. But designer Shayne Oliver and his divas and warriors are not alone in that gray zone. This is a moment when menswear and womenswear converge; when hard and soft are applied equally to men and women; and when our understanding of gender is undergoing a profound reassessment.
To some degree, we have arrived at this point through cultural evolution and political revolution. The rights of gays and lesbians are being broadened and codified. Sexuality has gone public in its complexity and label-defying grace. From Jason Collins and Michael Sam to Edith Windsor, Lana Wachowski, and Chirlane McCray, sexuality and gender have become part of the cultural conversation in more nuanced ways than ever before. Fashion is in the thick of it.
Barneys New York's current advertising campaign reflects the cultural shift by focusing on 17 transgendered individuals photographed by Bruce Weber. And earlier this week, the store celebrated those models, along with their support network of friends and family, at a dinner to mark the release of a 30-minute film about them, directed by Weber.
In the hyper-glamorous still pictures, there is a kind of fetishization of the individuals — elevating them to a stature beyond the simple men and women that they are. In fashion's desire to normalize transgendered people, it goes too far and practically deifies them. With a halo, it's hard to be seen as human.
But in the film, titled Brothers, Sisters, Sons & Daughters, the models have an opportunity to tell their own stories. They are extraordinarily open in sharing both their pain and their victories, and, as we listen to their confessions, they become real. Just people who are trying to make it through.
Fashion has always been fascinated with gender identity and the way in which it plays out in the aesthetics of attire. But where there had been flash and showmanship in the past — as with Jean Paul Gaultier's male models forever done up in torpedo bras or the iconic 1975 Helmut Newton photo of a gender-blurred model in an Yves Saint Laurent Le Smoking, surreptitiously snuggled next to a naked vixen — the tone today is far more relaxed, joyful, and complex. Designers aren't merely interested in how fashion defines men and women. They want to explore the middle ground — the shared space where distinctions aren't so clear.
For fall 2014, the designers of the menswear label Duckie Brown expanded into womenswear, but which pieces are designated for men and which are for women is not so clear. Many of the garments can be worn by either sex — not because they are blandly androgynous but because the spectrum of what is "acceptable" has expanded in the last decade.
"Duckie Brown has, for me, been a reaction to what I couldn't wear as a gay teenager because I couldn't come out," said designer Steven Cox, who, along with Daniel Silver, founded Duckie Brown as a menswear label in 2004. Over the years, the duo felt the sting of homophobia as people reacted to the quirky, quasi-feminine aesthetic of the menswear. "That was brutal to me," Cox said. "But that's over." And now, the women's collection, which was developed in tandem with the men's, is a reflection of a more open and receptive culture.
"It was one seamless thought. We want to design clothes for people," Cox said. "Some are for men. Some are for women. And some are for whoever wants to wear them."
In fact, contemporary style almost assumes that there will be a playful dialogue between masculinity and femininity. To not blur the line, or at least march right up to it, is quaint and almost old-fashioned. The collection that Oscar de la Renta put on the runway Tuesday evening at his 42nd Street headquarters was supremely elegant and undeniably feminine. Undeniably traditional. The luncheon suits, with their round collars and ribbon embroidery, cried out to be accessorized with a doting gentleman walker. The bejeweled dresses and feathered gowns are part of the classic vernacular precisely because they adhere to decorum, long-held rules, and the stubborn belief that a woman wants to be — should be, needs to be — a bit of a princess. But can't a boy, for better or worse, be a bit of prince?
A similar philosophy is at work at Ralph Rucci, where the brand's namesake designer works at the highest level of fabric quality and construction. For example, a little black dress is anything but simple, thanks to golden zippers that wind their way around the sleeve and curve up the arm. Rucci reveres the female shape and swaddles it in luxurious sable and cashmere. But it exudes the aloof distance of a customer who travels within her own beautiful, antiseptic bubble.
In contrast, Proenza Schouler looks modern, in part, because designers Lazaro Hernandez and Jack McCollough are forever testing the limits of fabric technology and finding new ways to confound the eye. But their work also looks vibrantly of-the-moment because the collection is neither overly girly nor brutishly masculine. It is womenswear, but it has been adopted by boys because it can be.
The fall collection, which debuted Wednesday night, was revved up with electric patterns created through printing, flocking, and weaving fabric. The tweed used to construct the slim trousers and broad jackets looked like something churned out by a recycling plant — a sloshy stew of colorful yarns pressed into a hypnotic mélange. Jackets with bellows-shaped sleeves in bouclé or deerskin stood away from the body with sculptural austerity. Everything felt alive with energy, practically vibrating, as the models made their way around the wide-open loft.
And on their feet, the models wore oxford-style loafers with wide straps that crisscrossed over the top of the foot. Clodhoppers, basically. That's how they might best be described. Not a dainty woman's shoe, but a man's workhorse of a shoe.
When fashion becomes infatuated with an idea of a person, it does not move with either caution or judiciousness. The industry sprints forward at a breathless clip. Sometimes it moves before it has fully considered its actions. But the fashion industry has spent a long time toying with gender and sexuality. And it is coming to a point of admirable realization. Clothes that truly reflect who we are — and not who we are expected to be — are neither masculine nor feminine, but multiple shades of gray.