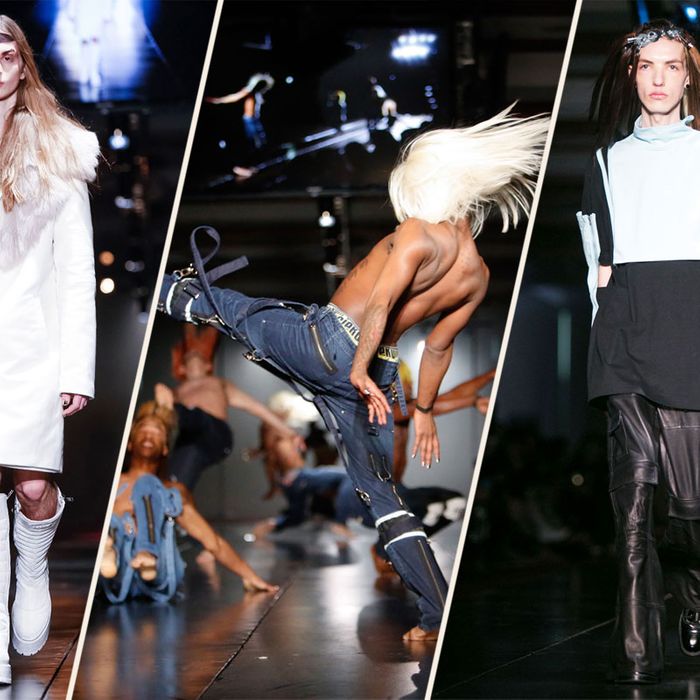 A fearless designer is a rarity in a business with so many commercial pressures, trend reports, and fads. Perhaps such a soul is simply foolhardy, but Shayne Oliver's bravery mesmerizes nonetheless. The creative director behind the label Hood by Air mounted a show at Chelsea Piers on Sunday afternoon that lasted some twenty minutes, nearly twice as long as the average presentation. In that time, he churned up more provocative commentary about contemporary culture and social politics than a day's worth of cable television's talking heads.
Oliver's aesthetic is a collision of moods and archetypes: urban warriors, androgynous street-toughs, and working-class people from around the neighborhood. He toys with issues of status and power, insiders and outsiders, race, and gender roles. He puts all these themes into his zipper-bedazzled jeans, thick shearling bomber jackets, sweatshirts, and long-sleeve pullovers with screen-printed graphic images.

But Oliver isn't simply putting images from an urban landscape on a runway. He's not just spitting out ramped up street gear. With his clothes, models, music, and production, he's pushing people to actually think about what they see, how they respond, and why. On his runway, all the usual visual cues for masculinity and femininity have been muddled thanks, in part, to styling by Akeem Smith. Everyone wears a headband of metal medallions from which hang long strands of overtly fake hair. Underneath the models have shaved heads, crew cuts, miniature Afros, and cornrows. Everyone wears the same defiant stare. Some people sashay, others lumber. They all move to a sonic boom of a soundtrack — Oliver is part of a D.J. team — filled with pounding rhythms, growling canines, and the discordant, howling lullaby of any large, striving city.

Each time a model appears on his black catwalk, one naturally attempts to discern if the person is male or female. But you're also left to ask: Why does it matter? At a time when fashion seems to be fetishizing transgender individuals in advertising campaigns and on the runway, when politicians are sorting through the legalities of same-sex marriage, Oliver's work so profoundly blurs gender that it practically disappears.

On his runway, appearance stands in for identity. Strength, beauty, and ferocity factor in equally. Anyone can wear a skirt or a scowl. People are people. Biology doesn't matter.

The final moments of the show featured a group of sinewy, bare-chested male dancers wearing long wigs and jeans. They walked out and posed with a huff and a stomp and then began to swing their hair in wild, violent abandon. Their movements had the grace of dancers, the aggression of street fighters, and the audacity of runway divas. And through it all, the wigs stayed on. And the jeans stayed up.

Many people have the talent to design a few nice frocks. But creating a thunderstorm of fresh, iconoclastic energy is far more difficult and altogether more exciting.