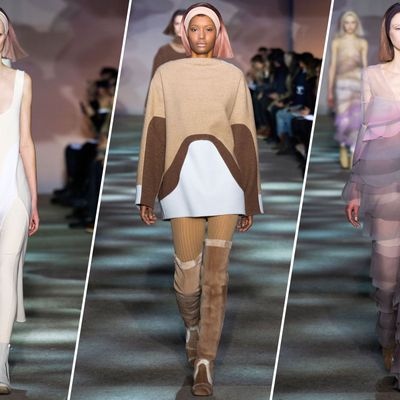 Faux puffy clouds floated down from the rafters of the Lexington Avenue Armory last night, casting soft shadows against the translucent scrim of the simple backdrop at the Marc Jacobs fall 2014 runway show. Each guest sat on her own individual foam tuffet — perched, as it were, on a little cumulus wonder. A single white calla lily lay resting on each folder of show notes.
The models wore pale makeup that made them look both bloodless and perfect, with their hair hidden under wigs cut in precise bobs and held back by simple, skin-tone headbands. On the models, the collection moved through the wide-open space like a burst of fresh air: relaxing, invigorating, and uncomplicated. It was an evening of celestial pleasures.
After a dark and daunting spring collection, Jacobs's fall offering was filled with easy ski pants and loose-fitting tunics, sequined tanks with multi-layered hemlines, waffle-weave henleys elongated into dresses and patterns that called to mind winter horizons, crisp sunsets, and the many shades of cream, ivory, and gray that make up a snow-filled day.
All too often the most inventive designers rely on aggression, austerity, and their fatalistic visions to create collections that make an audience sit up and take notice. It is easier, perhaps, to explore cynicism and suspicion than it is to find the complexity in joy or optimism. But Jacobs managed to find depth in the light.
The sensual seams and the manner in which shades of chocolate melted into caramel and then into taupe in a single lean tunic made a simple garment look rich and sophisticated. The clothes became more than just two-dimensional cutouts with the most basic shapes. Ribbed knitwear looked as comfortable as a pair of pajamas but a thousand times more polished. And his Chelsea boots, with their patchwork colors and block heels, were the perfect accompaniment to a collection that was streamlined and practically aerodynamic.
The last shows of New York Fashion Week were not a dramatic denouement but a warm, gentle, even cuddly, good-bye. Thanks for coming! Stay warm! Jacobs closed the day with an ethereal collection that made one smile. Francisco Costa, whose Calvin Klein collection is typically cold and rather stark, sent out a fall line that called out to be touched and embraced.
His nubby, mohair coats and dresses looked impossibly soft, inviting you to move in closer, to make a more intimate connection with the wearer. There were paneled knit dresses in a mix of black, gray, and ivory. Patchwork sweaters were knit in a mélange of autumn tones, from cinnamon to olive. And roomy overcoats with safety-pin closures seemed born out of the wretched winter of 2013 that still has folks wishing they could walk around all day just swaddled in a big electric blanket. Even the footwear at Calvin Klein was grounded and reassuring: calf-high, lace-up, lug-sole boots that would make slush-jumping less of a challenge.
Indeed, this past week, the vast majority of impractical heels have been spotted on guests, not on the runway. For fall 2014, designers have been advocating thick-soled oxfords, glammed-up sneakers, glittering loafers, and booties with modest block heels. It has been a runway season dominated by chunky knits with a hand-loomed appearance, oversize coats that could shelter a family of four, strokes of optimistic and extravagant glitter and rich, deep, dazzling color. Jackets have been sculptural with strong lines, whether in the shape of the sleeves, the breadth of the shoulders, or the width of the lapel. Designers made a pitch for cashmere sweatpants for business, gilded skirts for lunch, gray flannel for evening, and high-tech fabrics for any time of day.
Womenswear was stronger. Menswear was prettier. Brooklyn called. But beautifully conceived clothes managed to shine in any light.