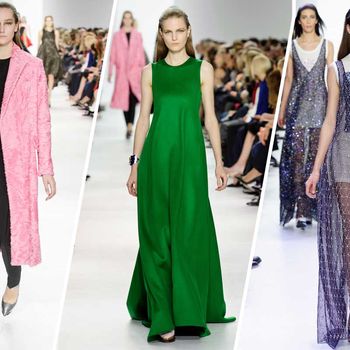 The Friday afternoon scene at the Dior show, located in a pavilion behind the Rodin Museum, always has an air of urgent desperation. Photographers swarm the nearby streets in such massive numbers that cars must re-route. Women in their Dior-day finery twirl on tiptoes in front of their lenses, working hard to exude a carefree demeanor as delayed drivers angrily honk. Metal barricades and police officers line the sidewalk in front of the museum, forcing guests to shuffle along single file. Where is the glamour in being funneled through a gauntlet of cops?
But then, once inside the tent, anticipation! Hundreds of LED lights give everything a weird, nuclear-reactor luminescence. Names on the seating cards look three-dimensional, almost like they're vibrating. Music is banging and people shout to be heard. Photographers have gone into a celebrity feeding-frenzy at the other end of the pavilion. Who? Who? Who? We can't see! Dammit!
Everyone squeezes into position.
In the program notes, designer Raf Simons explains: "This season I wanted to propose a new woman." The suggestion, of course, is that the old woman — the one from last fall — has somehow outlasted her usefulness. We're vaguely offended by this idea of woman 2.0. But also excited. By and large, who couldn't do with a little freshening up? Tweak the ol' self-confidence, rev up the charm, stoke the intellectual fires. But fashion only occasionally deals in such high-minded notions. Instead, the action exists in hemlines and color palettes, lapel widths and sparkle. So give us a new color, Raf. Hit on a new hemline that makes stubby legs look like those of a gazelle.
We have been over-promised.
There was no reinvention at Dior. There was a bold color palette of fuchsia and orange, cobalt blue, grass green, and searing yellow. Menswear-style blazers had shoestring ribbon lacing up their sides — a reference to the sneaker-inspired stilettos — in the manner of a corset. Often, the jackets topped soft, fluid skirts. Brightly colored dresses with full skirts and narrow waists were cut from quilted silk. An Astrakhan coat came in bubblegum pink. And silver glitter dripped off T-shirts.
The collection was a flurry of color and embellishment grounded by strong tailoring borrowed from menswear. Simons was joyfully color-blind, mixing clashing hues with not so much contemplative skill as abandon. The hallmarks of the Dior brand remain in place with references to the "Bar" jacket; they will surely find an audience. And there are plenty of sculptural heels in a collage of colors to tantalize customers.
But the heavy side-lacing on the coats, particularly the lush Astrakhan ones, is rather heartbreaking. It looks like crude stitching after a sloppy surgery. And the long flannel dresses in bright hues and the filmy gowns dripping in paillettes landed like recycled ideas and lacked Simons's usual finesse.
This was an uneven collection, with high moments and low ones: First came an explosion of color that should be pursued, followed by an affection for shoestring that should be shrugged off. Simons offered women a few pleasures, but he did not reveal them anew. Women, after all, are tricky creatures.
Last night, Lanvin designer Alber Elbaz also mused on womanhood. He didn't try to rewrite the talking points that have served him so well. He continued to focus on power, respect, confidence, and fun. The trick is in keeping the conversation alive and flourishing. What else does he have to say about a topic on which he has been so articulate? 
When other designers work in black, they tend to mine a sleek, aloof, hipster cool. For example, at Ann Demeulemeester, where the creative team has taken over for the departed designer, a ubiquitous black palette is used to convey poetic melancholy. Elbaz is rare in his ability to bring sensuality, intellectualism, and ease to his fluid black suits, seductive satin shifts, and tanks. When he moves into navy, the controlled mystery continues.
This season, he used tweed with shredded hemlines to create jackets and skirts that pitted tailoring against deconstruction. It was an interesting experiment in tension, but would take a woman with great swagger to not be wholly swallowed in the massive volume. Easier to wear were the color-blocked dresses covered in layers of matching fringe, bias-cut satin skirts, filmy blouses, and the '30s-esque dresses.
Elbaz is not the sort of designer who talks about reinventing women. He toasts them — metaphorically and, as was the case Thursday evening, literally — as waiters passed champagne through the pre-show crowd. No matter how serious Elbaz's color palette or silhouettes, there is always a fizzy bliss in his work. Dior was filled with happy shades of pink and yellow, but Lanvin exuded more joy.
Elbaz takes women as they are and attempts to make them look and feel their best wherever they happen to be in their lives. Women evolve just fine without Elbaz's help. Without the help of any designer, for that matter. They simply would like fashion to be prepared to toast them, cheer them, and honor them when they arrive at life's next milestone.